Donald Trump calls treatment of Tom Brady 'ridiculous' and 'terrible'
Republican presidential candidate Donald Trump waded into the Deflategate waters, calling the treatment of Tom Brady 'ridiculous' and 'terrible.'
Donald Trump is not afraid to weigh in on just about any subject. And the Republican presidential candidate waded into the Deflategate waters this week.
Trump, speaking on Fox Business Network (via the Washington Times) called it "ridiculous" how the NFL has treated Tom Brady during the process and said the Patriots quarterback is a "great friend."
"I think it's ridiculous the way they've treated him," Trump said. "He's a friend of mine, he's a great friend of mine. He's a great guy. I think it is terrible the way they've treated him."
Trump lamented the issue of Deflategate by saying "this country has bigger problems."
He's 100 percent right there. NFL issues are very much secondary to "real-life issues." But the country as a whole and the NFL aren't operating in the same sphere of influence. For the NFL, Deflategate is a huge issue.
More importantly: Trump "always" takes Brady when he plays fantasy football.
"I have taken him for years, and if you have done some friendly bets on Tom Brady, you've done very well," Trump said.
How will he handle it this year though? People are in the middle of drafting for fantasy purposes and no one -- not Brady, not Roger Goodell, no one -- knows how long he'll be suspended. Perhaps only Judge Richard Berman really has a clue.
If Trump is smart, he'll bookmark our Fantasy News page, download our mobile app and read up on quarterback tiers. Brady could once again be the key to success. But the real issue is where you have to draft him.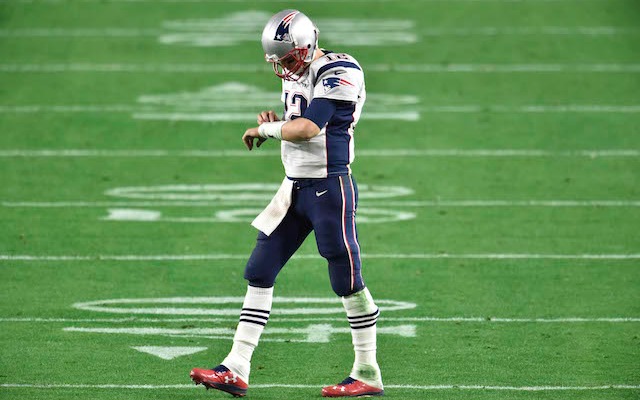 Here are the Week 7 grades for every team that played on Sunday

It was the Falcons' first score against the Patriots in over 90 minutes of game time

Hooker, the 15th pick in the draft, was in the middle of a stellar rookie year
Plus Jordy Nelson's lonely pre-game, Jamal Adams' Milly Rock, Le'Veon Bell's stiff arm and...

Justin Timberlake is headed back to perform at the Super Bowl for the first time in 14 yea...