Don't believe the hype: Gabbert is still the guy in Jacksonville
Blaine Gabbert faces competition from within and without the Jaguars' organization. But Pete Prisco says forget Henne and Tebow, Gabbert is the man in Jacksonville.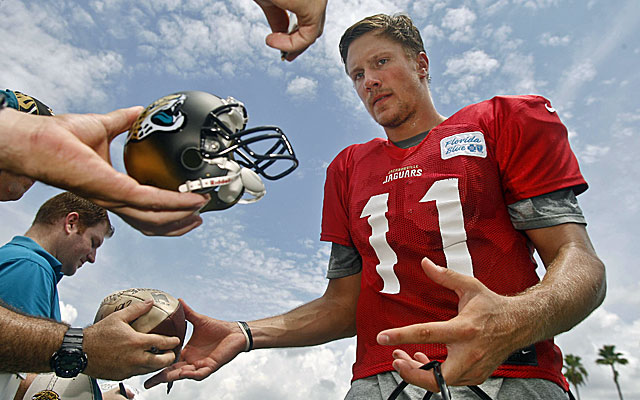 JACKSONVILLE, Fla. -- The cries are out there: Blaine Gabbert is garbage. He stinks. He's soft. He's a bust. Why not Tebow? Chad Henne, the backup, is even better.
On and on it goes for the Jacksonville Jaguars quarterback, a player who has taken a beating on and off the field the past two years.
Now as he readies for this third season, a make-or-break year for him, the talk is that Gabbert is in a quarterback competition for his job, that Henne, the veteran who came from Miami, is pushing Gabbert.
Don't believe it.
Henne might be pushing Gabbert to do more, but he isn't taking his job. No way. No how. The talk of a quarterback competition in Jacksonville is just that -- talk. That type of talk is spreading through the league quickly, one person whispering to another, and it seems to take on a life of its own. But when you go speak to those in the know, there really isn't a competition at all.
"Blaine's the guy," one Jacksonville player said. "That's easy to see."
The Jaguars staff won't come out and say he's the guy, but the talk inside the building is that this first-year Jaguars staff has warmed to Gabbert. They see a player who has the ability to be a 3,500-yard passer with 25 touchdown passes either this year or next.
That might sound crazy considering all the negative talk about him, and his struggles in the first two seasons, but Gabbert has won over a lot of people in the building who weren't exactly sold on him when the offseason started. He has put in a ton of work to do so.
It's too easy to say that Gabbert doesn't have a lead based on his slow start to camp, including missing time with an ankle injury. But the process of evaluation includes the entire offseason, and Gabbert has clearly won that battle, even if consistency has been a problem at times.
And it makes sense. Gabbert is only 23 years old. He's in his third season, and for the first time his career he has solid weapons outside and a potentially good offensive line in front of him. It's hard to throw with pressure in your face at the snap. The Jaguars line was horrible in 2011 and 2012.
When you watch the two quarterbacks practice here, you can see Gabbert is the one with the most tools. Now he just has to harness those tools and this charade of a quarterback competition will be over.
"I love where it's at," Jaguars coach Gus Bradley said of the quarterback competition. "We're getting them to compete against each other, but also against themselves. There are so many lessons in all this competitions they are learning. I just think we're going to extend it and keep it going and provide those lessons for our quarterbacks. It's in a good place right now. We have some time. We have preseason games. And then we will make a decision as soon as we can."
Formally. But the word is the decision has been made. During a Saturday night scrimmage at EverBank Field, Gabbert and Henne both did some good things. Gabbert opened 4-for-4 and threw two scores, but he missed a few throws and had a couple of drops.
The one thing that was noticeable from the scrimmage was how much more comfortable Gabbert looked in the new offense. They rolled him out a lot and hit his receivers on the run. His accuracy on the move was much better.
"I like this offense," Gabbert said. "I feel comfortable."
Gabbert was a first-round pick. He has a huge arm. He can make all the throws. So why not use this season to find if he's the long-term answer? If he's not, then the Jaguars draft a quarterback in the first round next spring.
Bradley and general manager Dave Caldwell said they didn't come to the team with any preconceived notions about Gabbert. They didn't pay attention to the talk he was gun-shy, that he wasn't tough enough.
"I didn't listen to too many things," Bradley said. "I asked our whole staff to make judgments based on what we saw on film, meeting him in person. That's what we tried to do. We just wanted to add on to what they already did. We did some analytical work. We pieced together what may have happened. Now we are going forward to try and make the corrections. I think Blaine had like a week off this summer. The guy loves football and really wants it. That's what we want, spirited guys who love the game."
The microscope on Gabbert is as big as any young quarterback in the league has had to face, even in a small market like Jacksonville. He was a top-10 pick, but he also had to deal with the catcalls in Jacksonville to bring home favorite son, Tim Tebow. When that didn't happen, the Tebow cult turned on Gabbert. Hard.
So every time he takes the field, even the practice field, he faces tons of scrutiny. His slow start to camp put him back in the crosshairs. But what people don't realize is that it isn't just him.
Take a throw from Friday's practice. Gabbert overshot rookie Ace Sanders by 15 yards. That led to catcalls toward Gabbert from the crowd. The reality was that Sanders ran the wrong route. He should have run a deep seam route, but he broke it off. That was on Sanders. Most put it on Gabbert.
It's been that way for much of his three years with the team. It's understandable. He was supposed to be the quarterback savior and he's been far from it. But he's also not nearly as bad as he's portrayed.
Will he ever be elite? That's probably not happening. Can he be serviceable if everything around him is OK -- sort of like Matt Schaub in Houston? I think he can be. I might be the lone guy outside of the Jaguars building who thinks Gabbert can be more than just a guy.
One thing's for sure: It's way too early to give up on him. Let him play one more season, and then the verdict will be in on Gabbert. For now, don't buy the talk of a competition. It's his job, even if it doesn't look that way right now.
Everything you need to know heading into Week 15 is right here

Haden has been out since Week 10 with a fractured fibula

There's also the possibility Goodell steps aside early if his potential successor is progressing...
The league could return to its pre-2009 policy after a year in which pregame protests took...

Arians hasn't said he's retiring, but the team has discussed contingencies for a coaching...

O'Brien would be a coveted coaching candidate if he were to hit the open market