Donte Whitner insults Bills fans, challenges Darryl Talley to box
There are fireworks coming from Donte Whitner's Twitter feed.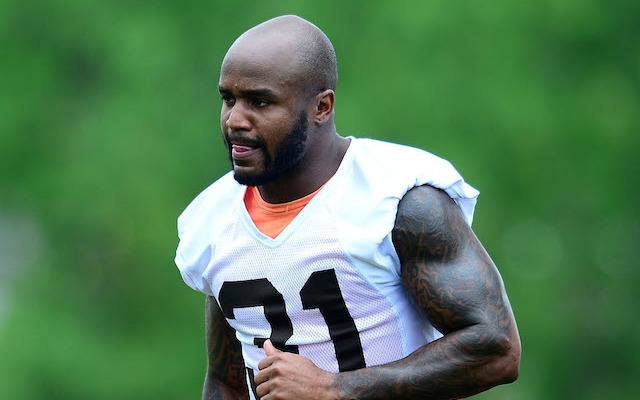 If you want some Fourth of July fireworks, then just head to Donte Whitner's Twitter feed. The Browns safety got into a verbal sparring match on Thursday night with almost everyone in Buffalo, including former Bills linebacker Darryl Talley and Talley's wife. 
The feud apparently started when Whitner took a shot at Bills fans with the following tweets. 
Can you say Toronto Bills?!?!?!?!

— DonteHitner (@DonteWhitner) July 4, 2014
Wonder how you Bills fans gonna feel when the team is moved? LOL

— DonteHitner (@DonteWhitner) July 4, 2014
Talley's wife Janine then entered the conversation with this tweet, which Whitner didn't find amusing. 
@DonteWhitner Your nickname isn't "toast" because of Champagne.

— Janine Talley (@J9Talley) July 4, 2014
After that, things got ugly, with Whitner bringing the Talley's daughter into the Twitter war of words. According to Whitner, the two once dated. 
@J9Talley its because Alex buttered my bread. Correct?!?!?!

— DonteHitner (@DonteWhitner) July 4, 2014
As you can imagine, Darryl Talley was not OK with Whitner talking about his daughter and he went off.
Talley tweeted to Whitner that he'd 'have a grip around your M-----F------ throat.' You can read the entire tweet here, but keep in mind, if you click, there's a couple of words that aren't family-friendly. 
Whitner then challenged Talley to a boxing match, so we might have that to look forward to soon. And if it happens, you might want to put your money on Talley. 
.@pthomas3434 I'm gonna have 2 go all Louis Vuitton suitcase on this negro @DonteWhitner.

— Darryl Talley (@DarrylTalley) July 4, 2014
This is the second time this offseason that Whitner's gotten into a Buffalo-related feud. Back in June, Whitner told Sammy Watkins to 'be quiet' after the rookie  said that he can't wait to 'battle, scrap and have a couple fights' with Cleveland.
Be quiet Sammy. Trust me!

— DonteHitner (@DonteWhitner) June 27, 2014
Watkins eventually responded to Whitner, but later deleted the tweet. 
How did we miss @sammywatkins responding to @DonteWhitner the other day? Way to go, Sammy. pic.twitter.com/TtwZBtfUn0

— Buffalo Rumblings (@BuffRumblings) June 29, 2014
Anyway, it's probably time for all of us to circle Nov. 30 on the calendar, that's when the Bills host Cleveland. Whitner will be returning to Buffalo, where he started his career in 2006.
Also, if you want to read a few more tweets between the two Talley's and Whitner, you can check out there Twitter feeds here, here and here. 
Everything you need to know about the Packers-Panthers game on Sunday afternoon

The Lions will be wearing their Color Rush uniforms for the first time on Thursday

The Lions look to maintain playoff positioning while the Bears attempt to play spoiler
The Panthers have hired an outside law firm to conduct the investigation

Here's every official injury designation for each NFL team for Week 15

Bennett was one of the few players who escaped punishment after Sunday's melee in Jacksonv...