Donte Whitner: Manziel's intangibles are similar to Aaron Rodgers
How are Johnny Manziel and Aaron Rodgers alike? Donte Whitner says they're both good at using their feet to manipulate things.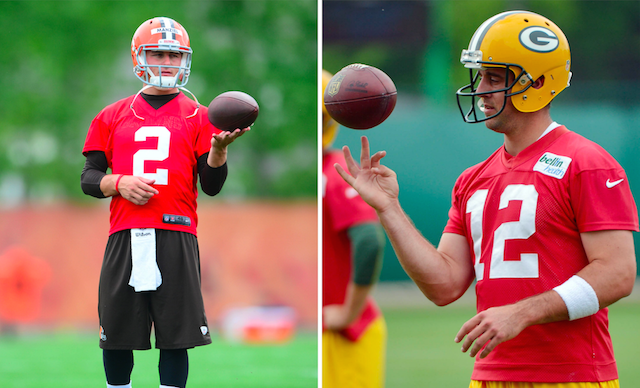 More NFL offseason: League minicamp dates | Latest news, notes
If you've been following the adventures of Johnny Manziel over the past couple weeks, you probably heard about his Memorial Day weekend trip to Las Vegas. You probably also heard about his inflatable swan ride. 
What you probably haven't heard much about since Manziel was drafted by Cleveland on May 8 is whether or not he's good at football. That's where Browns safety Donte Whitner comes in.
Whitner said on Tuesday that Manziel reminds him a little bit of Aaron Rodgers, at least in the intangibles department. Including the playoffs, Whitner's played against Rodgers four times in the past two seasons. 
"He's a pretty smart, savvy guy," Whitner said of Manziel, via Cleveland.com. "I think he has all the intangibles and everybody looks at Aaron Rodgers as being just a dropback quarterback, but he's dangerous because he can use his feet to manipulate things and get open and buy a little time and then he's making a lot of big plays. Johnny has all of those intangibles. It's just going out there and doing it and learning it."
Apparently, Whitner has been trying to help Manziel 'learn it' since the day Johnny Football walked in the Browns door. 
"The first day Johnny came in I showed him my playbook," Whitner said. "I showed him the ins and outs of certain coverages and certain defenses."
As for the impromptu trip to Las Vegas, Whitner thinks that normal for a 21-year-old and he'd be out there too if he wasn't so old. 
"I don't think he's out of hand with it," Whitner said. "So going to Vegas, like I said, I probably would've been there with Johnny too." 
However, Whitner didn't say if he would have ridden the inflatable swan. 
Everything you need to know heading into Week 15 is right here

Haden has been out since Week 10 with a fractured fibula

There's also the possibility Goodell steps aside early if his potential successor is progressing...
The league could return to its pre-2009 policy after a year in which pregame protests took...

Arians hasn't said he's retiring, but the team has discussed contingencies for a coaching...

O'Brien would be a coveted coaching candidate if he were to hit the open market