Doug Martin leaves Bucs-Patriots game after taking knee to head
Doug Martin left the Buccaneers-Patriots game on Friday with what appeared to be a head injury after taking a knee to his helmet while blocking.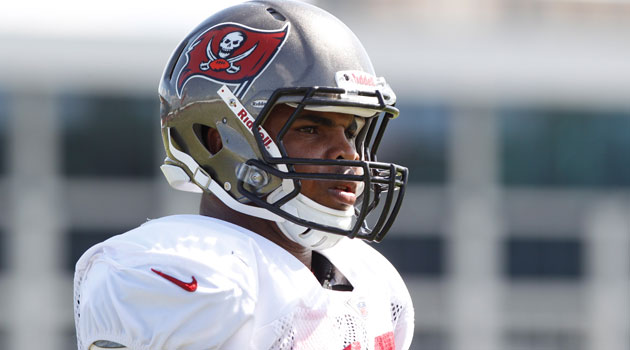 Doug Martin's one of the best young running backs in the league, but he won't do anyone any good from the sideline. That's where Martin found himself on Friday after taking a knee to the head while trying to block an oncoming Patriots defender.
Martin went to the sidelines where he was briefly examined by trainers on the bench. Shortly afterwards Martin was seen being taken to the locker room with trainers.
Scott Hanson of the NFL Network described the injury as a "head injury" -- that would be my guess as well though the Buccaneers haven't announced anything (yet).
Assuming the worst case, that Martin has some sort of concussion, it'd be a big concern but he's got enough time between now and the beginning of the season to return. It stands to reason that Martin might limit the number of times he looks to dive at someone's knees going forward.
Mike James replaced Martin in the Buccaneers backfield after Martin was taken out of the game.
The man known as Muscle Hamster rushed for 1,454 yards and 11 touchdowns on 319 attempts while also catching 49 passes for 472 yards in 2012. He's the focal point of the Buccaneers offense.
The Eye on Football podcast brings you the best NFL analysis money doesn't have to buy. Subscribe on iTunes here!
It's the Panthers and a host of underdogs for Pete Prisco's Week 7 best bets

Five of Will Brinson's best bets from Week 7 of the NFL season

Pete Prisco shares 10 interesting things to watch in Week 7 of the NFL season
This might go down as the best ending of the 2017 season

The Raiders beat the Chiefs, 31-30, on Thursday night thanks to Derek Carr's heroics

This was easily the most exciting final 10 seconds of any game in the NFL this season