Dr. James Andrews says no issues with Cyrus Kouandjio's knee
Alabama team doctor and Dr. James Andrews try to refute reports that Alabama tackle Cyrus Kouandjio had bum knees at NFL combine.
• 5 min read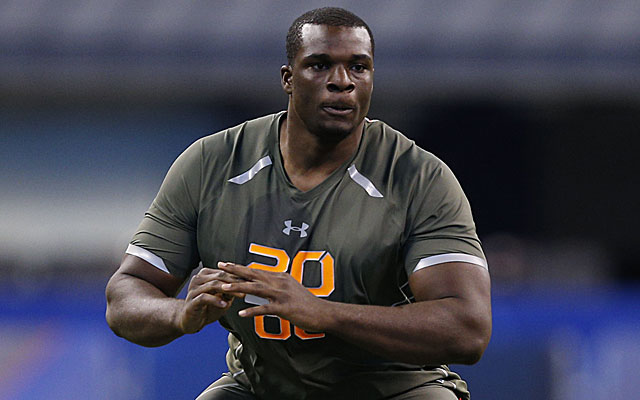 More NFL offseason: Mock Drafts | Prospect Rankings | Pro Days | Top free agents
Dr. James Andrews is sending a medical update to every NFL team to clear up what he calls misinformation about the health of Alabama tackle Cyrus Kouandjio.
A report during the NFL combine indicated that Kouandjio, a potential first-round pick, had failed several physicals in Indianapolis as a result of a "failed" surgery on his knee in college.
Andrews, who did not perform Kouandjio's surgery, dismissed the notion that the surgery was botched and has continued to evaluate the player regularly as he continues his training for Alabama's pro day (Andrews works closely with the Alabama program and has been abreast of the tackle's knee since he arrived on campus).
Kouandjio's performance at the combine was poor -- something he has acknowledged to those close to him and that he is aiming to overcome as he works out for teams in the future. But the tackle's showing was unrelated to his knee, according to Andrews as well as Alabama team doctor Lyle Cain, who performed the surgery. Both doctors stated that since completing his rehab for the ACL/MCL surgery in his freshman year there have been no setbacks, no issues with swelling and that Kouandjio not only played in every game but did not miss a single practice and did not have to spend time in the training room for additional treatment since being cleared to return to practice in the spring of 2012.
During the combine NFL Network reported that the junior was failing physicals and referred to the surgery and the status of his knee subsequent to it as "ugly."
"I wrote a letter to send to every team about his true medical history," Andrews told CBSSports.com. "I'm trying to put out fires that aren't even justified and to clear the record, I guess, is the best way to put it. It came out he had a failed ACL surgery -- that's not even close to the truth. His performance at the combine had nothing to do with his knee situation, and that was blown way out of proportion and that's not fair to the kid.
"First of all, at the combine, there are 36 independent doctors and trainers making their own conclusions in a numerical system about how they rate each player relative to their previous injuries and concerns. There is no way in the world someone could say Cyrus failed the physical. He has some wear patterns on the knee that are consistent with someone who is that big, and who plays that position and who had the procedure Cyrus underwent. That surgical procedure was anything but a failure. I examined him again this week after he was working out and he's able to do all the work outs and everything since the bowl game and he's had no trouble with his knee."
Andrews said the "wear patterns" on the knee are similar to what was shown on X-rays of Kouandjio's knee upon his arrival at Alabama, even before the surgery performed in his freshman year.
"He has pretty much the same wear patterns he had the whole time at Alabama," Andrews said. "This is now his junior year, and there hasn't been any changes with his knee. He had a fresh injury to the ACL and MCL as a freshman and that had to be operated on, and that surgery has been perfectly fine and played two years at Alabama, every game and every practice with no problems whatsoever.
"These types of patterns are real common on those big guys, real common. We see it out of high school, already, with all the lifting and impact work they do. It's unfortunate, but that's what's happening out there and this kid really had no trouble with it the whole time he was at Alabama."
Cain said he was "shocked" by the NFL Network report, and, when he first heard of it, was immediately fearful because he assumed Kouandjio must have suffered a new injury to his knee while working out in Indianapolis. Obviously, that was not the case, and while some teams have some apprehension about the potential for arthritic conditions to eventually set in on the tackle, which can lead to a lower grade on the scale of 1-5 that teams apply to prospects at the combine, Cain said that no teams "failed" Kouandjio and would have no reason to.
"He hasn't had any problems with his knee," Cain said. "And from a functional standpoint, all the people there and who have seen Cyrus play -- although he may not have had the workout there at the combine he hoped to have -- it's not a knee issue. He really hasn't had any treatment on it, because there haven't been any issues.
"He has a little bit of cartilage wear in his knee, but that's such a common finding in an NFL draft-able player, it's really a non-story, but with him having not an optimal workout I guess that's why this misinformation is out there. He tore it in the fall of his freshman year -- the fall of 2011 -- and by the spring of 2012 he was cleared for spring practice and pretty well completely functional and we really haven't had a problem or a diagnostic issue since 2012. It's been almost two years.
"He's had no swelling, no pain, and if you talk to Cyrus he'll tell you he feels better than he has in two or three years. He's never had to have his knee drained. He's never had to have treatment. He's really been asymptomatic."
Kouandjio was projected as a first-round pick prior to his combine showing, and, given his performance at Alabama against big-time competition and his combination of size (6-foot-6, 311 pounds), his stock could still rise between now and the draft based on his meetings and workouts. Several teams have a glaring need at his position, and the run on tackles will start early, led by Auburn's Greg Robinson, who had an outstanding showing at the combine.
There is suddenly a wide open NFC playoff race and the MVP battle could get interesting to...

Pittsburgh is headed to its fourth consecutive postseason appearance

The NFC is going to be a blast to watch down the stretch
Here are the Week 14 grades for every team that played Sunday

Someone apparently threw a drink at Jefferson as he left the field and he was not happy about...

All of the best highlights from Week 14 are right here