'Draft Day' not performing well at box office
Even with all kinds of star power in a film about the NFL, 'Draft Day' has made less than $20 million.
• 1 min read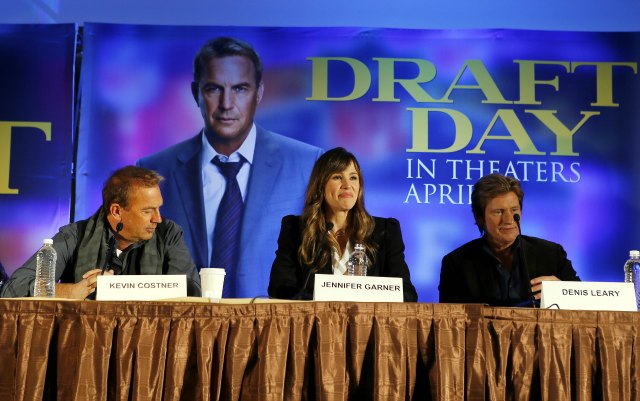 'Draft Day' seems to be struggling. (USATSI)
The movie, "Draft Day," had plenty of promotion leading up to its release earlier this month. We saw co-stars Kevin Costner, Jennifer Garner and Denis Leary all over the place, pubbing the film that showcased the Browns as some kind of draft-day savants (it is, of course, a fictional story).
Despite the NFL's star power and despite a star-studded cast -- and despite the fact I enjoyed the movie -- it is not performing well at the box office.
As boxoffice.com reports (H/T to PFT), the movie has grossed about $19.55 million from the day it was released, April 11, until Sunday. Considering the approximate movie budget was $50 million, that figure isn't so great.
As for whether it's one of the least-successful Costner films of all time, this chart, via boxofficemojo.com, says it's not.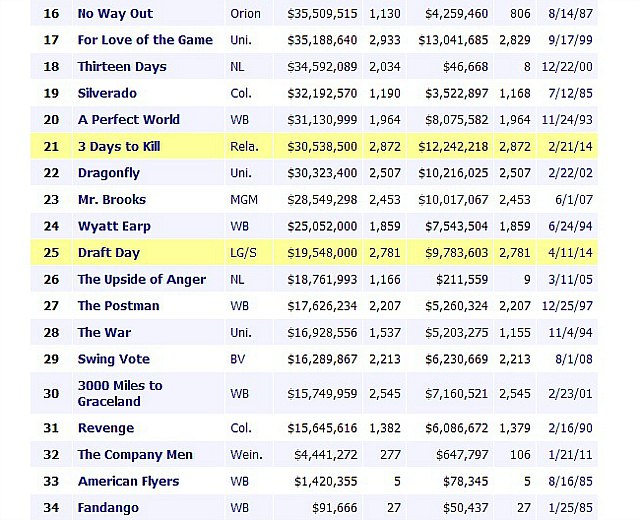 (A quick note: for as disastrous as most people think Waterworld was, it still grossed $88.4 million, the fifth-best total of Costner's long career. And one other piece of randomness: Tin Cup [$53.85 million] made more money than Bull Durham [$50.89 million]).
As for sports movies -- and as my CBSSports.com editor Eric Kay points out -- Costner still has a ways to go before he catches For the Love of the Game. So, overall, I'm guessing this is a major disappointment.
One of the biggest penalties in Thursday's game was a controversial flag that went against...

If Ezekiel Elliott gets suspended, it likely won't come until Week 5 at the earliest

The NFL is apparently concerned that the Chargers might not be viable in Los Angeles
Everything you need to know for Week 3 of the 2017 NFL season is here

You can find every official injury designation for each NFL team shortly after its Friday report...

The Bengals are the only NFL team Aaron Rodgers has played against without earning a win