Drew Brees says NFL holding punishment over heads of silent coaches
While we haven't heard much from Gregg Williams and Sean Payton since they were suspended for their roles in the Saints bounty program, quarterback Drew Brees thinks he knows why.
• 1 min read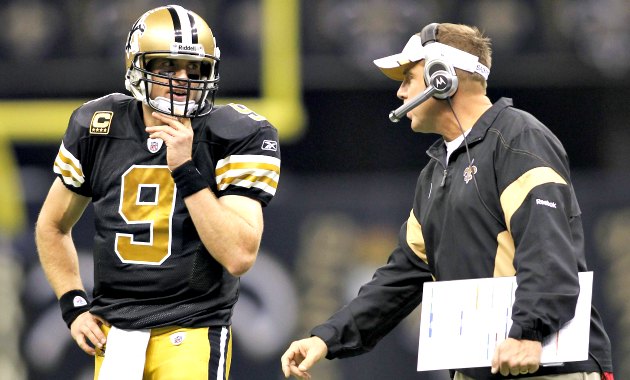 Brees has a pretty good idea why Payton has remained silent regarding the bounty program. (US Presswire)
Since the NFL announced the punishments for the Saints bounty program, you've heard most of the players affected speak loudly about how the lack of justice has been unfair. Jonathan Vilma, suspended a year, has been at the forefront of the protests while Anthony Hargrove (eight games), Will Smith (four games) and Scott Fujita (three games) have repeatedly expressed their disappointment in the NFL's methods.
But you haven't heard much from the coaches who have been affected, namely Sean Payton, Gregg Williams and Joe Vitt (though Vitt has made more noise than the other two). And Saints quarterback Drew Brees has a pretty good idea why.
"I have pretty good knowledge and feel like I've been informed that a lot of those coaches feel like there are further sanctions that are being held over their heads if they don't quote-unquote cooperate with the investigation," Brees said Tuesday on Dan Patrick's radio show. "Even though punishment has already been levied on the coaches and already been determined ... I think they feel if they speak out on behalf of the players, that's being held over their head."
That theory certainly isn't far-fetched. There have been rumblings that Williams -- suspended indefinitely -- was eager to express remorse over the bounty program, so, in the future, Goodell would be more likely to reinstate him. It also makes sense for Payton to stay quiet, assuming he wants to return in 2013.
And we've seen in the past that, if you do everything the commissioner asks of you (like, for instance, Ben Roethlisberger), Goodell is more likely to be lenient. Which, in Brees' mind, hasn't been Goodell's method thus far with the Saints.
"The facts that have been presented so far," Brees said, "do not match the punishment that has been levied."
Whether they agree, it's not likely you'll find Williams or Payton weighing in on this matter any time soon.

For more NFL news, rumors and analysis, follow @EyeOnNFL on Twitter, and subscribe to our Pick-6 Podcast and NFL newsletter. You can follow Josh Katzowitz on Twitter here: @joshkatzowitz.
The Pro Football Hall of Fame is one step closer to announcing the Class of 2018

Grab some turkey and get ready for this NFC North showdown

SportsLine's top NFL and college football experts pick a 4-team parlay that pays 10/1
After an epic collapse against the Saints, the Redskins are hoping to right the ship

Brice Irvin is not a happy camper right now

Linda Del Rio is not happy with the president