Drew Rosenhaus: Dolphins could have interest in Tim Tebow
Although it seems like Tim Tebow is the unwanted child of the NFL, one agent said he thinks the Dolphins could have interest.
• 1 min read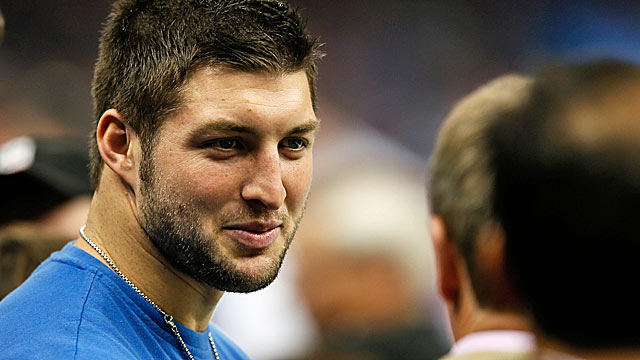 Tim Tebow, as of Monday morning, is unemployed, and as we try to figure out where he'll play this season -- hint: not with the Jaguars, probably not the CFL, what about for the lingerie football league or the Omaha Beef? -- it's possible Tebow could wind up in Florida anyway.
That's apparently the thinking of agent Drew Rosenhaus, who told 560 WQAM (via Fox Sports' Alex Marvez) on Wednesday he "wouldn't be shocked" if the Dolphins took a chance on signing Tebow.
Um, really?
Apparently so. Rosenhaus said the Dolphins haven't publicly come out and said they didn't have interest in the controversial quarterback (neither has anybody from the NHL, but I digress) and Rosenhaus believes that's because Miami owner Stephen Ross is a fan. You'll recall the Dolphins set up a day of celebration for former University of Florida players when Miami played host to Tebow and the Broncos in 2011. Tebow led Denver to an overtime victory in that game.
So, would this be a good idea for the Dolphins? Probably not. With general manager Jeff Ireland showing an ultra-aggressive streak this offseason and during the draft -- probably because his job might be in danger if the team doesn't make the postseason this year -- Tebow likely would be an unwelcome distraction.
And we saw what happened when Jets owner Woody Johnson brought Tebow to New York, reportedly over the objections of others in the organization. Hint: Tebow didn't exactly help.
But maybe there is something to Rosenhaus' thoughts (even if he isn't Tebow's agent). Because we know just how much of a fan Ross is of Tony Sparano, Tebow's offensive coordinator last year. Really, that should seal together this whole deal.
The 49ers' last three wins have come against the Rams though they're 0-19 against everyone...

The Rams have struggled against the 49ers but that was during the Jeff Fisher era

Two weeks into the season, the Chiefs keep creating long touchdowns. Can they keep it up?
CBS All Access allows viewers to stream every NFL on CBS game in their local market

CBS All Access allows viewers to stream every NFL on CBS game in their local market

CBS All Access allows viewers to stream every NFL on CBS game in their local market