Eagles cut Tim Tebow
Tim Tebow is out in Philadelphia.
Tim Tebow's preseason showing against the Jets was impressive, but it wasn't impressive enough to earn him a job in Philadelphia.
The team announced on Saturday that Tebow has been cut.
Coach Chip Kelly has a simple explanation for Tebow's release: He's not good enough to be the Eagles third-stringer right now.
"Tim's really progressed but we didn't feel like he was good enough to be the three right now," Kelly said. "He just needs to get out there and get more reps."
Just one day ago, it looked like Tebow had a good chance to make the team after the Eagles shipped third-string quarterback Matt Barkley off to Arizona. However, it appears that coach Chip Kelly has decided to stick with only two quarterbacks -- Sam Bradford and Mark Sanchez -- for the time being.
On the surface, carrying two quarterbacks seems like a risky move for the Eagles considering Bradford's injury history, so don't look for them to do that.
Kelly said the team will definitely be adding a third quarterback.
"We're not done," Kelly said. "Whether we add a quarterback to the practice squad or the active roster, we will have a third quarterback in here."
As for Tebow, just because he's out doesn't mean he won't play in the NFL this year. Kelly could decide to bring Tebow back at a later date or the quarterback could even end up signing with another team.
After Barkley was traded on Friday, it appeared that Tebow had a great shot of making the team. The fourth-string quarterback throughly outplayed Barkley in the Eagles' preseason finale against the Jets.
Tebow threw for 189 yards and two touchdowns in the 24-18 loss and looked sharp for most of the night. Barkley only threw for 45 yards in the loss and also threw an interception.
One of Tebow's touchdown passes was an 18-yarder to Rasheed Bailey that might have been his best throw of the preseason.
After the game, Tebow said he was starting to really feel "comfortable" in Kelly's offense.  
"I think I'm getting more and more comfortable," Tebow said. "More and more comfortable with the offense. Getting into more of a rhythm, especially on first down, kind of getting things going, getting the first first down, which is big in this offense, and trying to get it rolling a little bit."
Just because he was comfortable though doesn't mean Tebow thought he was going to make the team.
"That's not up to me," Tebow said. "I just try to go out there and do what I'm coached and try to improve every day and compete. I've said this a lot of times to you guys and I really genuinely mean it: I'm not going to worry about what I can't control. It's a blessing being able to come out here and play the game I love. It was a lot of fun out there tonight. I had a blast."
To keep tabs on all of Saturday's final cuts, be sure to head over here to our 53-man roster tracker.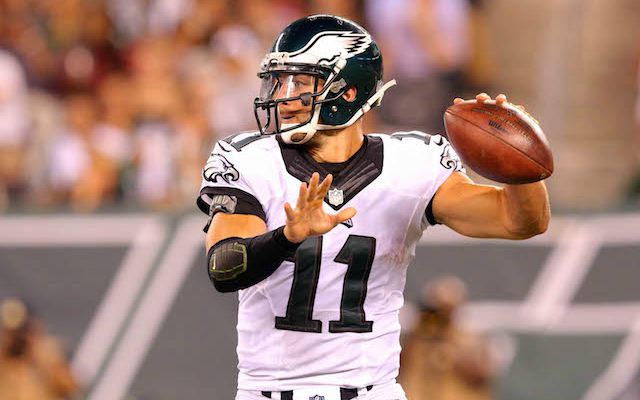 The former Patriots tight end is apparently hanging up his cleats for good

Odell Beckham being sued for millions of dollars

Police believe that three men robbed Gronk's house in February
Find out how Roquan Smith, Tremaine Edmunds and the rest of the top linebackers stack up

Rod Woodson seems to be picking a fight with his former team

Suh has gotten offers from multiple contenders, but the Jets may be offering the most mone...