Eagles' newfangled offense unable to rack up touchdowns on Jaguars
It would be easy to figure the Eagles to score plenty on a leaky Jaguars defense, but Chip Kelly's club stumbles a bit, Jason La Canfora says, especially in the red zone.
• 5 min read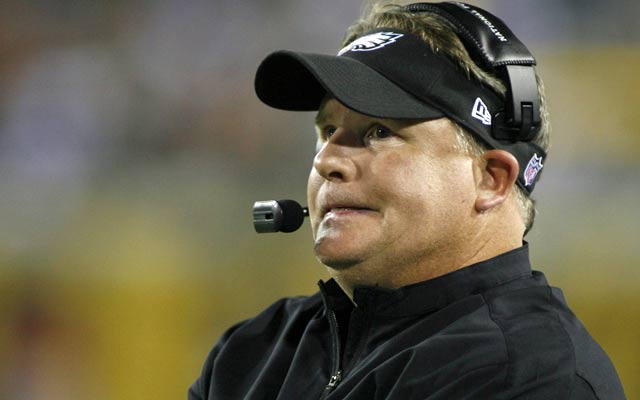 JACKSONVILLE, Fla. -- I thought this would be a mismatch. Chip Kelly's hyper-speed offense against a Jaguars' defense that hemorrhaged yards and points a year ago and stands to struggle plenty this season as well.
Seemed like the perfect coming out party for the Eagles' attack in the final real tune-up before the regular season. And while Philadelphia did move the ball effectively, Kelly's offense was hardly unstoppable, bogging down in the red zone and suffering from some mistakes. If anything, it heightened some issues with personnel in the passing game --with a receiver unit plagued by injuries this preseason -- and a lack of favorable matchups when the field got smaller.
"They did a good job in coverage," Kelly said of the Jaguars, a team not exactly gifted with a plethora of talent in their secondary. 
Scouts who have been watching the Eagles closely have wondered who was going to be the guy to step up and complement dervish DeSean Jackson, but perhaps that option isn't on the roster. It was clear this group lacked speed beyond Jackson, gaining separation was a problem and too often Michael Vick was forced to improvise and run around deep in Jaguars' territory.
Kelly's wizardry is supposed to be one of the best things the Eagles have going for them, but Vick was not impervious tonight, making some bad decisions and throwing a poor interception. My thought all along with this unit is that they should be more run-heavy than Eagles' teams have been in the past. They ran the ball for five yards per carry in the first half, but went just 2 for 7 on third downs and stalled deep in Jags' territory. And red zone inefficiency, an issue last season, persisted. 
Kelly routinely has five players in routes, putting immense pressure on the offensive line, and it showed tonight. Protection was an issue and it was clear this was the first game back for left tackle Jason Peters, who, is coming back from multiple Achilles injuries.
"He'd probably be the first to tell you he was a little rusty," Kelly said following the 31-24 win. As for the protection, he surmised "a couple of twists early got to us."
Philadelphia racked up 228 yards in the half, but scored just one touchdown and that came on a very short field after Chad Henne threw a pick. They racked up 400 yards of offense again, and dominated the Jags' backups. All eyes will be on this offense when the regular season begins. I'll be watching the red zone particularly closely.
I can't help but be intrigued by the options the Jaguars have at receiver, and I can't help but be quite concerned about who is going to get them the ball. Ace Sanders continues to flash as a rookie fourth-round pick, Denard Robinson was effective in a hybrid role (though clearly more at ease running with the ball in his hand as opposed to catching it) and this was the first time Jacksonville had Sanders, Justin Blackmon and Cecil Shorts on the field together. They looked pretty good on the opening scoring drive. 

 There are some weapons here and the improved speed was obvious. I have a hard time believing starter Blaine Gabbert, who is out with a thumb injury but will take over Week 1, will keep the job all that long, although Chad Henne has his issues a well. They don't have enough talent yet to overcome the quarterback problem, but are certainly heading in the right direction.

I continue to be amazed more isn't being made of the Eagles horrid defense. It's a mess and all of the excitement over Kelly's innovation -- which is warranted -- can't cover it up. The Jaguars were breaking off five yard chunks on the ground pretty much whenever they wanted it and they amassed 24 points in the first 37 minutes of this game. Again, this is the Jaguars -- not the Redskins or Cowboys or Giants.

The secondary is weak, the pass rush suspect and given the state of the run defense -- Philadelphia surrendered 121 yards (8.1 per carry) in the first half alone (over 200 in the game) -- it looks like that side of the ball remains a problem as they try to transition to a 3-4. Connor Barwin dropped back well in coverage and made an athletic interception and Fletcher Cox continues to flash, but defensive highlights were few and far between. Outside of linebacker Mychal Kendricks I'm not sure there is a special player in the group.

Kelly downplayed any concerns with the run defense, chalking it up to a few bad angles and "one long run," -- a 63-yard touchdown tear from backup runner Jordan Todman, who finished with 105 yards on eight carries.
I love watching Eagles running back Bryce Brown gallop and explode into space, but his fumbling is chronic. He gave up the ball all too easily near the goal line on what looked like a sure touchdown run, and it resulted in a touchback instead.

Maurice Jones-Drew is getting better by the week, and while I don't think he's a guy who is going to come close to leading the league in rushing again, there are enough complementary pieces in the run game to spell him and keep him effective.
Vick made his mistakes, but man, he had a few runs where he looked like his old self. He threaded some balls in tight spaces and made a few pretty touch passes, too.
When the Eagles offense was humming, they were getting snaps off with 30-33 seconds left on the clock. That slowed considerably at times in the red zone. The tempo also seemed to slow some late in the half, which seems natural, too, given how difficult it would be to maintain for all 60 minutes.
The Eagles remain one of the more frequent trading teams in the league. Have to wonder if more changes are coming. Some execs with other clubs have wondered if tight end Brent Celek could be a possible trade chip. This team looks particularly vulnerable at corner.
Pick Six Newsletter
Get the day's big stories + fun stuff you love like mock drafts, picks and power rankings.
Please check the opt-in box to acknowledge that you would like to subscribe.
Thanks for signing up!
Keep an eye on your inbox for the latest sports news.
Sorry!
There was an error processing your subscription.
The Chargers star says he'll 'definitely see' the latest Star Wars movie

Before the future of the Browns was Mayfield, there was Johnny Football

The league's best running back wants to be paid like the league's top receiver
R.J. White finished in the top 1 percent of the Las Vegas SuperContest and locks in Super Bowl...

The Jets have said their players won't face any punishment for protesting during the anthe...

The Cowboys' quarterback heads into the 2018 season without Dez Bryant and Jason Witten