Eagles QB Mark Sanchez doubts trade to Rams would happen
If you think Eagles quarterback Mark Sanchez could be headed to St. Louis, he's got some bad news for you.
• 2 min read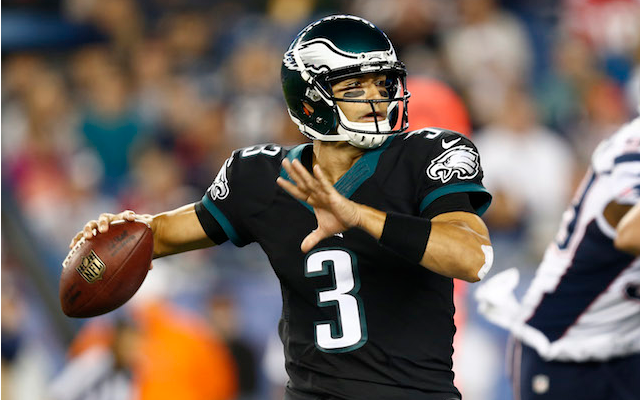 With the news that Rams quarterback Sam Bradford tore his ACL this weekend and is done for the season, we've wondered if St. Louis will stick with backup Shaun Hill or if it'll go shopping for another signal-caller.
One such candidate is Eagles backup and former Jets starter Mark Sanchez, who's had a fantastic preseason and now has to be considered a potential piece of another team's puzzle.
But on Monday, Sanchez said he hasn't heard anything. And he doesn't seem to care about it either. That's because Sanchez said "nobody who would make those decisions has said anything" to him about a possible swap.
"I think they would say something or my agent would say something," Sanchez said, via CSN Philly. "If those people aren't talking to me about it, I seriously doubt it's happening."
Plus, as a source told USA Today, there's "no chance" Sanchez will be dealt to St. Louis.
As Ryan Wilson and Will Brinson point out on the EOF podcast, Sanchez would be one of the names who makes sense, particularly since St. Louis offensive coordinator Brian Schottenheimer was Sanchez's OC in New York.
And remember, Eagles coach Chip Kelly said a week ago that he'd listen to offers for Sanchez.
"I mean, we'll listen to anything for anybody," Kelly said. "We're not going to bury our head in the sand and say no. But it better be a pretty good deal in terms of what it is. But that's not any of our thought process. We need him. In terms of how he's playing right now, how he can function in what we're doing, and I've always said you need to have two quarterbacks."
Asked on Monday about Sanchez -- who's recorded a 112.5 quarterback rating this preseason -- Eagles offensive coordinator Pat Shurmur said everybody should be interested in trading for Sanchez.
"He's done a good job [and] played well for us," Shurmur said. "He's won a lot of football games in the league. I've said it before: He was sitting in the locker room at halftime of two AFC Championship Games [with a lead]."
As per usual, if the Rams are interested in Sanchez, it would come down to the issue of compensation. And for those believing St. Louis would give up, say, a second-round pick for Sanchez, that doesn't strike me as a strong possibility. Particularly since it's likely the Rams will have to sign Bradford -- who's entering the final year of his rookie contract next season -- to an extension, or, if they give up on him completely, likely would acquire their next franchise quarterback in the 2015 draft.
The conclusion: all of this is fun to talk about. But the chances of Sanchez starting games this season for the Rams seem rather slim. 
Smith says the NFL's ratings decline cannot be ignored

The former Jets and Giants quarterback wants to know whether you think the Earth is round

Zach Ertz is one of the NFL's best tight ends but Philadelphia could lose his backup to free...
Second-year coach Sean McVay says his players know exactly what the expectations are

Steelers didn't trade Bryant then and they aren't looking to move him now

It had been rumored that the Jaguars might cut ties with Bortles, but instead he'll stay in...