Eagles QB Michael Vick: Hamstring is worse than I thought it'd be
Michael Vick's hamstring hasn't got much better since he injured it in Week 5. Vick says the hamstring is actually 'worst than I thought it was going to be.'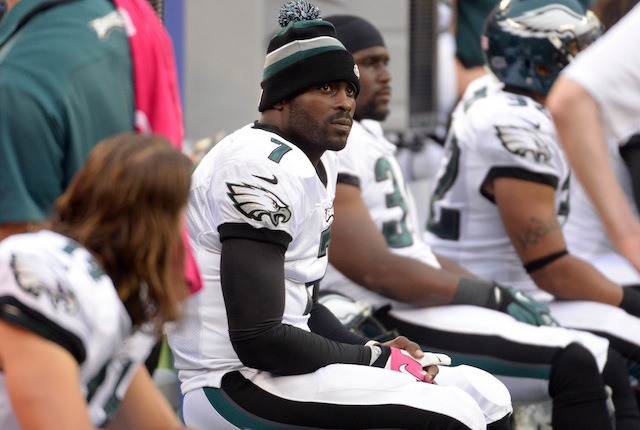 Chip Kelly hasn't announced who his starting quarterback will be when Philadelphia hosts Dallas on Sunday, but Michael Vick might have answered that question for him on Wednesday. 
Vick hasn't played since injuring his hamstring in Week 5 against the Giants and that hamstring injury apparently hasn't gotten any better. "It's worse than what I thought it was going to be," Vick said, via CSNPhilly.com. "It's just slow. It's taking longer than I thought it would."
The injured quarterback then went on to almost flat out say he won't be able to play on Sunday, "I want to get back out there, but I can't," Vick said. "I try to burst and run, I can't do it. Just hoping it's not a long time."
Earlier on Wednesday, Kelly said, "We'll see how he feels" after the first couple of team periods at practice. Clearly, Vick isn't feeling well. 
If Vick's not 100 percent, he won't be starting, at least that's what Eagles offensive coordinator Pat Shurmur said earlier this week, "At this point, we'll go with Nick," Shurmur said. "When Mike's healthy, we'll have that discussion."
Even if Vick's healthy, Foles could remain the starter anyway after what he did to Tampa Bay on Sunday. Making his first start of the season, the second-year quarterback threw for 296 yards and three touchdowns in the Eagles win. Foles also added a rushing touchdown.
If Foles beats the Cowboys and moves Philadelphia into first place in the NFC East, it might be almost impossible for Kelly to bench him. Not that he'd want to. 
The Steelers have found their replacement for Todd Haley

The pop superstar will seek halftime show redemption at Super Bowl LII

Our computer model simulated the AFC and NFC title games 10,000 times with surprising resu...
Todd Haley's name has also been floated as a possible replacement

It wasn't the matchup that we expected, but the Jaguars would argue that's everyone else's...

CBS All Access allows viewers to stream every NFL game on CBS in their local market