Eagles RB LeSean McCoy confirms he thinks Knowshon Moreno sucks
LeSean McCoy didn't back down from his 'Knowshon sucks' tweet that he sent out during the Cowboys-Broncos game on Sunday.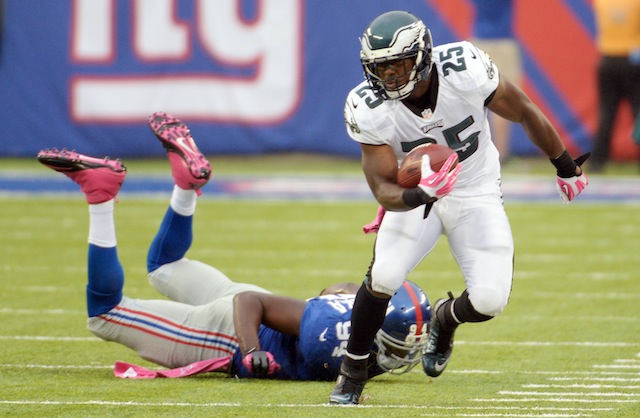 During the second half of Denver's 51-48 shootout win over Dallas on Sunday, Eagles running back LeSean McCoy raised some eyebrows on Twitter when he sent out the following tweet. 
Knowshon sucks RT @RealSkipBayless: Peyton is doing what Peyton always does. But Knowshon is KILLING the Cowboys.

— Lesean McCoy (@CutonDime25) October 6, 2013
Was McCoy hacked? Does he really think Moreno sucks? Does he always retweet Skip Bayless? The answers to those questions seem to be no, yes and no. 
McCoy wasn't hacked and we now know that because he reaffirmed his 'Knowshon sucks' stance on Wednesday. 
In his weekly press conference, McCoy was asked about his tweet, "I don't want to talk about the past," McCoy said, via CSNPhilly.com. "It is what it is. What I said is what I meant."
McCoy was then asked if he regretted the tweet.
"No," he replied. 
One player who won't have to worry about being told he sucks by McCoy is Tampa Bay running back Doug Martin. McCoy actually opened his press conference by complimenting Martin, "I just want to say I think Doug Martin is a heck of a running back," McCoy said. 
McCoy was then asked if Martin sucks. "Nah. He's one of the better running backs for sure," McCoy replied. The question about Martin led to the question about the Moreno tweet.  
What does this all mean? All we know for sure is that it means in McCoy's world, Moreno sucks and Martin doesn't. 
In the world of fantasy football, McCoy might be able to make a case. Going into Week 6's games, McCoy is leading the NFL with 514 rushing yards, 183 yards more than Moreno's 331-yard season total. For what it's worth, Martin has 342 rushing yards and ranks one spot above Moreno at ninth. 
On the other hand, McCoy's team lost to Moreno's team BY 32 POINTS in Week 4. In the 52-20 shellacking, Moreno ran for more yards (78) and touchdowns (1) than McCoy (73-yards and zero touchdowns).
Of course, McCoy could still be mad that he was drafted 41 spots behind Moreno in the 2009 NFL Draft. Shady was selected 53rd overall by the Eagles. Moreno was drafted 12th overall by the Broncos. 
Oh and if you're wondering, Moreno did respond to McCoy's tweet.
Glad @CutonDime25 was watching our game tonight.Great team win,lets keeprolling.#5-0#LetHatersHate#ShotsWereFiredButNoOneGotHit

— Knowshon Moreno (@knowshonmoreno) October 7, 2013
Find out exactly where your team will be selecting in the 2018 NFL Draft

However, the district attorney could move forward with the case against Foster if it choos...

Find out exactly what your team could do in the 2018 NFL Draft
You might want to keep an eye on the Packers when the NFL Draft starts on Thursday

We investigate who the Giants should draft in the first round by providing our version of their...

We investigate what the 49ers should do in the first round by providing our version of their...