Eagles RB LeSean McCoy: Michael Vick is way better than Geno Smith
If it were up to LeSean McCoy, the Jets wouldn't need to have a quarterback competition. McCoy believes that former teammate Michael Vick is 'way better' than Geno Smith.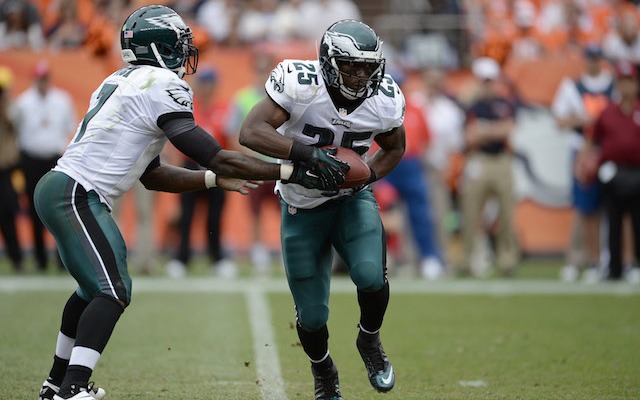 More NFL offseason: Mock Drafts | Prospect Rankings | Pro days | Top free agents
Geno Smith should probably be glad that LeSean McCoy's not the coach of the New York Jets, because if McCoy was the coach, Smith would be spending the 2014 season on the bench. 
McCoy was asked about the Jets quarterback situation at a charity event on Monday and as far as McCoy's concerned, the Jets don't even need to have a quarterback competition. 
"[Michael Vick's] going to be the Jets' starting quarterback this year," McCoy told the New York Post. "He's way better than Geno Smith. Way better. That's no contest."
Of course, McCoy could be slightly biased here because he's friends with Vick and played with him for five seasons in Philadelphia. If McCoy's right though and Vick is 'way better,' that will make Rex Ryan's job of picking a starting quarterback way easier.
According to McCoy, the only thing that might keep Vick from starting is his inability to stay healthy. 
"That's the big question, and that's the only thing," McCoy said. "The thing here was, he didn't lose his job -- he just got hurt and lost his job to injury. But as far as who's the better quarterback, he's way better than Geno Smith. That's obvious."
McCoy will presumably get a first-hand look at the Jets quarterback competition this fall. If Ryan hasn't decided on a starter by the final week of the preseason, there's a chance both Vick and Smith could see action when the Jets travel to Philadelphia for an Aug. 28 preseason game. 
Goodell's current deal is set to expire in 2019, and his latest extension hasn't come without...

Eifert is dealing with back and knee injuries and could be in danger of missing time

The Giants' season is going down the tubes and it's all because of the Pythagorean theorem...
Haynesworth went on a Twitter rant about ex-Lady Vols player Brittany Jackson, the mother of...

The Patriots coach sees intangible similarities between Watt and Lawrence Taylor

The Eagles are rightfully favored, but the Giants' defense could still pose some problems