Eagles RB LeSean McCoy thinks Broncos RB Knowshon Moreno sucks
Eagles running back LeSean McCoy doesn't have a very high opinion of Broncos running back Knowshon Moreno.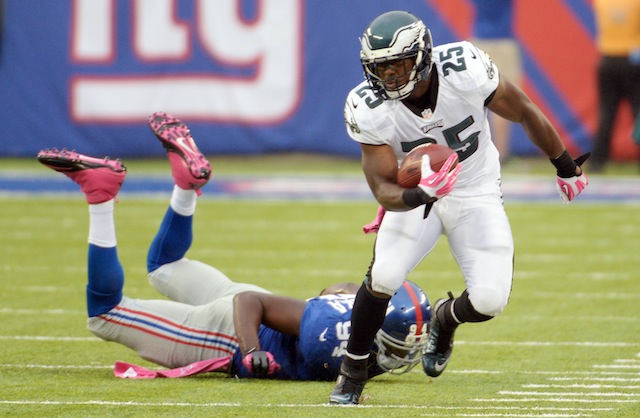 If Eagles running back LeSean McCoy plays fantasy football, it's probably safe to say he doesn't have Knowshon Moreno on any of this teams. 
McCoy let everyone on the internet know about his opinion of the Broncos running back on Sunday and his opinion, as you can see in the tweet below, is that Moreno sucks. 
Knowshon sucks RT @RealSkipBayless: Peyton is doing what Peyton always does. But Knowshon is KILLING the Cowboys.

— Lesean McCoy (@CutonDime25) October 6, 2013
On one hand, McCoy can say that because he's having a way better year individually than Moreno. Going into Week 4's games, McCoy was leading the NFL with 468 rushing yards, almost double Moreno's 238-yard season total. 
On the other hand, McCoy's team just lost to Moreno's team BY 32 POINTS. In the 52-20 Week 4 shellacking, Moreno ran for more yards (78) and touchdowns (1) than McCoy (73-yards and zero touchdowns).
Although to be fair, maybe McCoy meant 'Knowshon sucks' in the nice way. Is there a nice way?
Jackson is 1-29 since becoming the Browns coach in 2016

Also featuring holiday-themed celebrations, a pit crew, the Ickey Shuffle, and some racewa...

The former NFL quarterback sounds like he's ready to move to the front office
Mike Tierney has owned NFL over-unders and just locked in a strong pick for 'Monday Night...

Davante Adams was forced from the game with a concussion after Davis' headshot

The Steelers' wideout was suspended for his hit on the Bengals' linebacker