Eagles took shotgun snap when kneeling down at end of Bucs game
If you've never seen a team take a shotgun snap in order to kneel down, thank the Buccaneers for providing motivation.
• 2 min read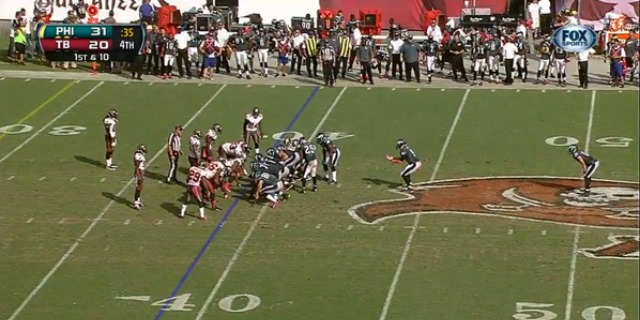 With the Buccaneers' -- and Greg Schiano's -- reputation preceding them, the Eagles pulled off a kneel-down at the end of their victory Sunday that I'm not sure I've ever seen before. Instead of taking the snap under center and with his team in victory formation before kneeling down, quarterback Nick Foles took a shotgun snap in order to kneel down and run out the clock.
The reason for that, according to Chip Kelly?
"Well, obviously Tampa Bay is known for trying to attack and disrupt the snap, so it's just something we worked on and talked about, tried to take him out of that element where they are not going to disrupt the center-quarterback exchange," Kelly told reporters. You know, we knew what they did and it's kind of something that Coach Schiano has done for the two years he's been there."
Oh yes, he has. Much to the chagrin of the Giants, who watched as the Buccaneers last season tried to disrupt Eli Manning's kneel-down at the end of a Tampa Bay loss.
Remember?
Then, the Buccaneers did it again vs. the Cowboys the next week.
"What I do with our football team is that we fight until they tell us 'Game over.' And there's nothing dirty about it, there's nothing illegal about it," Schiano said after the Giants game last season. "We crowd the ball like a sneak defense and try to knock it loose. There's nothing ... if people watched Rutgers, they would know that's what we do at the end of a game. We're not going to quit, that's just the way I coach and teach our players. If some people are upset about it, that's just the way it goes.
"I don't have any hesitation. That's the way we play. We play clean, hard football until they tell us the game is over."
Which is why Kelly decided to play it safe when his team was assured of its victory Sunday.
"We had discussed it during the week and it was just something, you want to not cause a pile up and try to get out of the game," Kelly said. "And if they were going to try that tactic, if we were back in the gun, maybe they wouldn't do it."
Either way, I enjoyed this tweet back to me.
@joshkatzowitz @JasonLaCanfora Schiano gets lots of practice attacking victory formations. He'll come up with something.

— Bill G (@beer_tender) October 14, 2013
As usual, Schiano's positive vibes continue to permeate throughout the league.
The Browns have a long way to go to be AFC North champs

Five selections against the spread for the upcoming Week 15 slate of NFL games

Here are 10 things to watch in Week 15, including a hot Bortles, a cold Brady and a new Eagles...
A couple of potential playoff teams have trouble covering against cellar dwellers in Week...

Siemian said he knew the injury was serious as soon as it happened

After an injury to Trevor Siemian, Brock Osweiler entered the game and helped the Broncos to...