Eagles WR DeSean Jackson says he deserves a new contract
Even though Eagles wide receiver DeSean Jackson just signed a new contract in March 2012, he now wants a new one after putting up career-highs in receptions and receiving yards in 2013.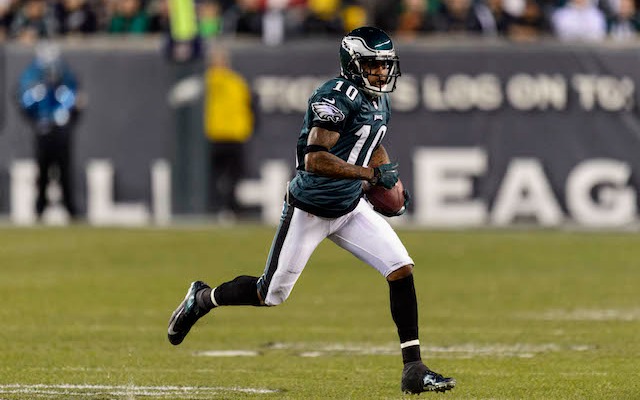 First-year Philadelphia Eagles coach Chip Kelly took the NFL by storm in 2013. Thanks to Kelly and his innovative offensive system, the Eagles won the NFC East and finished second overall in total offense this season behind only the Denver Broncos. That's the good news for the Eagles. 
The bad news is that Kelly's system means big offensive numbers for certain offensive players and those players want to be rewarded for their numbers. Take wide receiver DeSean Jackson for instance, Jackson put up career-high totals in both receptions (82) and receiving yards (1,332) and now he wants a raise, even though he still has three years left on his contract.
Jackson just finished the second year of a five-year deal, $48.5 million he signed before the 2012 season.  
"I definitely feel it's something deserving," Jackson said of a new deal on Monday, via ESPN.com. "We'll see how that plays out. Hopefully, we can work things out smoothly and not have to worry about anything out of the ordinary."
Jackson's 82 receptions in 2013 were 20 more than his previous career-high of 62, part of that though may have been because Jackson didn't have to share catches in 2013 with the Eagles leading receiver from 2012, Jeremy Maclin, who tore ACL in training camp. 
Whatever the reason is for Jackson's improved numbers, he wants to be paid for them, "I'm proven in this league," Jackson said. "After this past year, (I) went out there, no distractions, and just really put it all in for my team and went out there and had a lot of success, so we'll see how it goes."
Jackson said he's not going to worry about getting a raise though, he's going to let his agent worry about that, "Honestly, I feel very confident that my agent will work something out," Jackson said. "I feel like I have a great agent -- that's what he's for, that's what his job is. All I have to really worry about is staying out of trouble and keeping my nose clean and doing the things I need to do, working on my craft and playing football."
The Eagles receiver is represented by Joel Segal. Jackson used to be repped by Drew Rosenhaus, but Jackson and Rosenhaus parted ways in June after a falling out. 
The Ravens quarterback won't be on the field when the team begins training camp

The Chargers might have just found a new backup quarterback

One NFL owner says he'd have 'no hesitation' signing Colin Kaepernick
The Cowboys receiver made a young boy's birthday wish come true

The new Packers tight end had to find a place to sleep after being locked out of his camp...

Lucky Whitehead says he had an awkward face-to-face meeting with Jason Garrett