Early signs pointing to Eagles QB Nick Foles starting vs. Cowboys
Only Chip Kelly knows who the Eagles starting quarterback will be on Sunday, but the early signs are pointing toward Nick Foles making his second consecutive start.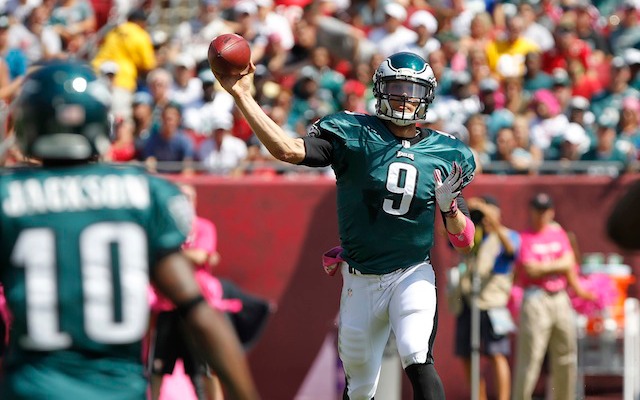 Eagles coach Chip Kelly hasn't announced who his starting quarterback will be when Philadelphia hosts Dallas on Sunday, but the early signs are pointing to Nick Foles. Foles took first team reps during drills on Tuesday, according to CSNPhilly.com.
If that's not enough to convince you, Michael Vick flat out said on Tuesday that he thinks he needs another week to rehab the hamstring he injured in Week 5 against the Giants. Vick's injury paved the way for Foles to make his first start of the season in Sunday's 31-20 over the Buccaneers. 
"I feel it getting better, it's just when I try to burst it's still that knot is there," Vick said of his hamstring, via CSNPhilly.com. "But I think another week of rehab will put me in a position where I can start gaining confidence in it and doing the things I need to do."
For Eagles offensive coordinator Pat Shurmur, there's no debate about who the team's starter is, at least as long as Vick is dealing with his hamstring injury. "At this point, we'll go with Nick," Shurmur said. "When Mike's healthy, we'll have that discussion."
Even if Vick's healthy, Foles could remain the starter anyway after what he did to Tampa Bay on Sunday. Making his first start of the season, the second-year quarterback threw for 296 yards and three touchdowns in the Eagles win. Foles also added a rushing touchdown.
Kelly will start the quarterback that gives him the better chance to win against the Cowboys and right now, that looks like Nick Foles. 
Wentz is a magician who pulled his greatest trick so far on Monday night against the Redsk...

Wentz is carving up the Redskins on Monday night

Peters was quickly ruled out by the Eagles with a knee injury
Wentz rebounded from an awful interception with a 64-yard touchdown pass against the Redsk...

Cousins did not want to miss a meeting or his wife delivering their child, so he found a way...

Brock Osweiler is the Broncos' backup quarterback