Eddie Royal taken from Chargers practice in ambulance
Chargers wide receiver Eddie Royal was taken to the hospital with shortness of breath after landing hard at practice Saturday.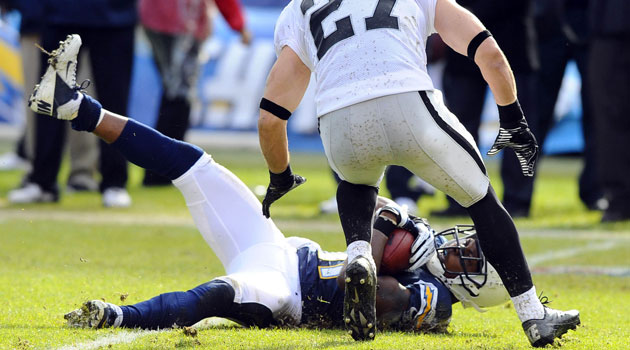 The Chargers wide receiver situation is already quite bad and it somehow got worse on Saturday when Eddie Royal left practice in an ambulance. The team later announced he suffered a bruised lung and is being evaluated for a concussion.
As the San Diego Union-Tribune reports, Royal caught a ball in practice, landed hard on the ground and was walking to towards the locker room with trainers when the wideout collapsed.
After being examined by trainers (with Tom Telesco, Mike McCoy and Philip Rivers around him as well), Royal was placed in an ambulance and taken to the hospital.
McCoy said that Royal had "a hard time breathing" and was taken to the hospital as a result.
"Eddie obviously went up for a ball, caught the ball, landed on his back and (had) shortness of breath and a little bit of a hard time breathing," McCoy said per Chargers.com. "So we're going to take him to the hospital and check him out.  That's all I've got right now.  I can't tell you anymore.  I don't know a whole lot about it other than that."
It sounds like the scene might've been even more scary.
Chargers player said Eddie Royal was coughing up blood...a lot of the guys are on their way to visit him at hospital

— Marty Caswell (@MartyCaswell) August 17, 2013
Safety Eric Weddle spotted the catch where Royal suffered the injury, calling it "phenomenal" and painting a picture of how the wideout might've suffered such a scary-sounding injury.
"Phenomenal catch," Weddle said. "He was about 10 feet in the air. He just fell straight down on his back.
"Hopefully, he'll be OK. He's tough."
Obviously the biggest concern is Royal's well being in this matter. Football is secondary to the wideout's personal health.
But at this point the Chargers -- and especially their wide receivers -- seem snakebit. Danario Alexander is lost for the season with a torn ACL (the Bolts later waived him) and Malcom Floyd suffered an injury that could keep him out for a few weeks as well.
The Eye on Football podcast brings you the best NFL analysis money doesn't have to buy. Subscribe on iTunes here!
The Green Bay Packers quarterback seems to be a go for the Carolina Panthers game

Shazier's season might be over, but he still wants to help his team

The young head coach took the blame after a heartbreaking loss to the Eagles
Our computer model simulated every Week 15 NFL game 10,000 times with very surprising resu...

Britt is going from the worst team in football to a Super Bowl contender

With three weeks to go in the regular season, the MVP race is wide open