Eight NFL QBs look to be on hot seat; how long before a change?
With the likes of Johnny Manziel and Michael Vick on the bench right now, you have to wonder how long the likes of Brian Hoyer and Geno Smith keep starting jobs. And they're not alone.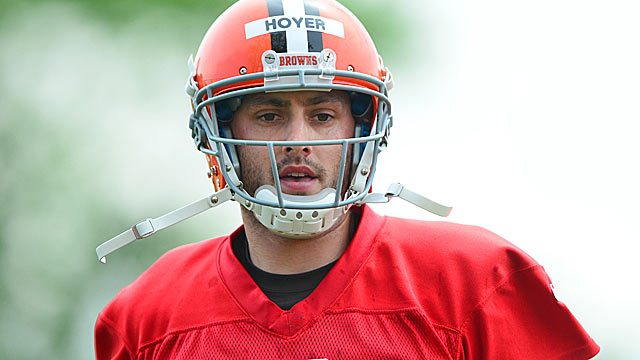 More NFL offseason: League minicamp dates | Latest news, notes
This time of year, NFL coaches say things to keep players motivated and feeling good about themselves. But for eight quarterbacks, their days as the starter may be over sooner rather than later.
I see 24 of the 32 starting quarterbacks as safe, but Brian Hoyer ( Cleveland Browns ), Ryan Fitzpatrick ( Houston Texans ), Chad Henne ( Jacksonville Jaguars ), Matt Cassel ( Minnesota Vikings ), Geno Smith ( New York Jets ), Matt Schaub ( Oakland Raiders ), Josh McCown ( Tampa Bay Buccaneers ) and Jake Locker ( Tennessee Titans ) face a different reality. They may begin the season as starters, but how long they remain No. 1 is another story.
None of these teams had a winning season last season, and even if that was not the fault of these QBs, the pressure to win is ever present. And these eight have a combined record as starters (including playoff games) of 159-204-1.
Hoyer and Schaub are the only two with winning records, but Hoyer's 3-1 record isn't a full body of work and Schaub's 47-45 isn't exactly stellar. The fact is this group wins 43.6 percent of their games, averages a little more than one touchdown pass per start, close to an interception a game and more than two sacks a game.
Behind these eight are interesting candidates. Johnny Manziel (Browns), Tom Savage (Texans), Blake Bortles (Jags), Teddy Bridgewater (Vikings), Michael Vick (Jets), Derek Carr (Raiders), Mike Glennon (Bucs) and Zach Mettenberger (Titans) may be backups now, but all could get the call to start at some point, and not because of injury.
Team record, fan outcry, empty seats, a desired team shake-up, a coach trying to save his job, a team out of the playoff race, off-the-record comments from teammates, an owner seeking change, a GM wanting to see his draftee -- and 100 more reasons -- put these "starters" in a tough spot.
One or two of the starters in June will survive the pressure, but the other six or seven will be benched. And it may not be their fault. But how do you sell hope to fans of losing teams with a journeyman on the field and an intriguing backup on the bench?
Here's my guess at the number of games before a switch is made.
Hoyer: 6 games
Fitzpatrick: 12 games
Henne: 10 games
Cassel: 13 games
Smith: 8 games
Schaub: 9 games
McCown: 10 games
Locker: 8 games
Contracts speak louder than opinions, and none of the starting eight QBS here are anywhere near the top paid players on their roster. Schaub has the highest average salary at $6.75 million, which is not close to true NFL starter money. As a group, they average $3.25 million a year, which is backup money for quarterbacks and most of them are on short-term deals.
I surveyed a few NFL coaches, front office executives and former NFL people, and the two QBs most likely to complete the season as the starter were Cassel and Fitzpatrick, followed by Jake Locker. But no one thought they would all make it through the 16-game regular season as starters.
The Giants got a scare in the second quarter against the Browns

Welcome to the NFL's version of a dress rehearsal

The Browns protested the anthem on national television
Beckham passed tests for a concussion but the Giants will do more tests on his ankle

The president has something in common with Vladimir Putin

The Seahawks are trying to beef up their offensive line with George Fant out