Eight takeaways from Browns, 19-17 loss to the Bills
Observations from the second preseason game against the Bills.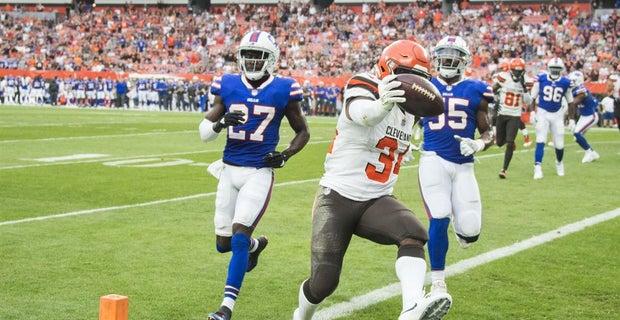 CLEVELAND -- Despite losing their first preseason game in two seasons, 19-17 to the Buffalo Bills, the Browns had some positives to come out of the game. Here are seven takeaways.
Running Game Arrives: After a minimal rushing attack in the first preseason game against the Giants, that averaged just 1.5 yards per carry, the Browns came out trying to emphasize the ground game. In the first half, the Browns averaged 6.4 yards a carry with 115 yards on 18 carries. They had four runs in the first half longer than their longest run (7 yards) against the Giants.
The Browns finished with 164 yards on 32 carries (5.1 avg.).
#Browns Hue Jackson was glad to see the running game get going. pic.twitter.com/eZOefrDbhK

— Fred Greetham (@FredGreetham) August 18, 2018
Carlos Hyde -- Hyde started the game with three-straight runs of three-, nine- and 26-yards. After Duke Johnson had an 18-yard run and a seven-yard pass to Darren Fells, Hyde went over right guard for a four-yard touchdown. He had 41 yards on five carries on the first drive. Hyde finished with 64 yards on nine carries, including a touchdown. Hyde also had a 19-yard run in the second quarter. (1 -1) longest run 7 yards.
Duke Johnson -- Duke Johnson had four carries for 27 yards, including back-to-back runs of 18- and four-yards on the first touchdown drive. (1-3)
Nick Chubb-- Chubb had a 14-yard run on his first carry and finished his night with a one-yard touchdown run. Chubb had 53 yards on 11 carries, including a touchdown. caught two passes for no yards. 8 yard to 12. (15-11) 4 17 yard run to one-yard line and a one-yard touchdown run to give the Browns a 17-13 lead.
#Browns Hue Jackson was pleased with the first defense performance. pic.twitter.com/DWWOoXcbum

— Fred Greetham (@FredGreetham) August 18, 2018
Strong Start by Starting Defense: The first team defense played the first four series and forced the Bills to go three-and-out on all four series. On the Bills first series, Genard Avery forced AJ McCarron out of bounds short of the first down, forcing a punt.
On the second series, Larry Ogunjobi sacked McCarron on third-and-9 to force the second punt.On the third series, linebacker Mychal Kendricks shot through and dropped LeSean McCoy for a one-yard loss to set up a third-and-5, which McCarron threw incomplete to force the third punt.
On the fourth series, Denzel Ward stopped Zay Jones short of the first down on third-and-12 with an open field tackle to set up Buffalo's fourth consecutive punt.
Hold that Line: After a spotty performance in limited time, the first team offensive line played pretty well, opening up holes for the running game. Despite missing Kevin Zeitler (calf) and Joel Bitonio in his second game at left tackle, the rushing game was able to put 115 yards on the board in the first half, including a 6.4 average. Overall, the line helped the running backs gain 164 yards for a 5.1 average.
All about the Quarterback: After very strong games by Tyrod Taylor and Baker Mayfield in the first preseason game, the duo were not spectacular but both did lead scoring drives during their time on the field.
Tyrod Taylor -- The most impressive part of Taylor's game was he directed a nine play, 70 yard drive on the first series of the game. He only threw two passes on the drive and completed one for seven yards to tight end Darren Fells. Taylor played four series and after going 5-of-5 for 99 yards in the first game, he was 4-of-7 for 22 yards and a 62.8 rating. He had one completion for 19 yards to Rashard Higgins and one rush for five yards.
#Browns Baker Mayfield says he's comfortable on the field and feel a lot is coming naturally in his progression. pic.twitter.com/uh6i7uisub

— Fred Greetham (@FredGreetham) August 18, 2018
Baker Mayfield -- Mayfield didn't enter the game until the 3:55 mark of the second quarter, but played into the fourth quarter. He led the Browns to ten points in his final two possessions. He did have a touchdown called back due to penalty and the Browns had to kick a field goal. His final drive resulted in a touchdown on a one-yard plunge by Nick Chubb.
Mayfield finished 7-of-13 for 75 yards and a rating of 71.0. Mayfield also had four carries for nine yards.
Mayfield threw a two-yard touchdown to Derrick Willies, but it was called back on a pass interference penalty on Cajuste. The Browns settled for a 31-yard field goal by Ross Martin. The drive was 11 plays, 51 yards and took 5:40 to make the score 13-10 with 2:16 left in the third quarter.
On the next series and last for Mayfield, he threw a pass to Da'Mari Scott for 13 yards and then another one to him for 18 yards. After a personal foul on the play, Nick Chubb had a 17-yard run to the one. Mayfield threw a fade to Willies near the sideline and it was called a touchdown, but called back as he failed to get both feet inbounds for the touchdown. Willies had two touchdown catches called back. Chubb went over left guard for the touchdown on the next play for the 17-13 lead with 12:33 to play in the game. The drive was nine plays, 65 yards in 2:59 for Mayfield to finish on a positive note.
Catching the Ball: After being showcased in the first game, Jarvis Landry had just one target and it was over his head. David Njoku, who had two touchdowns had one target, as well. Hue Jackson said after the game that the Browns were taking a look at some of their young wide receivers.
Rashard Higgins -- Higgins caught a 19-yard pass from Taylor and finished with two receptions for 20 yards. He had an offensive pass interference called against him that took the Browns out of field goal range.
Damion Ratley -- Mayfield hit Ratley for two passes for nine yards each for a total of 18 yards.
Derrick Willies -- Willies caught two passes that were initially called touchdowns, but both came back. The first was on an offensive pass interference penalty on a three-yard catch and the second was a one-yard fade from Mayfield in the back corner of the end zone that was called a touchdown, but after review was overturned. He had three targets for no catches.
Da'Mari Scott -- Scott had a catch for 13 yards from Mayfield and then an 18-yard catch to the Bills' 18 on the Browns final touchdown drive. He finished with two catches for 31 yards.
Devon Cajuste -- The tight end had a 26-yard reception to set up a score, but was called for offensive pass interference on a touchdown to Willies that took a touchdown away.
Linebackers Show Depth:
Genard Avery -- The rookie from Memphis pushed AJ McCarron out of bounds on the first series short of a first down, He had a two-yard loss on McCoy. Committed a penalty that allowed the Bils to stay on the field and ultimately score a touchdown as he was flagged for illegal hands to the face on 3rd-and-long on the play that Carl Nassib had a sack.
Mychal Kendricks -- Kendricks had three tackles and tackled LeSean McCoy for a one-yard.
Jamie Collins -- Collins had four tackles and had a stop at the goal line.
James Burgess-- Burgess had a one-yard tackle for loss on the goal line on Chris Ivory. He combined on a sack with Justin Currie on Nathan Peterman. Burgess led the Browns with five tackles, including a half sack.
Justin Currie -- Currie stripped the ball from Traveris Cadet, but the Bills were able to recover. He also combined with Burgess for a sack on Peterman.
Behind Enemy Lines: The Browns had seven tackles for loss, five quarterback hurries and three sacks.
Larry Ogunjobi -- Ogunjobi sacked McCarron on third-and-9 for a seven-yard loss. He also tackled McCoy out of bounds for a one-yard loss on a short pass and finished with two tackles for loss, one sack and one quarterback hurry.
Myles Garrett -- Garrett pressured the quarterback into an incomplete pass.
Chris Smith -- Defensive lineman Chris Smith had a tackle for loss in third quarter
Secondary Play: The Browns secondary had a few plays that stood out.
Brieann Boddy-Calhoun -- Boddy-Calhoun broke up pass to to Kelvin Benjamin to force a three-and-out on the Bills first offensive series. He had a two-yard tackle for loss with Larry Ogunjobi on LeSean McCoy. He had a pass break up on Jeremy Kerley but did allow a touchdown to Rod Streater from Josh Allen. Boddy-Calhoun finished with two tackles.
Denzel Ward -- tackle zay jones on 3rd& 12 for 5 yard gain to prevent a first down;
Derrick Kindred -- Kindred sacked Josh Allen on a blitz from the corner for minus six yards.
Mike Jordan -- Jordan broke up a pass from Nathan Peterman that was almost intercepted at the Bills' 24-yard line intended for Logan Thomas. He finished with three tackles.
Pick Six Newsletter
Get the day's big stories + fun stuff you love like mock drafts, picks and power rankings.
Please check the opt-in box to acknowledge that you would like to subscribe.
Thanks for signing up!
Keep an eye on your inbox for the latest sports news.
Sorry!
There was an error processing your subscription.
SportsLine's computer model has evaluated every possible NFL playoff scenario

R.J. White has his finger on the pulse of Sean McVay and the L.A. Rams.

Eric Dickerson seems pretty convinced that the Patriots cheated in Super Bowl XXXVI
Handicapping legend Hank Goldberg just revealed his top parlay for the AFC and NFC Championship...

Find out everything you need to know about how the AFC and NFC Championships will go right...

The Cardinals receiver picked a good time to hit the best shot of his life