Eight things to take away from the Bills-Giants Hall of Fame game
Football is here. Well, preseason football is here, at least.
• 4 min read
More NFL: Photos |  Videos & GIFs |  Training Camp updates | Manziel
Football is here. Well, preseason football is here, at least.
Thus, the Giants on Sunday night took the field against the Bills in the Hall of Fame game in Canton, Ohio. And football was played.
Here were eight things I took away from the first of the 2014 exhibition games.
1. Eli Manning looked good in the newly unveiled Giants offense.
OK, it's not totally unveiled. It's probably not even half-unveiled. But the Giants showed us some new wrinkles, including a no-huddle game that featured plenty of short, quick passes. Though he's never completed better than 62.9 percent of his passes during a season, the Giants are on record saying their goal for Manning this season is to reach 70 percent accuracy.
Jerrel Jernigan dropped Manning's first pass of the evening, but he completed the next six to finish with 43 yards. Also, an 85.7 completion percentage.
Mostly, Manning threw short and intermediate passes, and he got them out of his hand quickly and the team seemed comfortable in the no-huddle.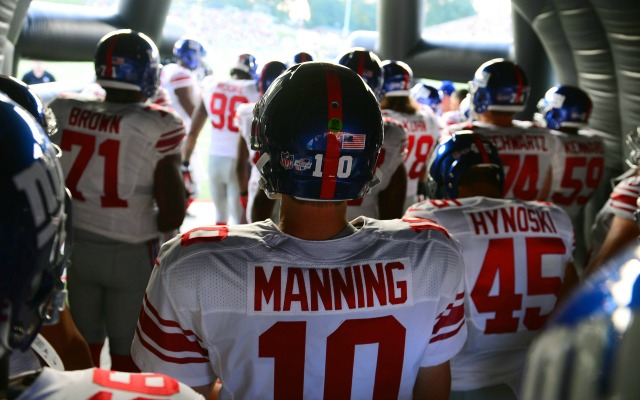 But Manning had a hiccup when he fumbled the ball after getting sacked by Kyle Williams.
"We found completions," Manning told NBC during the game. "I had the one mistake with the sack and fumble. But that third possession, we ran the ball and found high completion percentages."
Even with his satisfaction, Eli Manning Face luckily still lives on.
Our first Manning face since the Super Bowl. Welcome back football. pic.twitter.com/EVLT5fFu9C

— Faux John Madden (@FauxJohnMadden) August 4, 2014
2. If you're excited about Bills rookie receiver Sammy Watkins, you're not alone. The Bills are excited about him, and Buffalo's fans have to be pumped to see what kind of impact the No. 3 overall draft pick can make early in his career.
He didn't do much of anything on Sunday, though.
So far, Sammy Watkins is an absolute bust.

— Josh Katzowitz (@joshkatzowitz) August 4, 2014
Obviously, I'm kidding about that. He just didn't get much of a chance in this game.
EJ Manuel tried to get Watkins a deep ball on the first series, but Watkins was well covered by Giants cornerback Prince Amukamara, and Manuel's attempt was overthrown.
And that was pretty much it for Watkins in his first preseason game.
3. The experimental extra-point attempts were no problem.
Neither Giants kicker Josh Brown nor Bills kicker Dan Carpenter missed a 33-yard attempt, and they combined to hit three overall.
As you should know, the NFL is experimenting with a longer extra point attempt during the first two weeks of the preseason, mostly because last year's conversion rate was successful 99.6 percent of the time. But the league-wide success rate for attempts between 30 and 39 yards was 89.8 percent.
So far, the conversion rate is 100 percent.
4. This was a little troubling. Manuel only played two series, but in those two drives, he attempted seven passes, had three of them batted down by the Giants front seven, and he completed just two.
Not a big deal because of the circumstances, but you certainly don't want your 6-foot-4 quarterback having that many tipped passes at the line of scrimmage.
5. How does a David Wilson-less running game for the Giants look so early in the preseason?
So far, pretty good. Rashad Jennings had a nice run or two while picking up 23 yards on seven carries, and fourth-round pick Andre Williams looked fantastic against Buffalo's second-string defense, gaining 36 yards on seven carries.
Without Wilson, who hurt his neck again in practice last week and whose career is in danger, there looks to be some potential from Jennings -- who's coming off a career-best season in Oakland after spending the first four years of his career in Jacksonville -- and his rookie counterpart.
6. Backup Giants quarterback Ryan Nassib had mixed results.
Though he's battling with Curtis Painter for the No. 2 spot on the depth chart, it seems clear that the team would like to see Nassib, the fourth-round pick from 2013, take over as Manning's backup.
He completed 7 of 12 attempts for 139 yards and made some nice, zippy passes, but he also tossed a terrible interception to Buffalo's Preston Brown that was vacated because of a defensive penalty and then got hit with an intentional grounding penalty soon after. But he also hit Corey Washington for a 73-yard touchdown to give the Giants a fourth-quarter lead.
As for Painter, he completed all three of his passes for 26 yards.
7. Without Cordy Glenn at Bills training camp and without knowing when the starting left tackle will return, Buffalo turned to seventh-round pick Seantrel Henderson to protect Manuel's blind side. There's not much to question about Henderson's talent, because coming out of high school scouting services considered him one of the best in the country.
But he was suspended three times in college at Miami and then reportedly tested positive for marijuana at the combine.
On Sunday, though, Henderson stifled Giants defensive end Jason Pierre-Paul and he kept Manuel clean. If Glenn doesn't return from his mystery illness soon, Buffalo should have more confidence in using Henderson immediately.
Dont get it twisted though, talent was never Seantrel's problem. I said he would likely end up being a steal right after the draft

— Stephen White (@sgw94) August 4, 2014
8. As ESPN's Darren Rovell reported Sunday, this game was the first time since 1989 that the Riddell name wasn't placed on a helmet. According to Rovell, the league ended the deal this year, because "with so much focus on concussions, [the] league didn't feel it was appropriate to have an official on-field helmet sponsor."
Instead, the team logo will be in the place where the Riddell logo used to be (across the center of the brow, underneath the numbers). As you can see here on Amukamara.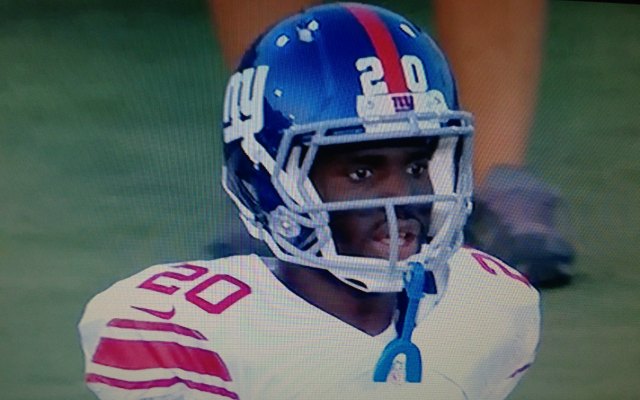 The union is concerned that Kaepernick's visit will incite violence against guards from in...

Salary deferrals make identifying most lucrative contracts from year-to-year complicated

The Titans' best player has had the worst season of this NFL career in 2017
By 2018, Dalton's price tag will be too expensive, so the Bengals pick Baker Mayfield to usher...

The offensive line, run game, and receivers have been worse as well

Quin now spends his free time reading books and hanging out with his family