Eleven from Sunday: Setting the McCown market, more official gaffes
As we welcome five teams to the playoffs who weren't in last season, Kyle Orton tells us what Josh McCown's worth and there were some serious blown calls by the refs.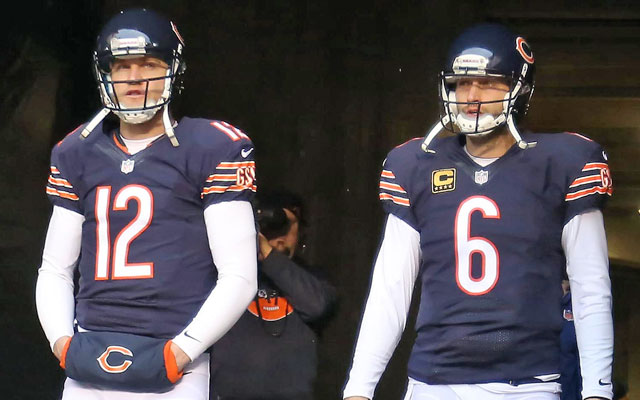 The NFL's move to make Week 17 all divisional games was a brilliant idea and the games did not disappoint.
This regular season spawned five teams that did not make the playoffs last season, right on the average over the past few seasons. As usual, not many people saw the Carolina Panthers , San Diego Chargers , Kansas City Chiefs , New Orleans Saints and Philadelphia Eagles  getting to the postseason.
With that, let's get to 11 from Sunday.
1. What Josh McCown is worth
I was impressed with the way Kyle Orton handled his opportunity to start in the wake of the Tony Romo  injury, and it was hard to tell he hadn't started a game since 2011.
Dallas Cowboys coach Jason Garrett was the same kind of savvy veteran backup as a player, and owner Jerry Jones paid to have the security of Orton: three years and $10.5 million with $5 million guaranteed.
So that sets the market for what Josh McCown is worth should he decide to come back in 2014. His agent should be able to get an Orton deal from the Chicago Bears  or on the open market.
2. More embarrassing 'official' moments
A couple stood out Sunday, and in big games -- Eagles-Cowboys and Chiefs-Chargers.
How about the Chargers lining up too many players on one side during a Chiefs field-goal try? It went undetected, and Chiefs kicker Ryan Succop missed from 41 yards. Had the penalty been called, Succop would have had another chance from 5 yards closer, and the Chiefs may have won in regulation. The league admitted its error on Monday.
Did you see the officials blow the call late at Dallas? The called a delay of game penalty on the Cowboys with 4:50 left, when the play clock was set at 25 seconds instead of 40 seconds.
The NFL needs to hurry up and fix a league that is broken. Fans are starting to question if games are officiated in a reliable fashion. If the officials can't manage all the rules because there are too many, then maybe it's time to get rid of a few of them.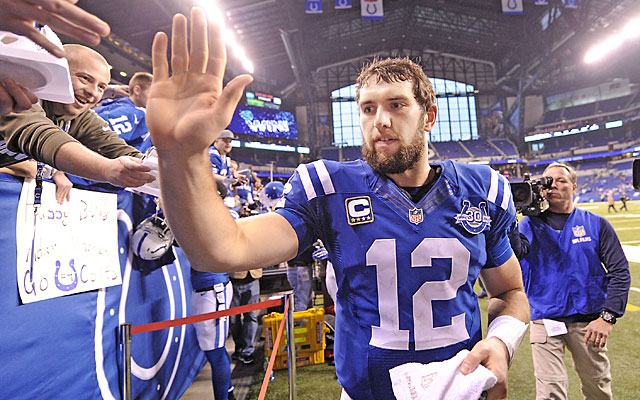 3. Hot at the right time
When the Indianapolis Colts lost Reggie Wayne after a hot start, they slipped and looked like a nonfactor for the playoffs. The defense was suffering because the offense was neither scoring nor winning time of possession without Wayne.
However, Indianapolis got hot in the nick of time. That defense has yielded only 20 points in the past three games. Combine that with Andrew Luck reducing his interceptions from 18 last season to nine in 2013 and the Colts look ready for the postseason.
4. Sweeps and splits
Before Sunday's games started, Bill Cowher said. "It's hard to sweep teams in this league."
I agree, and history says there are more splits between division opponents than sweeps every season, but Week 17 told a different story.
Ten teams completed sweeps vs. division foes while six split.
Now we head to the wild-card games. In three of the four matchups, the teams played during the regular season.
The Cincinnati Bengals beat San Diego 17-10 in San Diego and now get them at home. The Colts beat the Chiefs 23-7 in Kansas City and now get them at home. The San Francisco 49ers beat the Green Bay Packers 34-28 at home and now head to Green Bay.
If Week 17 is any indication there should be a sweep or two.
5. Sizing up playoff QBs
There's a regular argument about what round teams should draft a franchise quarterback, and that debate won't subside after this season.
Six first-round QBs made the post season; Peyton Manning , Cam Newton , Philip Rivers , Alex Smith , Andrew Luck and Aaron Rodgers are pretty good reasons to draft a QB in the first round.
However, Tom Brady , Russell Wilson , Andy Dalton , Colin Kaepernick , Drew Brees and Nick Foles represent the argument for waiting.
6. The spoiler factor
In Five for Sunday, we noted the Week 17 spoiler factor. Eight teams came into this weekend out of the playoff picture but playing teams with playoff hopes.
I thought two spoilers would beat playoff contenders, but missed by one. The New York Jets beat Miami 20-7 to send the Miami Dolphins home.
7. Depth like I've never seen
Andy Reid is known to rest players when his team clinches a playoff spot, and did so in Week 17.
And the Chiefs, who at one point were playing 21 backups and one starter, took a Chargers team seeking a playoff spot to overtime before losing.
I couldn't help but wonder what other league owners thought of a KC team on the field -- a group with salaries about a third of the starters' combined paychecks -- performing like high-priced starters.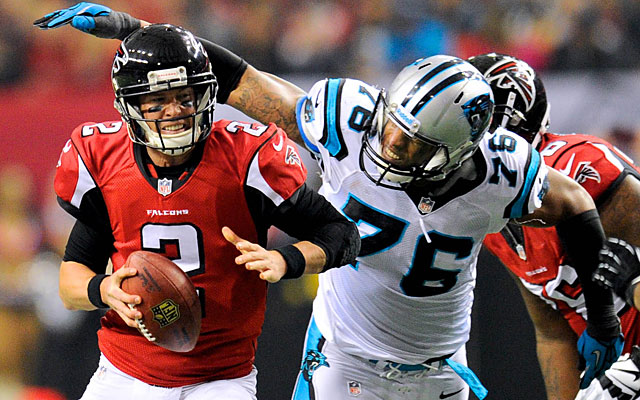 8. Carolina's pass rush on fire
The Panthers came up with nine sacks in the win over the Atlanta Falcons on Sunday and have 15 the past two weeks (six vs. New Orleans in Week 16).
Collecting sacks at that rate against Matt Ryan and Brees demonstrates the Panthers' pass rush is ready for any quarterback in the playoffs.
DE Greg Hardy is in his contract year and colleted seven of the 15 sacks. With a bye this week the Panthers will rest these rushers for their first playoff game at home.
9. First to 14 (straight losses)
The Houston Texans are the first team in NFL history to open 2-0 before losing 14 straight.
The Texans fired Gary Kubiak almost a month ago to get a head start on finding a new coach but arrive at "Black Monday" still without a coach. Coordinators from the 12 playoff teams can't take the Texans' job until they are eliminated, and the search may stall -- just like the team did this season.
10. Not in the playoffs
Andy Dalton isn't going to win his first career playoff game by throwing four interceptions as he did in Week 17. The Bengals QB has been to the playoffs in his two previous seasons, but has produced neither a playoff victory nor a touchdown pass.
11. Guys in final games for these teams?
We all know Falcons TE Tony Gonzalez  career wound up in Week 17, and it was great to watch him perform for more than a decade and rewrite the tight end record book.
I wonder if we will ever again see Troy Polamalu in a Pittsburgh Steelers uniform, Jared Allen in a Minnesota Vikings uniform, Justin Tuck in a New York Giants uniform or Julius Peppers in a Bears uniform. I have a feeling the answer is no.
It sure looks like the former top pick will be benched heading into the regular season for...

Someone asked him to start the press conference of course

Derrick Johnson wants to discuss players' First Amendment rights amidst the protests
High praise from one of the most athletically gifted quarterbacks ever to step on a football...

Nobody will mistake Joe Looney for his star teammates

Osweiler is being benched in favor of DeShone Kizer