Emmanuel Sanders: Peyton is a better leader than Roethlisberger
Former Steelers receiver Emmanuel Sanders kind of ripped current Steelers quarterback Ben Roethlisberger.
• 1 min read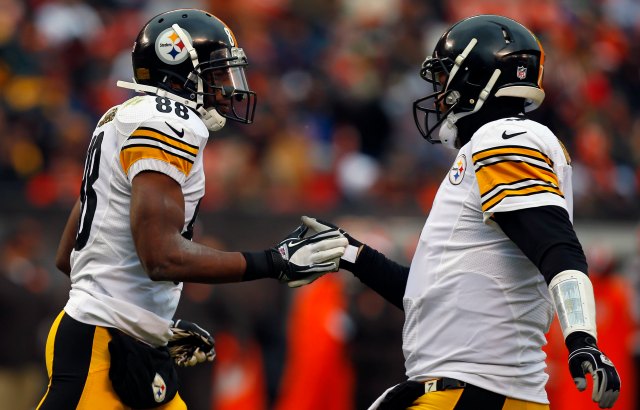 More NFL: Photos |  Videos & GIFs |  Training Camp updates | Manziel watch
During the first four seasons of his career, receiver Emmanuel Sanders caught passes from Steelers quarterback Ben Roethlisberger, and each season, Sanders' statistics got just a little bit better. But now that Sanders is with the Broncos and working with Peyton Manning, he understands what he believes to be a stark difference in the quarterbacks' leadership skills.
Explain yourself, please.
"I feel like Peyton is a far better leader, in terms of staying after practice, catching balls, wanting guys to get on the same page with him, things of that sort," Sanders told 104.3 The Fan in Denver, via PFT.  
"This is the first time that I've had a quarterback that every single day after practice -- no matter what his accolades, NFL MVP, Super Bowl ring -- he keeps guys like me and [rookie receiver Cody] Latimer after practice. . . . He's not one of those guys you've got to chase down. He's going to be right in the same spot, ready to work, every single day. I just feel like that's a difference from a mental standpoint."
But before you think this is a rip job on Roethlisberger (well, it's a rip job, but it's not really a TOTAL rip job), Sanders clarified his feelings for Roethlisberger.
"I've got so much love for Ben," Sanders said. "At the same time, I'm not going to lie. I'm happy to be part of this organization and happy that Peyton is my quarterback."
Fair enough, but if we're talking about Super Bowl-winning quarterbacks, we have to go to the tale of the tape. And as you know, Roethlisberger has two Super Bowl rings, while Manning only owns one. 
In the past week, Marshawn Lynch and Michael Bennett have both sat during the national ant...

As expected, the internet had jokes about the Chick-fil-A at Mercedes-Benz being closed on...

Harrison is the franchise's all-time leading sacker, but J.J. Watt's brother will get the starting...
More than 17 percent of fans say they would never consider dating a Pats fan

Brady said that his lack of speed is why he fell so far in the draft in the first place

If Thomas is right, that means it's bad news for DeShone Kizer's chances of starting early