Enablers as responsible as Incognito for enormous mess he's in now
Richie Incognito, bad actor, didn't just pop up in Miami. His acts of ill will were dismissed for years because the havoc he wreaked on the field gave him leeway for the messes he made off it.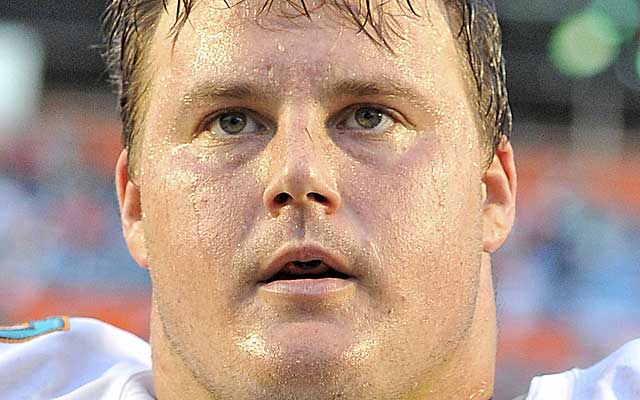 It took a village to raise Richie Incognito. This doesn't just happen, but is allowed to happen. He's encouraged, developed, applauded. Maybe the applause was muffled, but Richie Incognito heard it plain as day when Nebraska kept putting him on the field and Oregon considered doing the same and the Rams drafted him and the Bills signed him and the Dolphins paid him millions and added him to the team's elite leadership counsel.
Richie Incognito is primarily to blame for Richie Incognito. Get that straight. He became what he became first and foremost because there's something wrong with him, something heartless and cruel. But also he became what he became because coaches along the way pushed him up the ladder, promoting him because what he might do for the team was deemed more significant than what he might do to someone else.
In high school Incognito was doing the same stuff he would do in college and the NFL, repeatedly drawing flags for unnecessary roughness, but even with the benefit of hindsight his high school coach made excuses for it. Three years ago his coach at Glendale-Mountain Ridge High told the Palm Beach Post that Incognito was guilty of nothing more than "dominating a kid ... and the officials, they kind of feel bad for a kid that just got whipped pretty good." Film of those plays showed Incognito mauling smaller players, but "it was [usually] a good block," Jim Ewan told the Post, before uttering a few sentences that explain in a nutshell why Richie Incognito, over the next dozen years, was allowed by a whole lot of adults to become the man we know him as today:
"He had a tendency to piss people off -- you don't need to go that hard,'" Ewan said. "But if I could get 11 kids to go like that all the time, how good could we be as a team?"
If I could get 11 kids to go like that ...
Here's the kind of kid Richie Incognito proved to be once he left the relative obscurity of high school and reached college and then the NFL, where the spotlight caught up to him:
As a true freshman redshirting the 2001 season on the Nebraska scout team, Incognito routinely got into fights with older, starting teammates.
In his second college game, in 2002, he was accused of spitting on a player at Troy State. Two weeks later he got into a fight with a Penn State player, drawing his first suspension: one half of the next game. That same season he drew a personal foul for taking a swing at a player for Colorado.
In the spring of 2003, during an intrasquad scrimmage, he fought with a teammate and was suspended for several days. In a separate incident he routinely manhandled and even blindsided a smaller teammate until the smaller player walked out of practice. Nothing happened to Incognito, another teammate told USA Today; he was a star. The other guy? Just a walk-on.
In February 2004 Incognito was charged with three counts of assault after a fight at a party, and was found guilty of one charge. Not until September was he suspended from the team, and then for unknown reasons. He sought a transfer. Oregon took him.
A week later Oregon kicked him off the team for unspecified reasons.
In 2005 the Rams drafted him in the third round and kept him for parts of five seasons, during which time he fought with 180-pound teammate Dwight Anderson, head-butted two different Tennessee Titans, argued on the sideline with coach Steve Spagnuolo, was fined $35,000 by the NFL for three different in-game incidents, was fined $50,000 another time by the NFL, was accused by the Seattle Seahawks of twisting ankles and scratching people at the bottom of piles, and was named the dirtiest player in the league by a vote of players.
After all that, after the Rams finally released Incognito late in the 2009 season following the head-butting incident, the Buffalo Bills picked him up. Bills defender Kawika Mitchell objected on Twitter , saying his team had just acquired "a bum. [He's] dirty and always will be."
Incognito played three games with the Bills but wasn't offered the chance to return in 2010. No problem. The Miami Dolphins signed him.
In 2011 Incognito harassed Raiders defensive tackle Richard Seymour into throwing a punch at him. In August he was given a trespassing warning after an incident at a Miami Beach hotel where he was accused of punching a security guard. This season he harassed Texans defensive end Antonio Smith into ripping off Incognito's helmet and swinging it at his head.
At some point during Incognito's time in Miami, Dolphins players voted him onto the team's six-player leadership panel. The front office used Incognito to make a public-service announcement about fan behavior at games.
Meanwhile, this team leader and voice of reason known as Richie Incognito was tormenting teammate Jonathan Martin. Reportedly under orders from someone on Joe Philbin's coaching staff to toughen up Martin, Incognito did things like send him racist, threatening text and voice messages. Badgered him into helping pay for items that benefitted Incognito, like expensive meals and a Las Vegas vacation. Threatened physical violence on Martin's family.
Monstrous stuff, but this monster didn't just wash ashore. He has been causing problems since his days at high school -- "He had a tendency to piss people off," his high school coach said -- and nobody made him stop. Nebraska kept him for too many years. Oregon didn't keep him a week, but why take him at all? The Rams. Bills. Dolphins. Every step of the way Richie Incognito was true to who he is, and coaches kept giving him a team to play for, opponents to maul, teammates to terrorize.
Richie Incognito is a bad guy.
But he's not the only one who owes Jonathan Martin an apology.
If you're an NFL team and you want Phillip Dorsett, just give the Colts a call

Carolina's offense featured McCaffrey in a multitude of ways on Saturday

This is why you should only eat dinner alone
The Titans get out to a hot start against Carolina, plus more from Saturday's preseason ac...

The Kaepernick situation is slowly turning into a black eye for the NFL

The Blair Walsh revenge game got out of hand