'Entourage' star Connolly breaks leg catching pass from Russell Wilson
Playing catch with Russell Wilson can be dangerous. Actor Kevin Connolly broke his leg in two places last week after catching a pass from the Seahawks quarterback.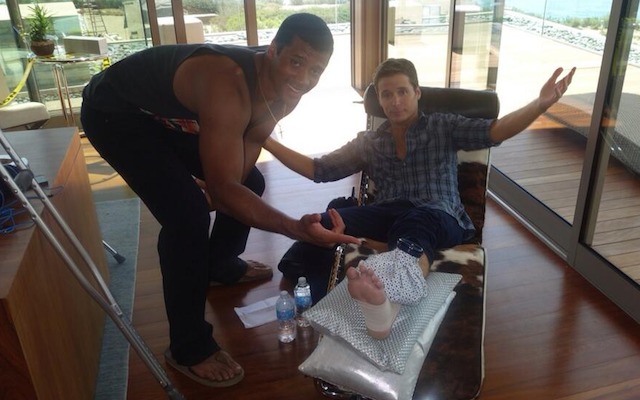 Go "break a leg" isn't just a figure of speech in the acting world anymore, it's an actual thing thanks to Seahawks quarterback Russell Wilson. Wilson was throwing passes with actor Kevin Connolly on the set of the Entourage movie last week when something unfortunate happened: Connolly broke his leg in two places. 
According to director Doug Ellin, the injury took place while the movie was filming.
This actually was during a take and my man @mrkevinconnolly came down with the ball! @DangeRussWilson http://t.co/HhyLLtQVax

— Doug Ellin (@mrdougellin) March 24, 2014
On Monday, Wilson wrote on his Instagram page that Connolly ran a 'perfect post route' before making the catch that led to the injury. That compliment will probably make Connolly feel slightly better about breaking his leg.
Wilson, Rob Gronkowksi, Tom Brady and several other NFL players are all expected to make cameos in the movie, which is currently slated for a June 12, 2015 release. Connolly's injury isn't expected to slow down production, according to Deadline.com. 
Besides Connolly's injury, everything else seems to be going smoothly on the Entourage set, especially for Gronkowski and teammate Julian Edelman.
Yesterday may have been the most epic day in entourage history @Edelman11 @RobGronkowski pic.twitter.com/xe7lu6R5zv

— Doug Ellin (@mrdougellin) March 20, 2014
Nick Kostos, a.k.a. 'Mr. Monday Night,' has owned Monday Night Football

The Steelers weren't actually in their locker room for the national anthem

Players weren't the only ones protesting in Week 3
From London to Sunday Night Football, teams around the league demonstrated in response to...

It's unclear whether Marshall actually spits on the fan during videos of the exchange

Several Saints took a seat during the anthem before Sunday's game against the Panthers