Eric Dickerson: Vikings RB Adrian Peterson needs a quarterback
Hall of Fame running back Eric Dickerson says that Vikings running back Adrian Peterson needs a quarterback so that things will be 'easier on him.'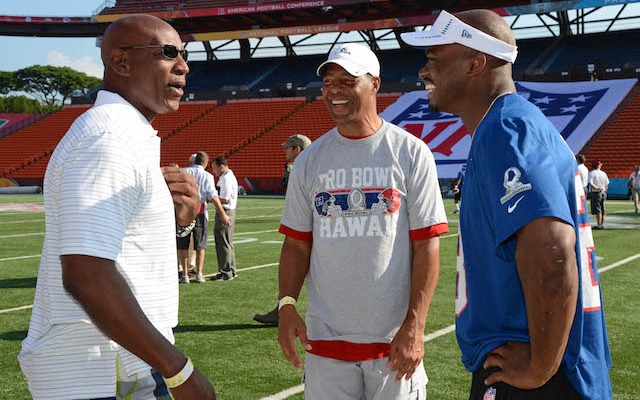 Vikings running back Adrian Peterson ran for 2,097 yards last season, a total that left him just eight yards shy of tying Eric Dickerson's NFL-record of 2,105 yards. Peterson's performance in 2012 led him to set a lofty goal for 2013: 2,500 yards. That's not going to happen though.
As it turns out, Peterson's going to be lucky if he reaches 1,500 yards. Through 10 games this season, Peterson's on pace for 1,362 yards. Injuries have hampered Peterson this year, but Dickerson thinks he knows what Peterson's real problem is: he doesn't have a quarterback. 
"He really needs a quarterback; that would make it a lot easier on him," Dickerson said, via the St. Paul Pioneer-Press. "(Minnesota's quarterback situation is) terrible. I've been there. I mean, I've been so frustrated that when we completed a pass downfield I wanted to be like the people in the stands, jumping up and down and saying, 'Way to go.'"
During his 11-year career, Dickerson played with quarterbacks like Jeff Kemp, Dieter Brock and Gary Hogeboom, quarterbacks who weren't exactly Hall of Fame material. Since being drafted by the Vikings in 2007, Peterson has played with 10 different starting quarterbacks. 
"He doesn't have a lot of help," Dickerson said. "I hope he finally gets a quarterback there to give him a break and make it easier on him. As the years go on, the hits start adding up. Your body only can take so many tackles."
Dickerson isn't placing all the blame on the Vikings quarterback situation though, he also blamed the fact that the quarterback doesn't have anyone to throw too. 
"It's hard to watch. It's extremely tough (for Peterson). It's frustrating," Dickerson said. "It's not that Christian Ponder isn't trying his best, but they don't have any receivers. It's just hard on (Peterson). I mean, he won't say it as a player. But it's frustrating to walk to the line of scrimmage and see eight in the box, sometimes nine."
The 2014 NFL Draft might be the perfect time for Minnesota to give Peterson the quarterback help that Dickerson's talking about. Going into Week 12, the Vikings are tied for the second-worst record in the NFL and they almost seem a lock for a top-five pick. Of the six games left on the Vikings schedule, only one of those come against a team with a losing record. 
The Cowboys unveiled a new look on Sunday and their fans seemed to love it

Conquerors of adversity in 2017, the Eagles are still on the fast track to claiming the NFC's...

Cord-cutters are probably going to like this new deal between the NFL and Verizon
Stephen Oh has his finger on the pulse of Bill Belichick's team and just locked in a strong...

Savage left the game before returning after just one series

Quinton Jefferson explains why things got ugly in Jacksonville