Esiason told Beyonce blew Dome's electricity twice in rehearsals
CBS analyst Boomer Esiason believes Beyonce may have played a role in the Superdome's power outage during the Super Bowl.
• 1 min read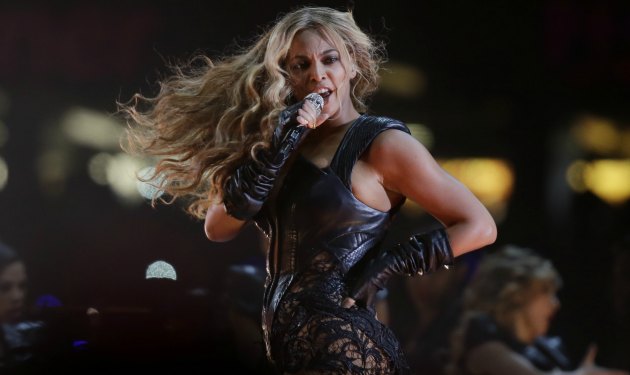 Is Beyonce to blame? (AP)
Unless you fell asleep after the Ravens took a 22-point lead vs. the 49ers in Super Bowl XLVII, you probably know there was a 34-minute third-quarter power outage at the Superdome.
While NFL Commissioner Roger Goodell reassured folks Monday morning that the mishap wouldn't affect New Orleans' chances for future Super Bowls, he also said there was "no indication" Beyonce's well-received halftime show played a role in the outage.
That's not what CBS analyst Boomer Esiason believes.
According to Esiason, he was told second-hand that Beyonce's show caused electrical problems during rehearsals.
Said Esiason (via CBS New York): "By the way, Beyonce blew the electric in the Superdome twice, I'm told, during her rehearsals during the week."
Then, Esiason backtracked a bit and clarified: "But all I know we're up there (on Sunday) and (radio announcer) Kevin Harlan says to me, 'Do you hear that buzzing?' And it sounded like an electrical situation. It was not an alarm of any sort. It just sounded like a light getting ready to blow, that kind of thing. But it was loud, and it was very prevalent to us because we were so close to the ceiling. And then literally about five or six minutes later, that's when the power went out.
"And then at that point, as a broadcaster, you start trying to speculate and you've got to be careful about what you're saying."
Goodell, though, made clear that, as far as he knows, the disruption had nothing to do with Beyonce and that the show ran on generated power (and was not on the Superdome's power grid).

For more NFL news, rumors and analysis, follow @EyeOnNFL on Twitter, and subscribe to our Pick-6 Podcast and NFL newsletter. You can follow Josh Katzowitz on Twitter here: @joshkatzowitz.
The Raiders bangwagon continues to take on passengers ahead of the 2017 season

The Rams' No. 1 pick is anything but phased after taking his lumps during a brutal rookie...

Breaux, who emerged as the Saints' No. 1 cornerback during the 2015 season, could miss 4-6...
The No. 1 pick in the draft will have an immediate impact in Cleveland, according to his c...

Text exchanges in the NFL's report show Tiffany Thompson contemplating how to get money from...

Smith was drafted in 2016 with a nerve injury, and he's finally getting a chance to play