Even bracing for Harvin jolt, Seahawks keep positive charge
The Seahawks paid big to land weapon Percy Harvin, who now is hurt before his first snap. But this is a team could handle such a blow.
• 7 min read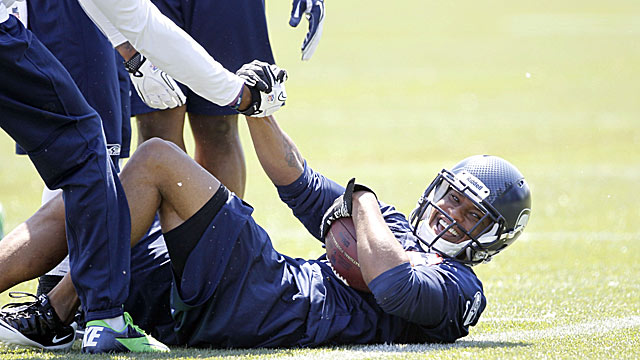 RENTON, Wash. -- Pete Carroll may, on occasion, have a bad day. Only you would never know. It would never show.
Carroll, 61, the Seahawks' ever-young-at-heart head coach, and John Schneider, 42, the team's young general manager, are perpetually up. It takes something fairly huge to stir the doldrums around here. So, with the team a few days from learning the fate of receiver Percy Harvin, the possibility of losing him for the year to a hip injury before the $67-million receiver ever lines up on the field for training camp much less the regular season, it was no surprise to still see all smiles at training camp today.
Sure, there is some trepidation. The Seahawks are maintaining their typical chipper spirit and are hopeful the second opinion on Harvin's hip coming Tuesday won't end with him under the knife and out all season, but that is a possibility. What they would focus on, is the fact that this upstart team came a play from the NFC Championship last season without Harvin on the roster, that they continue to develop a Super Bowl culture here and that there is a chance even with surgery that Harvin could be placed on the IR-Designated to Return list and perhaps be back for a playoff push.
There is no time for moping.
"That's how we are," Carroll said of the uber-positivity. "That's just the way we try to live and operate. We've always been on that end of the spectrum, and we like being there. It's nothing new, and it's not about this season. It's always certainly been a part of my coaching, and we operate on that side of the ledger.
"We're always looking at the guys who are available to us, and meanwhile we're going to take care of Percy with the highest of hopes that we'll figure it out and know the exact thing to do and all of that. So we have plenty of time and we're going to utilize all of that time to take care of him."
Harvin, who the Seahawks gave up a bounty of picks for from the Vikings and then made the third-highest paid receiver in the game, wowed his new teammates during OTAs with his dynamic abilities in the return game and playing multiple positions on offense. "You could already see how much of a difference he was going to make for us," receiver Golden Tate said.
Then Harvin injured his hip working out just before camp, and now he and the Seahawks find themselves in limbo as more specialists try to determine the best course of action for him.
Even without surgery, the tear in Harvin's labrum will sideline him for some period of time.
Receiver Sidney Rice, himself finally fully healthy for the first time in a long time, tries not to focus on Harvin's absence. As teammates in Minnesota, few have a more acute appreciation of the way Harvin exerts stress on a defense.
"He's the most dynamic player I've ever seen in the league," Rice said, "in whatever role he lines up at -- kick return, running back, wide receiver on the outside, or in the slot. The guy can do it all and he's one of the toughest guys I've been around as well.
"It's definitely a huge, huge addition to this team, and if he's not able to be out there on the field it's going to be a huge subtraction. We've just got to figure out and balance out whatever it may be and if he's not out there somebody else will have to step up the plate and our management always does a great job of bringing someone in."
Of all the things the Seahawks have to feel positive about, the strength of their front office should be chief among them. Schneider has completely turned the roster over as he enters his fourth season teamed with Carroll, and has risen quickly to become one of the most respected execs in the NFL. The Seahawks have hit on a legion of picks in all areas of the draft and feel like major gains are coming for some who have required a little more time to develop.
Tate, himself entering his fourth season, tops that list. There is quiet buzz about him in the coaching and front office here, with every belief that he is ready to make a leap into the upper echelon of receivers and not just a guy who flashes remarkable skills but then fades in and out of games. (I smell a fantasy steal here).
Carroll said the Seahawks have Tate in pretty much every package they run, and will use him not just deep but in the shallow, tempo passing game, across the middle. "We're using him in everything," the coach said.
Quarterback Russell Wilson is close with Tate and trusts him and sees how he's growing. "He's taking great notes in the meetings, taking care of his body and doing all the little things that really matter."
Tate is also saying all of the right things, too, not content to merely be an occasional big-play guy.
"It's no secret that I can go up and make plays," Tate said, "but I want to be able to do that consistently, day in, day out, all day, every day. I'm trying to be so reliable for Russell that on third-and-one and third-and-two in the fourth quarter, I want the offense to try to design to get me the ball because they're comfortable in me."
Particularly should Harvin be gone indefinitely, that just might be the case. Rice is coming off his best offseason in years, and he has the size and deep-ball prowess that complements what is an overall diminutive receiver group.
"He's the strongest he's ever been," Carroll said of Rice. "He's really built himself up, he's gained 10 pounds and he feels really good about it."
The Seahawks also have a sleeper in third-year receiver Stephen Williams. As the Seahawks were preparing for the Redskins in the playoffs last year, Schneider was perhaps most ecstatic that he inked Williams, a 2010 undrafted free agent originally signed by the Cardinals, to a futures contract. Williams looked very good again in today's practice, and at 6-5, 210 pounds and with great speed, he's a nice big target for Wilson -- vertically challenged -- to find.
"He been very intriguing these first four days [of camp]," Carroll said. "He gives you another big-guy presence, and I've always liked having guys like that. I kind of have a good eye for guys like that, and we're always looking at guys with different dimensions. So we're excited about him."
Doug Baldwin returns as a possession guy who can make things happen in the slot. Several team inquired about him this offseason after the Harvin signing, but Schneider wouldn't even entertain those overtures, wanting as much depth as possible. That looks particularly sage now given Harvin's situation.
Seattle's attack became much more multiple and diverse down the stretch a year ago, as the Seahawks made their playoff push, and Wilson is dead set on improving upon his historic rookie season. His work ethic on the field, in the classroom and studying at home is already legendary here, and he carries himself like a 10-year veteran.
"He knows this is his team," said safety Earl Thomas, one of a handful of young Pro Bowlers punctuating this roster. "He's taken control back there. Even if you've played 10 years, eight years, he'll still get on you to tell you this is where you need to be to make this offense work. And you have to respect a guy like that."
So clearly the Seahawks are cushioned to withstand a long-term blow to Harvin in a way few teams are. The run game is dominant, led by Marshawn Lynch, and the offense feels as if it naturally evolves every day just by practicing against what may be the NFL's stingiest, and toughest defense. Wilson shares the same hyper-enthusiastic, good-natured mentality as his coach and general manager, and while winning a Super Bowl without Harvin would surely be more difficult, it is anything but impossible.
"That positive synergy is really effective for our football team," Wilson said. "To continue to build that confidence and to continue to build that competitive edge, you have to speak positive words. And that's what we're doing."
The Oklahoma quarterback isn't exactly being discreet about where he wants to begin his NFL...

No one was hurt, but Fournette's Mercedes lost a bumper

It might be time to begin worrying about the Patriots quarterback
The Patriots are still odds-on favorites, but the other teams are closing in

SportsLine tapped into its Vegas sources to see who professional bettors like Sunday

Philadelphia readies itself for a massive celebration if the Eagles advance to the Super B...