Ex-Auburn WR: I'm a first-round pick, but my character is seventh round
Duke Williams might be the most honest guy at the NFL Combine.
If honesty scores you any points at the NFL combine, then former Auburn wide receiver D'haquille "Duke" Williams might have moved up a few draft boards on Thursday.
Williams, who was dismissed from Auburn in October after an incident at a bar in Alabama, gave a blunt self-assessment of his draft standing during his press conference at Lucas Oil Stadium.
"I'm a first-round pick no matter what, but off the field I'm a seventh-round pick," Williams said, via NFL.com. "My character is seventh round."
If that average ends up making Williams a third-round pick, he'll probably be thrilled. Williams is currently projected as a late seventh-round pick by NFLDraftScout.com, which is a dramatic fall from where he stood just six months ago.
Back in August, Williams was coming off a 2014 season where he led Auburn in receiving and he was ranked as the No. 7 draft-eligible wide receiver entering the 2015 season.
However, being kicked off the team and missing the final two months of the college season did some serious damage to Williams' stock: Going into the combine this week, he was ranked as the 35th-best receiver in the draft.
Williams doesn't blame his dramatic fall on anyone at Auburn. 
"Coach (Gus) Malzahn gave me chance after chance," Williams told CBSSports.com. "It's not his fault, it's my fault."
Williams was also held out of the Outback Bowl following the 2014 season.
"Once I was in the doghouse, it was hard to get out," Williams said. "It was all on me, I took it upon myself to go to counseling."
The good news for Williams is that there's almost always a team out there that's willing to take a risk on a talented player with questionable character. If one of those teams likes Williams enough, he could come off the board way before the seventh round.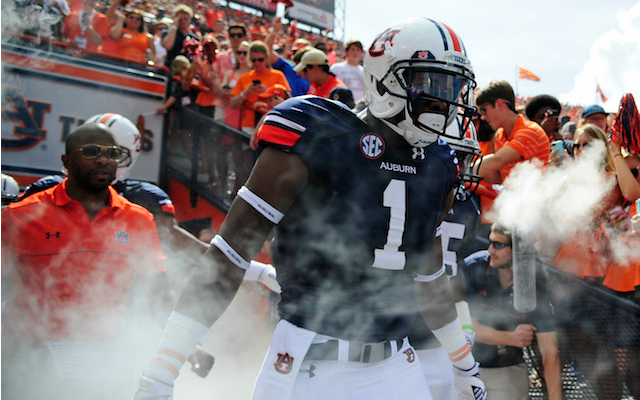 Warren Sapp was one of several players named in a lawsuit against NFL Network

Check out the uniforms that Denver and Indianapolis will be wearing on Thursday

The Cowboys are going to need a few things to go their way to get into the postseason
Rudolph will be put under the microscope in Mobile by clubs looking for a quarterback early...

This fan is taking the Saints to court for using 'football games as a platform for protest...

Can Aaron Rodgers get the Packers to the postseason? Even if they win out, they'll need he...