Ex-Bills WR Andre Reed bashes Johnny Manziel: Who the F is he?
Andre Reed, who's scheduled to be inducted into the Pro Football Hall of Fame on Aug. 2, isn't a fan of Johnny Football.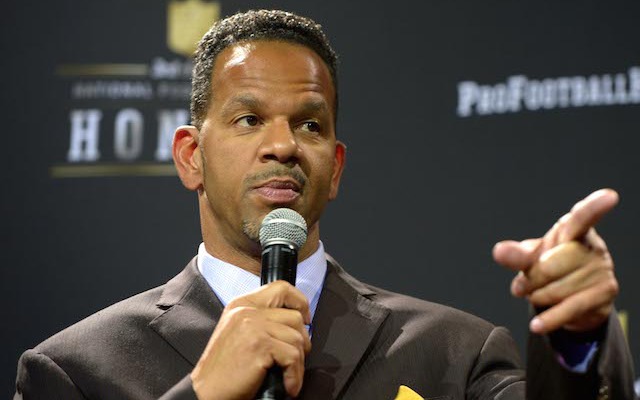 More NFL: Photos |  Videos & GIFs |  Training Camp updates | Manziel watch
Former Buffalo Bills wide receiver Andre Reed spent 16 years in the NFL and in those 16 years, he played in four Super Bowls, seven Pro Bowls and caught more passes than all but 10 players in NFL history.
The point here is that Reed isn't a guy who's easily impressed and he's definitely not impressed with Johnny Manziel. 
In an interview with New York Magazine, Reed had some not so pleasant things to say about Johnny Football.
The subject of Manziel came up during Reed's interview after a Manziel tweet about LeBron James showed up on 'SportsCenter.' In the tweet, which Johnny Football sent out after James annnounced his return to Cleveland, Manziel referred to James as 'My guy.' 
YESSSSSSSS!! Couldn't be happier for my guy @KingJames and the @cavs #Cleveland

— Johnny Manziel (@JManziel2) July 11, 2014
"Who the f--- is Johnny Manziel?" Reed said. "LeBron ain't your guy! You're not 'Johnny Football.' You're 'Johnny Rookie Bitch.'"
Reed, who will be inducted into the Pro Football Hall of Fame on Aug. 2, also added that Manziel wouldn't have been a good fit in Buffalo, "They'd boo that motherf----- outta here," Reed said. "The fans would put him in his place."
So if you're reading and you're Johnny Manziel's agent, try to avoid sending Johnny to Buffalo at any point in his career. 
Manziel wasn't the only person Reed went after in his interview, the ex-Bills receiver also had strong comments for Jon Bon Jovi. "Man, f--- Bon Jovi," Reed said. "You might as well just take this city, throw it in the river, and let it go down Niagara Falls."
Bon Jovi is part of an ownership group trying to buy the Bills and there's a belief that Bon Jovi's group would eventually move the team to Toronto if they end up owning the Bills.  
The Colts star quarterback could end up missing the entire 2017 season

Not even two Super Bowl wins is enough to get Eli Manning any respect

The Jags' future could have plenty of teal in store
Two 49ers players had a harrowing experience in San Francisco this week

Nearly 17,000 fans want the Packers to sign Colin Kaepernick

Backup quarterback Brett Hundley will fill in for Rodgers as he recovers from a broken col...