Ex-Browns LB D'Qwell Jackson: Someone needs to help Josh Gordon
Several former teammates of Josh Gordon tweeted out words of encouragement on Saturday, including D'Qwell Jackson who asked those close to Gordon to help him.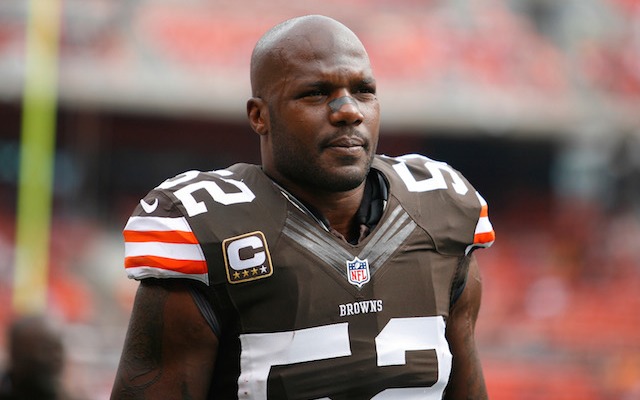 Former Browns linebacker D'Qwell Jackson spent seven seasons in Cleveland before signing with Indianapolis in March. During his final two years in Cleveland, Jackson was a teammate of Josh Gordon's where he witnessed first-hand Gordon's off-the-field problems. 
On Saturday, after news broke that Gordon had been arrested and charged with DWI in North Carolina, Jackson made an impassioned plea to those around Gordon. 
If you're close to Josh Gordon please help this kid, it's not about football anymore it's about picking up the pieces of his life.

— D'Qwell Jackson (@DQ52) July 5, 2014
Mohamed Massaquoi, another former Cleveland teammate of Gordon's, also sent out a tweet.
Seriously praying for Josh Gordon.

— Mohamed Massaquoi (@MJMassaquoi) July 5, 2014
There are already concerns in Cleveland that a one-year suspension could mean the end of Gordon's career and those concerns came before he was arrested on Saturday. Gordon has known since at least May that the league plans to suspend him following a failed drug test earlier this year. 
The Browns should know by late July what kind of suspension Gordon will be facing in 2014 and if it's a one-year ban, things could get ugly. A one-year suspension would mean Gordon has to stay away from the team's facilities all season and that's where the concern comes in.
From Cleveland.com:
Sources close to Gordon have told Cleveland.com they're concerned that if he's away from the team for a year and away from his support system, that he'll have a tough time making it back into the NFL. The sources point to Jaguars receiver Justin Blackmon, the former first-round pick, who was suspended indefinitely in November of 2013 for violating the substance abuse policy and isn't expected to be re-instated in 2014.
People in Cleveland aren't the only ones concerned for Gordon's well-being. Bears receiver Brandon Marshall also tweeted about Gordon's arrest on Saturday. 
Man Josh Gordon news ruined my afternoon.

— Machine Marshall (@BMarshall) July 5, 2014
Redskins quarterback Robert Griffin III, who played football with Gordon at Baylor, also sent out a tweet.
Thru all the trials & tribulations @JOSH_GORDONXII is still family to me Will continue to try & help him. Not tear him down.

— Robert Griffin III (@RGIII) July 5, 2014
Gordon was pulled over just before 3 a.m. in Raleigh after an officer clocked him going 50 mph in a 35 mph zone. Gordon was released about three hours later after posting a $500 bond, a police spokesman confirmed to CBSSports.com.
The 23-year-old admitted to drinking three vodka drinks, according to WNCN.com. Gordon's blood alcohol level was .09 at the time of his arrest, just above North Carolina's legal limit of .08.
The Browns receiver is scheduled to be in Wake County court on Aug. 26.
Smith is facing up to seven years in prison if convicted

Plus everything else you need to know about Week 2 of the 2017 NFL preseason

This is why being a rookie in the NFL isn't fun
The Raiders running back went Beast Mode on reporters

Elway tried his best to emphasize how complicated the situation is

The executive director NFLPA has an ugly prediction for the future of the NFL