Ex-Lions WR tells Calvin Johnson to unretire and sign with the Patriots
One of Megatron's former teammates thinks that he should come out of retirement and play for the Patriots.
When Calvin Johnson announced his retirement on March 8, he made it clear that he had played his final game of football. 
"After much prayer, thought and discussion with loved ones, I have made the difficult decision to retire from the Lions and pro football. I have played my last game of football," Johnson said at the time. 
Megatron didn't retire because his talents are diminishing though, he retired because he doesn't want to play football anymore, but that could change.
So what happens if Johnson decides that retirement's not for him?
Nate Burleson, who spent four years with Johnson in Detroit (2010-13), has a plan for his former teammate. Burleson thinks that Megatron should take a year off and then join Tom Brady in New England. 
"Congratulations on your retirement, man. Now, take this year off ... then find a way to land with the Patriots and get a championship ring," Burleson wrote recently for NFL.com. "You deserve it."
Although that's solid advice, it wouldn't be easy for Johnson to sign with the Patriots if he decided to return. Megatron is still under contract with the Lions, which means if he does make a comeback, the Lions would own his rights.
That being said, it wouldn't be impossible for Johnson to return with another team. if Johnson decided to come out of retirement in July 2016 or even 2017, the Lions would have to immediately account for his cap hit, which wouldn't be easy, considering that Johnson's base salary in 2016 alone is $15.95 million.
If the Lions couldn't handle that cap hit, they'd potentially have to cut him. At 30-years-old, Johnson is the same age that Randy Moss was when he signed with the Patriots in 2007.
So will Megatron stay retired?
Bengals defensive back Adam "Pacman" Jones doesn't think so. Unlike Burleson, who's encouraging Johnson to return in 2017, Pacman sees Megatron returning in 2016. 
"I think he'll come back. I think he won't even take a year, if you ask me," Jones said. "I say six months and he's back. That's my opinion."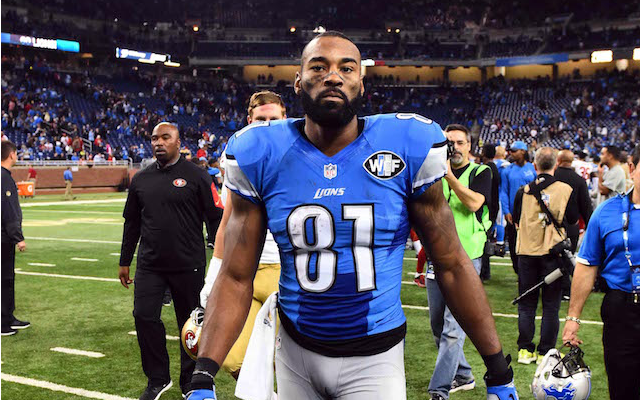 Like everything with Luck, there's some good news and some bad news with his latest health...

The top would-be free agent wide receiver is officially off the market

A billionaire owner of the Pittsburgh Steelers is hoping to buy the Carolina Panthers
The crop of free agent offensive linemen just got better

Laurent Duvernay-Tardif might have just made one of the most unique jersey requests in NFL...

The new Raiders coach offered some details on what he wants from Marshawn Lynch