Ex-NFL LB: Michael Sam similar to Rosa Parks, Jackie Robinson
Three-time NFL Pro Bowler Brendon Ayanbadejo says that Michael Sam is on a 'ground-break voyage' that's similar to those of Jackie Robinson and Rosa Parks.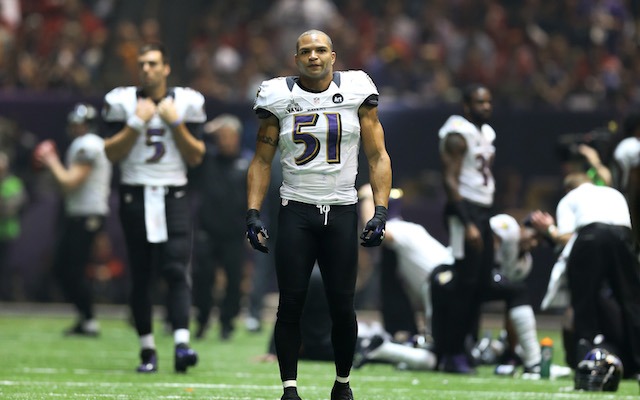 One of the NFL's biggest proponents of gay rights is three-time Pro Bowler Brendon Ayanbadejo. The former NFL linebacker, who won a Super Bowl with the Ravens in 2012, once filed a brief to the Supreme Court arguing against the ban of gay marriage in California. 
Ayanbadejo said in April 2013 that he thought there would be an openly gay player in the NFL 'sooner than you think.' Needless to say, Ayanbadejo is proud of Missouri defensive lineman Michael Sam for coming out.
In a piece for FoxSports.com, Ayanbadejo equated Sam's actions with two people who also broke barriers in their lifetimes: Jackie Robinson and Rosa Parks. Ayanbadejo and former NFL punter Chris Kluwe were with Sam before Sam made the announcement on Sunday. 
We were there to celebrate his ground-breaking voyage that in many ways is similar to those of Jackie Robinson and Rosa Parks -- extraordinary moments in the push for equality.

To borrow from Neil Armstrong, this is one small step for gay men and one giant leap for the LGBTQ community.
Since Sam's announcement, there's been mixed reaction. Sam's own father struggled with the revelation. Giants cornerback Terrell Thomas isn't sure if NFL locker rooms are ready for a gay player. Steelers safety Ryan Clark isn't sure what other players will be allowed to say around Sam. However, most of the reaction has been positive, including congratulatory tweets Sam received from the First Lady and the President of the United States. 
Sam might be the first openly gay NFL player, but Ayanbadejo doesn't expect him to push the cause, "I told him not to worry about being an activist," Ayanbadejo wrote. "Let the rest of us worry about that. He should go out there and worry about X's and O's, and we will worry about LGBTQ rights."
The big question is, will Sam end up being a distraction for the team that drafts him? That shouldn't even be a question, according to Kluwe. "If the NFL can survive Michael Vick, Riley Cooper and Aaron Hernandez. Why is a gay player going to bring the league to its knees?" 
Everything you need to know about the Packers-Steelers game on Sunday night

The Patriots dynamic duo will be playing on Sunday against the Dolphins

Here's every official injury designation for each NFL team for Week 12
Larry Hartstein is on an 8-2 NFL run and gives his best three-team NFL parlay for Week 12

Plus baby names, kicker issues and other things of interest from NFL on Thanksgiving

It was foretold, and King delivered