Ex-player Sean Gilbert outlines plan to unseat NFLPA head De Smith
Sean Gilbert played in the NFL and has clashed with owners as an agent. With a platform based on his view of a flawed CBA, Gilbert outlines his plan to take DeMaurice Smith's place as the head of the NFLPA.
• 4 min read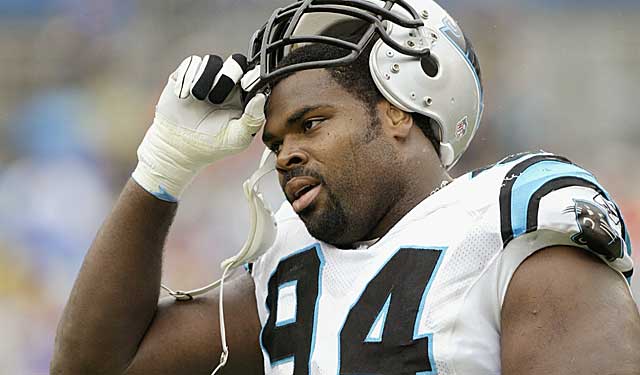 Former NFL standout Sean Gilbert outlined publicly his platform and plan to unseat DeMaurice Smith as the head of the NFLPA today during a conference call with select media. Gilbert, a former star defensive lineman who successfully orchestrated holdouts during his career and displayed willingness to clash with owners, has spent years preparing for this spring, 2015 vote, and, last year, released a book detailing areas in which he believes the union erred in negotiating the current collective bargaining agreement, which runs through 2021.
Gilbert, uncle to Patriots star corner Darrelle Revis (who also benefitted from contract holdouts himself), believes there is an opportunity to have the CBA terminated well before its conclusion date and he outlined a highly-ambitious plan during the conference call, with a platform aiming to curb rookie contracts at three-years, make major changes to the franchise-tag designation, raise the minimum NFL salary to $1M and cut two weeks of preseason in exchange for an 18-game season. How reasonable and feasible this proves to be, time will tell, but Gilbert spent considerable time at the grassroots level meeting with players this summer, and, ultimately it will take a vote by the NFLPA's union representatives of all 32 teams to eventually put Gilbert before Smith for a vote at the group's annual conference in March.
The NFLPA did not immediately respond to efforts to reach them in regards to any statements on Gilbert's platform, or the current CBA.
Gilbert conceded that his platform was akin to an attempt to "shoot for the moon," but remained adamant he had the necessary evidence to support ownership collusion in contract negotiations to get the current CBA thrown out under Articles 17 and 69. Gilbert said he has a "different fact pattern" to indicate collusion than the current case being brought by the NFLPA, and, in terms of "carrots" to get the NFL incentivized to adopt his proposals, offered the 18-game schedule and generating additional revenue by bidding out the Super Bowl to non-league cities (mentioning Orlando and London, specifically) and expanding the league calendar to have most of the playoffs during February sweeps.
With the league's labor deal running for seven more years, and that labor peace the foundation of its continued ability to shatter previous marks with its television and Internet deals, it remains to be seen how attractive any of this would be to Commissioner Roger Goodell and the owners, though the league has made no secret of its interest in 18 regular season games. Gilbert's ability to bring about wholesale changes to the agreement -- including limiting a player to being franchised once in his career, terminating the franchise tag, limiting all rookie contracts to three years with the ability to renegotiate after one season -- would be predicated on proving collusion, which Gilbert said he was "extremely" confident he could do.
"Are the players better off today than they were four years ago?" Gilbert repeated several times during his conference call, harkening back to former President Ronald Reagan's campaign motto.
A gauge of Gilbert's popularity should come into focus in September, when teams vote for union representatives. If a large number of NFLPA reps come from players represented by Neil Schwartz, Gilbert's agent, or agencies sympathetic to the movement for change, then the odds of this coming to a vote next year increase. If 17 of these players representing their teams are clients of agents who support the current regime, then it's less likely to anticipate Smith facing a substantial challenge for his position.
Gilbert said he has talked to roughly 200 players and 40 agents and believes he is well positioned to challenge Smith.
"It's been overwhelming," Gilbert said. "It's been really overwhelming, and refreshing. This is about principles and passion ... The more guys that can see what's going on behind the scenes, the better off we are in terms of fixing the CBA."
Along with his platform, a copy of which is here, Gilbert also provided a spreadsheet of economic data he said points to failings in the current labor model. Had the league and union continued under the former CBA, as negotiated by the late Gene Upshaw which was dissolved after 2009 when the NFL opted out, the 2014 cap would have been $157M, rather than $133M. Gilbert pointed to the cap dropping, and being relatively stagnant coming out of the 2010 "uncapped year" as another issue and claimed that under the current system, "$10B would shift from the players to the owners."
Gilbert also stressed Goodell's compensation post-CBA negotiations as evidence of the league's powerful position -- he called his book "The $29M Tip -- How Roger Goodell Earned His Big Payday" -- indicating that from 2006-2011 Goodell earned $48.7M in total compensation, but made $73.7M in two years since.
Gilbert's appeal to players is grounded in his playing days. At one point, he made reference to "outsiders" but noted his own tenure in the trenches of the NFL. "This is our league. I spent 11 years playing this game. I have the bumps and bruises." Gilbert said, adding he endured 15 surgeries and, "I'm in pain everyday, 365 days a year."
In addition to economic measures -- he also supports players receiving 10 percent of all remaining money on their deals as termination pay, to limit the amount of "fictional" money back-loaded on contracts -- Gilbert also aims to limit Goodell's powers as the authority on issues of player discipline, he said, something the current regime has also been attempting.
>> Want more NFL? Our experts make Super Bowl predictions
Cowboys rookie Jourdan Lewis got some good news on Tuesday.

The Ravens might need some help at running back

The Jaguars are making people rich
It looks like Michael Vick is hoping to make the transition from player to coach

The former undrafted free agent is about to get a huge raise

Both Malik Hooker and Andrew Luck are on the PUP list, so maybe it's time to start worryin...