Examining how familiarity can dictate where free agents may land
Sometimes free agency is also about who you know. Starting with Ben Tate to the Browns here are eight such deals that have happened and more that will.
• 6 min read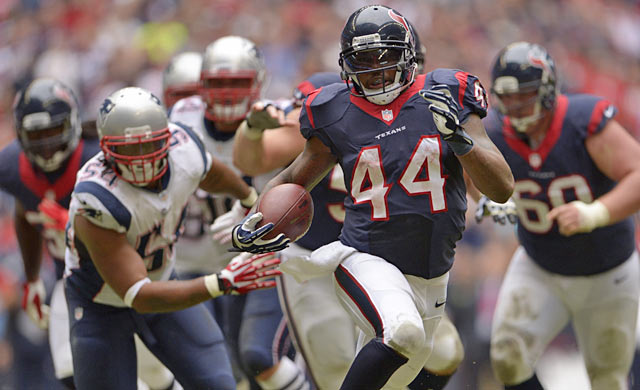 More NFL offseason: Mock Drafts | Prospect Rankings | Pro Days | Top free agents
Ben Tate was going to be a Cleveland Brown. You couldn't find too many people in the NFL who were thoroughly convinced of it, well before free agency opened. The only question was, at what price?
From the moment Kyle Shanahan was named Cleveland's new offensive coordinator, it was an open secret that he coveted Tate, a back drafted by Houston when Shanahan was running the Texans' offense and a perfect fit in the zone blocking scheme Shanahan was installing. In an era where running backs get no love, the lack of talent on the Browns roster at that position made this a fait accompli.
It didn't come together until this weekend, of course, a good five days into the signing period, but that was no surprise either. No need to spend time negotiating with a running back when the gates to the market swing open, and the Browns had plenty of other needs to focus on as they tried to land premier talent at other positions. Invariably, Tate would make his way to Cleveland for his visit and he would leave with a new contract and that would be that.
Often, that's how free agency works in the NFL.
Not all the time, of course. Money and opportunity and negotiations have a way altering even the best laid plans, and things can and do go awry. But there are plenty of cases each year where a pending deal can be spotted weeks and months ahead of time, with the confluence of some person from the free agent's past -- the GM who drafted him or the scouting director who pushed for him or the coach who helped develop him -- and a need at his position and the ability to spend via cap and cash, serve as an early indicator to the rest of the market that player X is headed to team Y, and intervening might only serve to drive the price up a bit and delay the inevitable.
Now that we are just about a week into the process, and with most of the name players already deciding how they are going to spend their new signing bonuses, we can take a look back at some of the other signings where previous familiarity with the player helped drive the deal.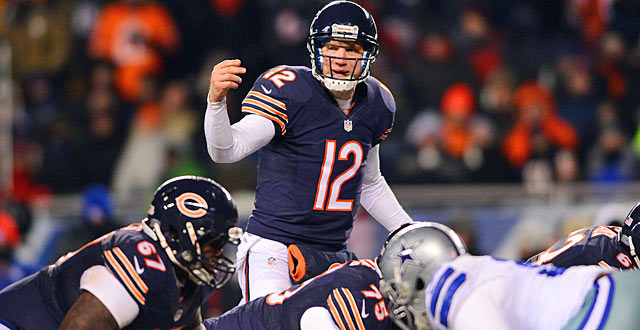 QB Josh McCown, Bucs: The opportunity to work under master coordinator Norv Turner, now in Minnesota, had considerable allure, but once Matt Cassel re-signed there before the market opened, that was a moot point. It was widely assumed McCown's first visit would be Tampa -- with Bucs coach Lovie Smith the head coach in Chicago during part of McCown's tenure there -- and it was. And the other teams who scheduled visits with McCown right away -- the Texans and Jets -- knew in their hearts McCown was never going to make it to their facilities. He was going to come out of Tampa with one of the more lucrative "back-up" deals in the game, and, with Smith anointing McCown his starter upon the signing, you see why this pairing was never in much doubt.
DL Arthur Jones, Colts: Indy coach Chuck Pagano, Jones' former coordinator with the Ravens, was enthralled by this kid's potential and versatility, and while other teams like the Vikings and Packers poked their head around a bit, it would have been a stone cold shocker if Jones was not on a plane to Indy the moment the market opened. Pagano needs to add bite to his defensive line, guys love playing for him and the Colts, going for a Super Bowl in 2014, had more cap space than they could possibly hope to spend. So, yeah, this was over before it started.
G Jon Asamoah and DL Tyson Jackson, Falcons: Atlanta made no pretense about its need to get bigger and stronger in the trenches, and when GM Thomas Dimitroff brought in his old pal Scott Pioli to the organization, it was widely assumed around the league these two would be immediate targets for Atlanta. Pioli was the Chiefs GM while both of these players broke into the league. He drafted Jackson very high, and at a time when Asamoah's 2013 film was less-than-flattering, Pioli had first-hand experience of every practice and game the guard had played previously, including a strong 2012. With neither player being viewed as must-haves in too many other places, the Falcons were going to pounce early, and they did.
DLs Red Bryant and Chris Clemons, Jaguars: Jacksonville coach Gus Bradley is installing the potent Seattle defense, and infectious atmosphere, down in Florida, and these two former Seahawks know all about both. After being cut by the Seahawks it wasn't long at all before they were on their way down the Jacksonville, and the Jags are another club with more cap space than they could ever fill. Players feel the same way about Bradley as they do about Pagano -- they relish every day spent with them -- and these two still have plenty to add from a pass rush/collapsing the pocket standpoint, which the Jags badly need.
RB Donald Brown, Chargers: Chargers GM Tom Telesco is plenty aware of what Brown can do, having been with him in Indianapolis. Brown was far and away the most effective back the Colts had, though the trade for Trent Richardson, a recent first-round pick, kept the ineffective Richardson getting all of the attention. Chargers RB Ryan Mathews is entering the final year of his rookie deal, and he runs very hot and cold. Brown provides stability, depth and, perhaps, the future, for the Chargers running game if Mathews isn't back in 2015. Even with limited cap room, landing Brown was a priority for the Chargers, who locked him up pretty early on at a time when many backs couldn't get a return phone call.
Tracing these dots is yet another indication of why the best free-agent deals are generally those that involve a team ending up retaining its own free agent, even after he has hit the market, already knowing he is a scheme fit and locker room fit and knowing that spending on your own talent doesn't throw a wrench into a payroll hierarchy nearly the way it does when bringing in a high-priced outsider.
So, who else could still end up connecting some dots, themselves, as the second wave of free agency chugs along?
Well, Mike Vick is in no rush to make free-agent visits and find his next team, perhaps at least in part due to the fact the Jets still have not yet cut QB Mark Sanchez. The Jets offensive coordinator, Marty Mornhinweg, was the Eagles coordinator as Vick reignited his career in Philadelphia following his incarceration on dog fighting chargers, and no one in New York is willing say Geno Smith is anything close to the long-term solution at quarterback.
The Texans have yet to cut Matt Schaub, but when they do, his strong ties to Kyle Shanahan will make him a top target for the Browns. Schaub knows that system inside out and his presence in the quarterbacks room could be essential for the Browns, especially as they try to develop young quarterbacks. If Josh Freeman find his way back to the league, it could well be in Oakland, where former coordinator Greg Olson runs the offense.
Tight end Owen Daniels didn't have anyone put enough money in front of him to sign just yet, and a visit to Baltimore could still be looming; Ravens offensive coordinator Gary Kubiak and tight ends coach Brian Pariani both think very highly of him from their time together in Houston. Tight end isn't the biggest need in Baltimore right now, far from it, but at the right price Daniels could make sense.
After a report emerged quoting Irving saying, 'I have made a call,' the Cowboy took to Twi...

Washington is banged-up heading into a divisional showdown with Philadelphia

Kenny Britt might be on the chopping block after his latest blunder
Sending money to help with hometown education isn't anything new for the NFL veteran

Here's every official injury designation for each NFL team for Week 7

Last year's Jets were a disaster, but this year's version has been extremely competitive