Examining the contract status of Cowboys star tackle Tyron Smith
Tyron Smith is a stud. But should he force the contract issue at this point? Jason La Canfora breaks down the strategy the star Cowboys tackle should pursue.
• 3 min read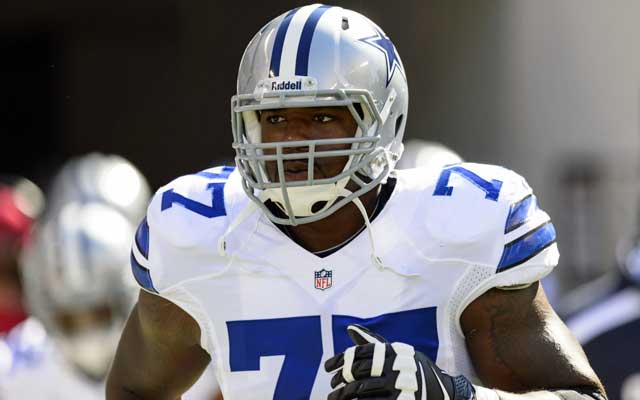 More NFL offseason: NFL Mock Drafts | Prospect Rankings | Top free agents
Tyron Smith is emerging as one of the dominant left tackles in the game, and, as a 2011 first-round pick, the common perception is that he should go ahead and jump at a new long-term offer from the Cowboys if it came. But I say, he has no need to be in a hurry, whatsoever.
For young Mr. Smith (a kid who just turned 23 a few months ago), time is on his side. Let's examine, economically speaking, the cost of waiting.
Dallas will pick up his fifth-year option, surely, and could begin talks on a long-term deal at any point. Usually, if a team comes to a player as early as possible for an extension, the club will want to get some team-friendly years in the contract and try to keep some of the future costs down in exchange for giving the player a payday before they had to and at a time when his present-earning potential is handicapped by the slotted deals for rookies in the new CBA. Smith's draft class is the first to live this reality.
Given how young he was when he entered the league, Smith won't even be 30 until 2021, which is when this CBA expires. For tackles these days, 30 is anything but washed up -- many star into their mid-30s  -- so barring injury he will still be a max earner when this agreement expires. Some will talk of the injury risk to him between now and 2015 -- when his rookie deal expires -- but how many Pro Bowl tackles have suffered career-threatening injuries between their third and fifth seasons? Historically, very, very few.
Smith will make $2M in 2014 -- certainly by no means huge money or what he's worth -- but he'll be able to buy groceries and pay the mortgage. And, with the cap suddenly, magically, likely going up $9M over initial projections, it will only continue to rise in 2015 as the new TV comes in, and thus teams will be able to spend more. And the Cowboys, who always tread dangerously when it comes to cap space, are even more tied up than usual this year in salary cap hell.
So the best time to strike a deal might be the future.
Let's say Dallas tried to do a deal tomorrow for $10M a year over six years -- $60M total, with half of it guaranteed. Well, Smith's agents, Eric Metz, Ethan Locke and Joe Panos -- got $30.5M over three years for Jordan Gross back in 2009. So, $10M ain't going to come close to cutting it here.
Let's say they Cowboys came in a year from now at $12M per year over five years, with Smith making $2M in 2014 on his old deal, well, that's still $62M total right there, which is more than what the $60M deal would have paid, even with Smith just making $2M this coming season.
What about a deal worth a flat five-year, $14M per season starting in 2015?  That's a max $70M (plus the $2M he'd earn in 2014), dwarfing the six-year deal if struck today. And the reality is, if Smith waits another few years, he might be at $15M a year, with other guys like Russell Okung and Trent Williams doing contracts between now and then that drive the price up even more.
So unless the Cowboys were to put something truly market setting in front of him in the next few months, there isn't much sense in doing anything. And given Dallas' cap bind, that doesn't seem too likely. Best bet might be to pick up that 2015 option, and table a new contract for this time a year from now, when I figure Smith is about to become a very, very rich man.  
Forgetting about NFL projection and solely looking at college production makes for a much different...

Lawrence graded out as one of the NFL's best pass rushers last season

In three seasons, Taylor has 51 touchdowns and just 16 interceptions
The Vikings quarterback, soon to be a free agent, missed all but two of Minnesota's games in...

Miami needs to make some roster moves to be salary-cap compliant

Carolina is a weird spot and might be overthinking this franchise tag stuff