Expecting the usual turnover among NFL playoff teams? Not in 2014
What NFL playoff field turnover? Power squads (Seahawks, 49ers, Pats) will rule 2014, with few surprises (Rams) as 2013's stunners (Chiefs) revert to form.
• 6 min read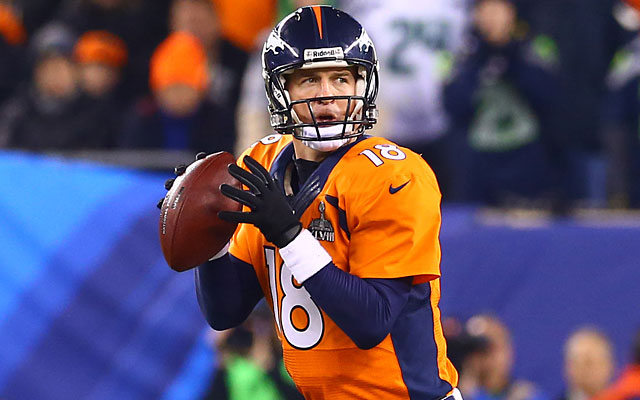 More NFL offseason: League minicamp dates | Latest news, notes
The NFL is king, at least in part, because of its unpredictability.
Every year there is a substantial turnover among playoffs teams, to the point where the country takes notice. It's part of what makes suicide pools much more difficult in practice than in theory. It keeps most fan bases from becoming too alienated from playoff contention and it helps explain why this group of owners is eager to tap into the enhanced earning potential of an expanded playoff field.
But this year I'm not buying it. I don't see it.
The status quo will rule. The league's premier contenders the past few years will be just that again. The trend of teams coming from nowhere to turn the NFL on its ear will take a year off. We're very deep into the offseason, to the point where almost every significant roster move has been made, and I just don't see the NFL power structure changing much at all.
I see the league's socialist nature -- the draft, salary cap, how the schedule works -- helping several teams that took a major jump last season regress to the mean. And just the same I don't see the hierarchy of each of the NFL's eight divisions changing much. I see the AFC North returning as a power division after a year off in 2013 (only the Bengals made the playoffs). The NFC West will remain a dominant division; the AFC West, forced to play the NFC West this season, will take a major step back. Not a whole hell of a lot will change.
History tells us every year at least five new teams will qualify for the 12-team postseason field (12 teams for now, as we know that will be going up to 14 by 2015). And perhaps that will be the case again in 2015. But even if it is this season, I'd be quite surprised if any of these new additions actually reach the Super Bowl, or dare I say hoist the Lombardi Trophy. The group of teams that I view as true championship contenders -- squads like Denver and Seattle and San Francisco and New England -- are already longtime postseason veterans.
Nothing that has occurred in the past three months has altered the balance of power in either conference as we examine each division.
NFC West: The Seahawks and 49ers remain the top dogs in this division -- and the conference. Though I could see the 49ers certainly suffering from within, should they fail to secure coach Jim Harbaugh and quarterback Colin Kaepernick for the long-term in the next few weeks. Having them continue to play out their contracts -- deals they have far outperformed -- could lead to a degree of turmoil which could undermine a franchise that has been to three straight conference title games. I have the Rams tabbed as one of the new entrants to the postseason field, with their past few drafts paying big dividends. They should overcome even more pedestrian play from quarterback Sam Bradford to get them over the hump, given how strong I anticipate them being running the football and playing defense. I could just as easily pick the Cardinals here, but I have a morbid feeling that the Rams, in the final year of their lease and with a move to Los Angeles perhaps not all that far away, find a way to put it all together in what could be their final season in the Midwest.
NFC North: With a healthy Aaron Rodgers, the Packers will easily pull away, eliminating the intrigue surrounding this division last season. The Bears still can't play defense (also, how Jay Cutler responds to his massive new contract and the loss of BFF and fellow quarterback Josh McCown is among the interesting NFC North subplots) and the Lions have to prove they can turn off their self-destruct switch. The Vikings are still the Vikings. I'm not sure anyone aside from the Packers in this division pushes for the playoffs.
NFC South: A year ago I loved the Saints to return to glory in this division and, assuming they resolve the Jimmy Graham grievance situation (by no means a fait accompli), I will again anoint them the team to beat. The Falcons will be better, though I'm not sure nearly improved enough defensively to be a real contender. The Panthers, after their offseason losses, may be a team falling back to the pack. I wouldn't be stunned if the Bucs were a new addition to the playoff field. I love their offseason (except for not having a staff that could find a way to utilize a superstar like Darrelle Revis). But I think they end up much improved but still on the outside of playoffs -- though, again, sneaking in as a wild card would not be a shock.
NFC East: This once again is largely division full of mediocrity and pretenders. I'll take the Eagles to win it, based on their offensive firepower. I don't see another playoff team in this bunch, though the Giants will be much more stable and consistent this season and should be the second-beat team in this division.
AFC North: I like the schedules for the Bengals, Ravens and Steelers. I don't see much changing in terms of them all playing meaningful games deep into December. And this year I foresee all three returning to the postseason, but without Cincinnati remaining on top as division champ. The loss of more key free agents will catch up to the Bengals, and Baltimore and Pittsburgh will be much more formidable offensively on a weekly basis.
AFC East: The Patriots remain the division's only viable club, an absolute tenet of NFL life for 15 years or so, save a few seasons the Jets played above their heads. No one will challenge them and I would not be surprised if every other team in this division makes major changes for 2015, whether it be in the front office or coaching staff -- or both in the cases of the Dolphins and Bills, in particular. I can just picture Bill Belichick sitting back on a recliner at night, a glass of expensive red wine in his hand, laughing diabolically at the inability of many of these teams to ever get out of their own way.
AFC West: This was the surprise division of the NFL in 2013, with the Chargers and Chiefs returning to the playoffs in their first seasons under new coaches and GMs. And both could take a step back this season. They play very difficult schedules and teams will be ready for them. I'm not sure they can maintain the kind of gains they made a year ago.
AFC South: It's the worst division in football -- perhaps the worst division in professional sports. There are three teams very deep in a rebuild and the Colts, still not established as a well-rounded team, have the only real quarterback in the division in Andrew Luck. So even without Robert Mathis for a quarter of the season, the division is still there for them to grab. No one else is even a .500 team in my estimation and while the Colts might take a step back, too, no way is it to the extent that anyone else in this sad-sack division is ready to take advantage.
So there you have it. No major surprises.
Two divisions will each send three teams through. Many coaches and quarterbacks you expect in the playoffs will return. I would be willing to bet teams like the 49ers and Seahawks and Broncos and Patriots are right back in the conference championships. And if a team like the Ravens or Steelers, who have won recent Super Bowls themselves, got back in that final four mix, would that constitute any sort of upset?
Not in my book. Look for 2015 to be more chalk. The salary-cap era may have in fact eliminated the era of the dynasties, but it hasn't kept the best franchises from rising to the top more often than not.
The Chargers are finally looking like a playoff team after a 28-6 win over the Cowboys on...

The Vikings, led by Case Keenum, are one of the NFL's best teams

The Vikings' pass rusher revealed the latest addition to the family after sacking Matthew...
It's time to hook up that jersey of your favorite NBA player with some Black Friday deals

A Dallas Cowboys Salute to Service thermal pullover makes for the best early Black Friday...

It's time to hook up that jersey shirt of your favorite NFL player with some Black Friday...