Extra points: Seahawks rout 49ers 29-3 on Pete Carroll's birthday
Marshawn Lynch scored three touchdowns as Seattle rolled to a 29-3 win over San Francisco on Pete Carroll's 62nd birthday.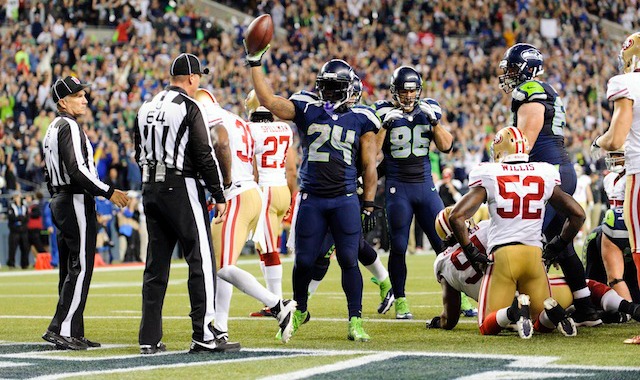 It was a Beast Mode birthday for Seattle Seahawks coach Pete Carroll. 
Thanks to a stout defense and three touchdowns from running back Marshawn Lynch, the Seahawks routed the 49ers 29-3 on Sunday at CenturyLink Field in Seattle on Carroll's 62nd birthday. Lynch totaled 135 yards in the game, including 98 on the ground. 
The birthday party turned into a birthday blowout in the second half when the Seahawks turned a 5-0 halftime lead into a 26-point win. A 14-yard touchdown run by Lynch in the third quarter put the Seahawks up 12-0 and after that it was all Seahawks. It was actually all Seahawks almost entire game, although the Seattle offense did get off to a slow start. 
Russell Wilson only completed 2 of 10 passes for 48 yards in a first half where the Seahawks only offensive points came on a Steven Hauschka 30-yard field goal. Wilson's early struggles might have happened because he didn't feel clean, the Seahawks quarterback actually showered during a 50-minute lightning delay near the end of the first quarter. Wilson finished the game 8 of 19 for 142 yards and a touchdown, he also tacked on 33 yards rushing. 
Colin Kaepernick only has eight regular season starts under his belt and Sunday's game was easily his worst. Kaepernick completed under 50 percent of his passes (13 of 28) for the first time in eight starts and his 127 yards passing was the lowest total in a game where he starts. Kaepernick also threw three interceptions in the game after only throwing three all last season. It wasn't all bad news for Kaepernick thought, he led the 49ers in rushing with 87 yards.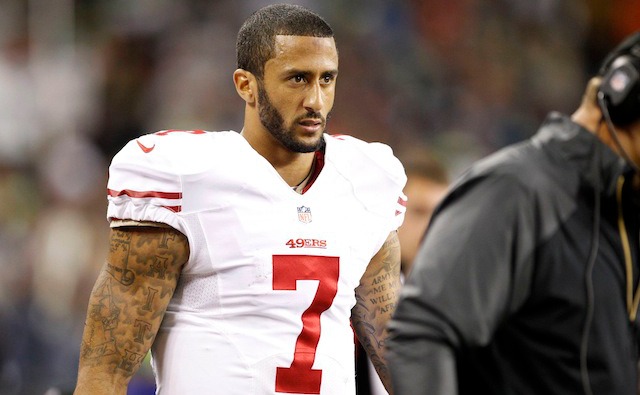 Extra Points
The 49ers had more turnovers ( than points against the Seahawks, the first time that's happened to San Francisco since a 21-0 loss to Tampa Bay in November 2010 when the 49ers turned the ball over twice. 

 
Both teams were hit hard by injuries. The 49ers lost safety Eric Reid (concussion) and tight end Vernon Davis (hamstring) while the Seahawks played most of the game without left tackle Russell Okung (foot injury). 

 
Anquan Boldin didn't exactly repeat his performance from Week 1. Against the Packers last week, Boldin caught 13 passes for 208 yards and a touchdown. Against the Seahawks, Boldin caught one pass for seven yards and that catch didn't come until the fourth quarter. Boldin was blanketed by Seahawks cornerback Richard Sherman, who didn't blame himself for Boldin's lone catch, "I don't think that one catch was on me," Sherman told NBC's Michele Tafoya after the game. 

 
Sherman loves to trash-talk, but he also backs up his smack talk with his play on the field. For instance, against the 49ers, Sherman ended up catching as many Colin Kaepernick passes as Boldin. Sherman also gave Jim Harbaugh a friendly butt tap after the game. You can see that here. 

 
The 49ers may want to make a request for next season not to play Seattle on anyone's birthday. Besides the blowout on Sunday, San Francisco also lost a 42-13 game last season on Jim Harbaugh's 49th birthday.  

 
A CenturyLink Field record 68,338 showed up for Pete Carroll's birthday win over the 49ers. 
Everything you need to know about the Redskins-Saints matchup this weekend

Here's every official injury designation for each NFL team for Week 11

The Dolphins took another blow amid a rough stretch of football
Our computer model simulated every Week 11 NFL game 10,000 times with very surprising resu...

The NFL on CBS broadcaster also broke down the differences between Dak, Goff and Wentz

The Legion of Boom is getting older and injuries are taking their toll