Falcons-49ers game marks end of Candlestick's sporting history
Candlestick Park, with its fickle winds, has been home to some heavy hitters in baseball, football and even rock 'n roll.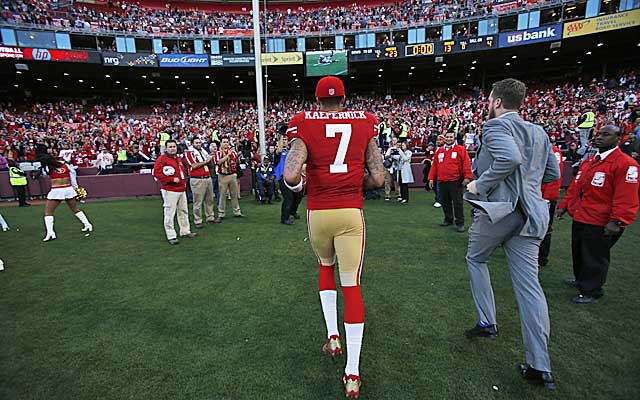 What do a former Pope, Willie Mays and The Beatles have in common? They played Candlestick Park. And by whatever name you've known it since 1958, San Francisco's Candlestick Park -- or any of the actual and not-so-flattering unofficial names -- will stage its final professional sporting event Monday when the 49ers host the Atlanta Falcons.
It has been home to two of this country's more storied professional sports franchises -- the Giants, who along with Dodgers made MLB a truly national pastime as the 1960s beckoned; and the 49ers, who became one of the NFL's great dynasties in the 1980s and 90s.
Ground was broken in 1958 for the stadium built over a landfill at Candlestick Point, southeast of downtown on the San Francisco Bay. Known for its windy and chilly -- at times unbearable -- conditions (anyone out there packing a "Croix de Candlestick" button -- handed out to fans who braved extra-inning games in the 80s?), The 'Stick has been host to a decent amount of history. Thanks to a little tool we're calling the Internet, here are a few you may or may not remember. Before we get started, a major tip of the black and orange cap to 49ers.com, where you can see a more inclusive timeline, and SFGate.com, which houses the mother of all Candlestick slideshows, for much of what follows.
Bundle up, because here's a trip down memory land through the time the Niners and Giants shared The 'Stick ... or 3Com Park ... or Monster Park.
April 12, 1960: Vice President Richard Nixon, who became more famous -- or infamous, depending on your point of view -- as the 37th US President, throws out the first pitch when the Giants host the St. Louis Cardinals. SF wins 3-2.
July 11, 1961: In an MLB All-Star Game, which features Willie Mays, Mickey Mantle and Hank Aaron, the legendary feat (anomaly?) is pulled off (suffered?) by winning pitcher Stu Miller of the Giants. Legend has it that he was blown off the mound -- and called for a balk -- by the Candlestick winds. Miller, who was the winning pitcher in relief of Sandy Koufax, still was maintaining he was not blown off the mound in a 2011 interview with the San Jose Mercury News.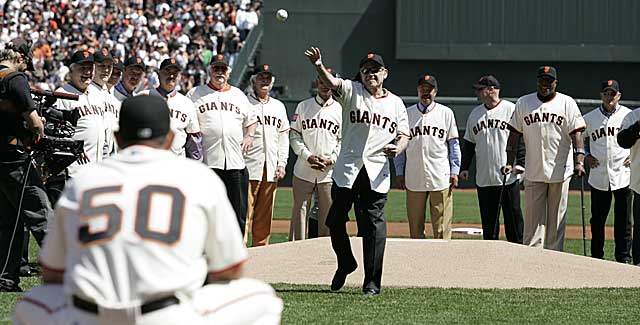 Oct. 16, 1962: The New York Yankees beat the Giants 1-0 in Game 7 of the World Series at Candlestick. With two out in the ninth, the Giants have and runners at second and third before Bobby Richardson snares Willie MCovey's line drive to end the Fall Classic.
It was a watershed year for the Giants, who won with their first pennant on the West Coast but would not reach another Series until 1989 -- and you may recall that baby was memorable for yet another San Francisco-esque natural idiosyncrasy.
Aug. 29, 1966: The Beatles perform 11 songs and played for about 30 minutes before only 25,000 people (well short of 42,000 at the time) in what proved to be the Fab Four's final live concert.
July 18, 1970: Willie Mays collects his 3,000th career hit -- at the time only the 10th major-leaguer to do so -- in a 10-1 win over the Montreal Expos -- who you know better today as the Washington Nationals.
Hello, pro football
In 1969, Candlestick was expanded to 59,000 for baseball and 62,000 for football, per 49ers.com, in time to accommodate the NFL club, which was moving from Golden Gate Park's antiquated -- even then -- Kezar Stadium. Also of note, the Raiders played their home games at Candlestick in 1961.
Oct. 10, 1971: The 49ers play their first game at Candlestick, losing to the LA Rams 20-13. The Niners finished 9-5 and won the NFC West. After Dick Nolan wins three NFC West titles, the Niners fall upon hard times and work through four coaches before pinning their hopes on a college man, Stanford coach Bill Walsh -- and something we know today as the West Coast Offense.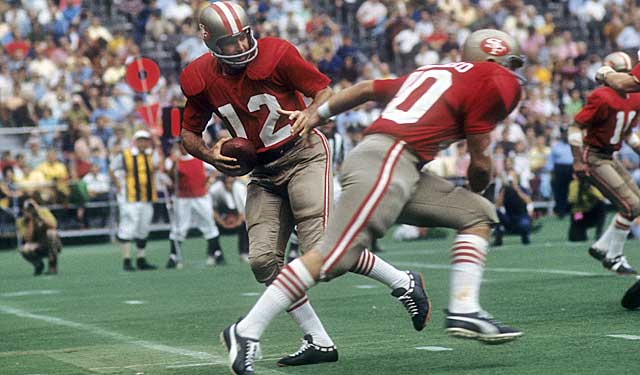 Sept. 7, 1979: Walsh coaches his first game at Candlestick (having lost in the opener at Minnesota), a somewhat prophetic 21-13 win over the Dallas Cowboys.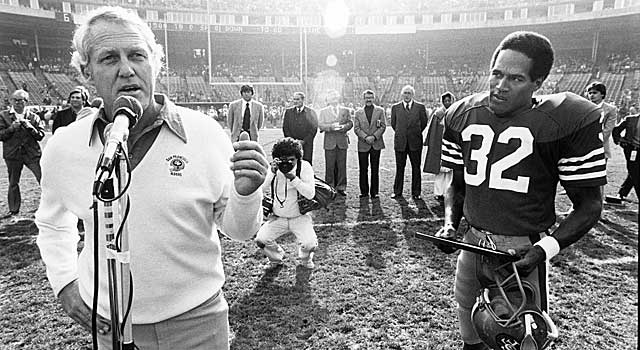 Dec. 7, 1980: The NFL legend of Joe Montana starts to gain legs, as he engineers a comeback from a 35-7 deficit to beat the New Orleans Saints 38-35 in OT. Montana was making only his sixth start, having started the season as Steve DeBerg's backup, and completed 24 of 36 for 285 yards and a pair of TDs.
Jan. 10, 1982, AKA The Catch: Probably the single most-replayed moment in NFL -- and maybe all of US professional sports -- history. Montana, rolling to his right and almost out of bounds, throws a desperation TD pass to Dwight Clark in the back of the end zone to complete a 28-27 comeback win over Dallas in the NFC Championship Game. San Francisco goes on to win Super Bowl XVI and a dynasty is born.
Sept. 18, 1987: Pope John Paul III says mass to more than 70,000 at The 'Stick.
Oct. 17, 1989: Before the start of Game 3 of the Battle of the Bay World Series between the Giants and the A's, a 6.9 earthquake strikes the region, and a national television audience learns the news as Al Michaels and Tim McCarver make their introductory remarks on ABC.
Almost forgotten -- except by A's faithful, to be sure -- Oakland goes on to sweep what became known as the Earthquake Series, which was picked up with Game 3 after a 10-day delay.
Sept. 5, 1994: Jerry Rice overtakes Jim Brown as the NFL's career touchdown leader, hitting paydirt on a reverse for his third score of the night -- giving him 127 for his career -- passing Brown's 126.
Jan. 3, 1999: The Niners, who had not been to a Super Bowl since winning XXIX on Jan. 29, 1995, take center stage once more when Steve Young finds pre-diva Terrell Owens for a 25-yard TD pass to clinch an NFC wild-card victory over the Packers. The play becomes known as The Catch II.
Sept. 30, 1999: The Giants play their final regular-season game at Candlestick, before moving to Pac Bell Park for the 2000 season. San Francisco drew 2,380,436 for their final 81 games at Candlestick.
Adios, Candlestick.
The singer sent a message with a verse of scripture on Monday night

The Cowboys owner joined in a demonstration with the Cowboys players before Monday night's...

Look for Ezekiel Elliott and Dak Prescott to rebound after a rough outing in Denver
Quarterback Russell Wilson was one of the chief proponents for the Seahawks staying in the...

The Steelers offensive lineman was only on the field by accident during Sunday's national...

It was an emotional day in Philadelphia for the parents of kicker Jake Elliott