Falcons camp observations: Less than Super with key guys watching
The Falcons don't look nearly so Super with stars Sean Weatherspoon and Julio Jones missing or out of practices with the Bengals.
• 5 min read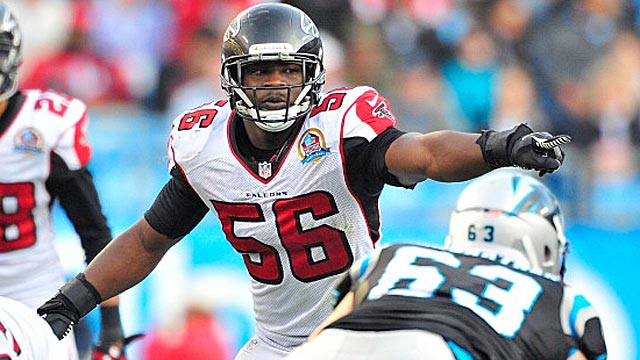 FLOWERY BRANCH, Ga. -- It's still early August and the Falcons have plenty of time on their hands, but it was still far from ideal that two of their best young players were not on the field for Monday's productive joint practice with the Cincinnati Bengals ahead of Thursday's preseason opener here.
Sean Weatherspoon, who missed much of the offseason as well recovering from knee surgery, ran off the field with trainers early in the practice with what was later called a badly dislocated finger.
Julio Jones did very little himself in this practice, which Coach Mike Smith intimated was at least partly by design. "It was mostly precautionary," Smith said, noting the team will be watching Jones' workload closely.
Jones is obviously one of the most dynamic young receivers in the game, and his presence alone changes this offense. Weatherspoon's impact on this defense is impossible to miss as well. He is clearly the leader of that unit, which is obvious as he patrols the sidelines between drills, coaching people up, always chatting, making sure teammates are getting from one practice field to the next as required (no easy task with two teams comprising about 180 players over three practice field running around today).
He huddled closely with defensive coordinator Mike Nolan before practice, going over the scripts, and even during stretching it is pretty clear the respect and attention he commands. Weatherspoon is a sideline-to-sideline force who sets the tone for the rest of a unit that improved greatly under Nolan's hand last season but is hardly loaded with playmakers in their prime.
It's certainly an ominous sign not having these two around, and one of the things that leaped out as you watched them go through drills with the Bengals on Monday.
Observations
• Pretty good day for the Falcons young corners. First-round pick Desmond Trufant is the favorite to replace Brent Grimes as the starter opposite Asante Samuel (whose reps were also being watching pretty closely it seemed to me). Second-round pick Robert Alford is also getting some reps with the starters, and he flashed well today in team drills.
Smith seems pleased with their development, and, indeed, how they hold up will go a long way to seeing if the Falcons can continue what has been a steady climb closer to a Super Bowl.
"This is great for our young corners," Smith said. "They've been competing against two great receivers (Falcons Roddy White and Jones) and also competing against some of our down-the-line guys. This gives them the opportunity to compete against different guys running different combinations, not looking at splits and knowing which routes are coming. It was a good learning experience for them, probably even more so tonight when we watch the tape than what happened on the field."
Alford read a shallow route perfectly in 11-on-11 drills and exploded to the ball to break it up. Had he managed to keep both hands on it, however, it would have been a pick six. "I've got to catch that ball," he said.
Trufant seemed to have a little trouble with emerging Bengals receiver Cobi Hamilton, a rookie out of Arkansas, early in practice but he held up well overall against the Bengals top offensive unit (albeit one that was without All Pro wideout A.J. Green).
"I'm learning so much and I've grown in the scheme and in the playbook, so it's allowing me to play faster," Trufant said. "I've definitely improved."
The young duo is getting plenty of tips on the fly from Samuel, who seemed to be chattering throughout the entire 2 ½-hour session with some good-natured jawing with the Bengals as well. "He's helping me be patient with my technique," Trufant said of Samuel, a noted ballhawk who often gambles on routes. "Just the little things that make big plays."
•  No one is savoring the chance to play exhibition football more than Falcons linebacker Brian Banks, who missed about six years of potential playing time, and including his entire college career, after being jailed on false rape charges.
Banks is already an inspiration to his coaches and teammates and is making real strides toward what would be a most improbable roster spot. He's expected to play quite a bit against the Bengals on Thursday and was active during Monday's practice.
"It's been challenging, and rewarding," Banks said. "It's been a little bit of both. All in all I appreciate the opportunity. This is something I had prepared myself for, and now being that much closer to my first NFL game -- be it preseason or the regular season -- this is my first real opportunity for me to show what I have. It's something I'm really looking forward to."
Physically, Banks worked long hours to get his body where it needed to be. But it's the mental complexities of Nolan's elaborate scheme -- and the fact Banks had never played above a high school level before -- that has required heavy lifting. He's an incredibly bright, upbeat young man, but it's difficult to make up for so much lost time on the playing and practice fields.
"Physically, I'm where I need to be," Banks said. "It's more just making sure I'm on top of the playbook with my checks and calls. Coach Nolan has an intricate defense, but they put it in perspective for you to get it down, and they're patient with you as well."
•  These drills are controlled from a tempo and contact standpoint, but it's hard not to see how physical the Bengals are at the point of attack on both sides of the ball. They're a big group.
•  James Harrison seems to be fitting right in with the Bengals. He's still capable of a menacing stare even during warm-ups, and we'll have to see how his health holds up and what he can accomplish on third down in particular.
•  Smith and Bengals coach Marvin Lewis share a strong bond from their days on the same coaching staff in Baltimore. They were together quite a bit during this practice. They already have similar philosophies to how they devise their camp sessions and things moved along smoothly, with no flareups between the teams and with plenty of work being accomplished.
"This gives us a great opportunity to get a good look against another team and control the tempo and control the environment," Lewis said. He was chatting with Smith before the session, between drills at times and they headed into the Falcons' team facility together when it was over. Smith noted it's the sixth time he has held a joint practice with another team, and each team the foe has been coached by someone he knows well or have coached with before, looking for the right kind of fit and kind of easy, constant communication it takes to make the experience productive for all involved.
Everything you need to know about Week 14 of 'Monday Night Football'

SportsLine either really believes in Nick Foles or the team around him

Meanwhile, one of Bortles' teammates compared him to Tom Brady
Here's an early look at the lines for all NFL games being played in Week 15

Ryan Shazier was able to take part in the Steelers' postgame celebration thanks to FaceTim...

There is suddenly a wide open NFC playoff race and the MVP battle could get interesting to...