Falcons could move to No. 1 for Greg Robinson, not Jadeveon Clowney
If the Falcons move up to No. 1 it may not be for Jadeveon Clowney, Jason La Canfora reports.
• 1 min read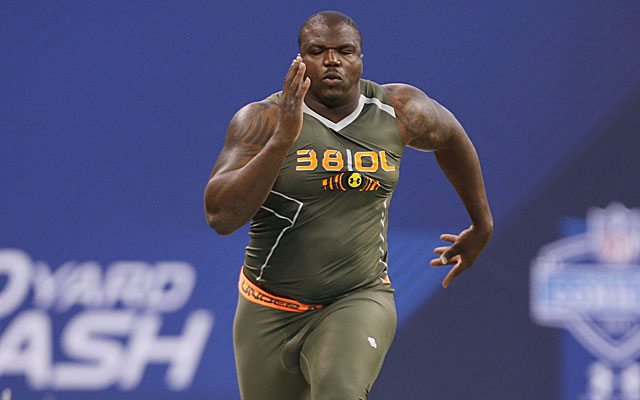 More Draft coverage: Mock Drafts | Prospect Rankings | Big Board | News
If the Atlanta Falcons trade to first overall it could be for Greg Robinson, according to league sources.
The Texans and Falcons continue to mull options in terms of a pre-draft trade involving the first overall pick. While many, myself included, have made note of Atlanta's strong interest in pass rusher Jadeveon Clowney, they are also very, very high on tackle Greg Robinson.
Tackle is an acute need as well as they are desperate to better protect Matt Ryan and several execs believe the Falcons could move to first overall for Robinson, a freak of nature physically who while raw has tremendous potential. The Rams are considering Robinson very highly at second overall, and Atlanta would need to jump them to get Robinson (and if Clowney then slid to second overall I'd expect the Rams to take him despite the young pass rushers already on their roster).
If Atlanta stays at six, several GMs I spoke to believe by that point the top three tackles could all be gone, as well as Clowney and Khalil Mack, the top two defensive players, and drafting another receiver that high wouldn't make sense after the Julio Jones trade. Trading down might be an option if a team wanted Sammy Watkins at six, but you can't bank on that.
Expect to hear about the Falcons possibly targeting a tackle with a move up, and not just the option of Clowney.
Let's call it the Blair Walsh revenge game

Jeremy Lane also stood near Bennett along with pass rushers Cliff Avril and Frank Clark

Bennett also dedicated it to 'all of the other athletes using their platform to promote ch...
The Patriots quarterback shows commitment from Day One

Cardinals' running back says he's feeling more energized

The Vikings' receiver is wearing his heart on his foot