Falcons' Jackson runs full steam into latest opportunity, challenge
When NFL running backs hit 30, it usually means they've hit or started the downside of their careers. But Steven Jackson sees it as a challenge and is meeting it with the same tenacity as his in-your-face running style.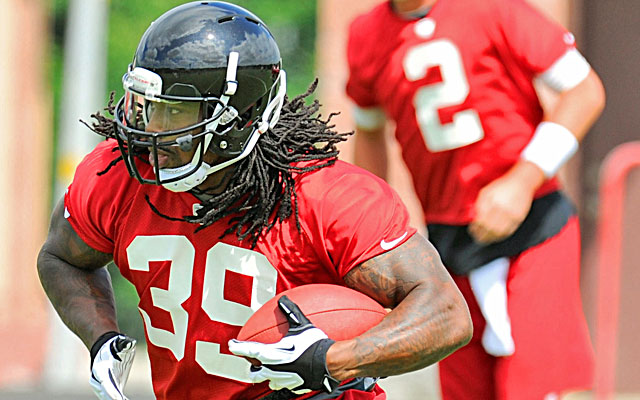 FLOWERY BRANCH, Ga. -- Steven Jackson is a smart man, one with a thought-out answer for most any question. So when running back and age are mentioned in the same sentence, he knows what's coming from the questioner and on the birth certificate.
Jackson turns 30 in a little over a month. For most non-football players, that's when they are starting their careers. But Jackson is an NFL running back, and their careers often wilt and die either right at or even before hitting that not-so-magic number, a kind of sad abyss.
For Jackson, it's even more of a challenge. After nine years with the St. Louis Rams, often being the focal point of the offense on some bad teams, and taking loads of big hits as he played a violent run-at-you style of football, Jackson signed a three-year deal with the Atlanta Falcons as a free agent in March.
The Falcons see him as one of the last pieces they need to perhaps get to the Super Bowl, a multi-dimensional runner-receiver who will amp up the screen game and their zone runs. For Jackson, it means a new city, a new offense, new teammates and a new system -- all as he reaches 30.
"The first thing teams said when my agent was calling around the league was that I was 30-years-old," Jackson said.  "That's a hard thing, accepting and acknowledging that. I want to take great pride in changing that thinking. How can I do it? It's going to be hard. But if I can continue to play at a high level, it's going to be better for the guys coming behind me. Very few backs have gone through the abuse my body has taken. If I can continue to play at a high level for three or four more years, then that will speak for itself. It will show it can be done."
Jackson comes to Atlanta with 2,395 carries, the most of any active back. He had at least 250 carries in seven of his last eight seasons. That's a lot of wear on a body, a lot of collisions for a back who didn't try to avoid them.  That makes turning 30 even more of a challenge.
So Jackson is doing something about it. He recently decided to try a gluten-free diet. He is bigger than he's been at 245 pounds, with his huge arms making him look more like a defensive end than a running back. He does plan to get down to 237 for camp, but for now he is doing everything he can to ready for 30.
"The gluten-free helps with inflammation," Jackson said. "It's something I researched. I talked to a lot of the veteran guys and they said the thing that impacted them most late in their careers wasn't the ability to keep playing, but the ability to get over the hits and play the next week. That's why I am changing some things. I know my metabolism slows down when I turn 30. I won't get over the aches and pains as fast."
The Falcons signed him in large part because he's a double threat. He can get the tough yards in the fourth quarter, something they need more of to burn clock, but he will also make them less predictable on early downs.
With Michael Turner as the back the past few seasons, the Falcons had a player who was more of a plodder and offered little in terms of the passing game. Jackson once caught 90 passes in a season for the Rams.
"You're throwing routes to him, and he's the size of Julio Jones and he's a running back," Falcons quarterback Matt Ryan said. "He has such soft hands too."
The Falcons finished 2012 ranked eighth in total offense. But they were sixth in passing and 29th in rushing. They were also 29th in yards-per-carry and Turner averaged just 3.6 per rush. Jackson averaged 4.1 per rush in his final season in St. Louis in 2012.
With Jackson, the Falcons can line up Jones and Roddy White outside with tight end Tony Gonzalez in the slot and have Jackson as a receiver out of the backfield. At Tuesday's practice, when the Falcons went to their hurry-up offense, Jackson caught a short screen pass on the first play to get the drive going. In a league that is pass-first now, and on a team that is certainly built for that, Jackson would seem to be a perfect back. As running backs are devalued, he knows it takes the pass-catching part to be a complete back more than ever.
"You have to continue to evolve or you will be left behind," Jackson said. "The machine of the NFL doesn't like people to buck against it. So you have to find your niche and exploit it. I went from the being the heir to Marshall Faulk, learning how to run routes, and then had to transform to being a bruiser to now being able to combine the two."
Ryan is impressed with the work ethic. He relayed a story from April that really impressed him when Jackson missed a few workouts to attend to some business stuff back in St. Louis and in his hometown of Las Vegas.
"He called me one afternoon when I was riding home from a workout," Ryan said. "He asked if I had a few minutes to go over the no-huddle code words. I told him we'd have time when he got back. But he said he needed to be spending the time on it, even if he wasn't here."
Ryan emailed Jackson the words. There were a lot of them. Jackson got back to him and told him he needed an hour a day, even when he wasn't there, to study the words to get it right.
"He's the first guy I've been around that hit me up in the month of April for that kind of information," Jackson said.  "I am like 'wow' on the other end of the phone."
Don't expect Jackson to be a pounder early in games. That's not who he wants to be anymore. Not in this offense.
"The offense starts with Matt," Jackson said. "I will get the bulk of my carries in the second half. In the first half, I would imagine the majority of my touches will be receiving the ball. I can focus on my becoming the back everyone saw early in my career. As things In St. Louis went downhill, I was an in-between-the-tackles runner. I wasn't working on the things in my toolbox. I took pride in my receiving. It was taken away from me, and used only in a diminished role. Now I can get back to being a big part of the passing game."
I usually don't like signing running backs who are turning 30. And there are doubts with this one too. But the Falcons didn't break the bank on Jackson, and he's really being signed to help liven up the passing game and run it late with the lead.
That plays into throw-to-score-run-to-win philosophy that is a must in the NFL. This just might be the rare exception where a 30-year-old back changes teams and actually plays a big part in improving it.
Atlanta was 10 yards from a trip to a Super Bowl. Is Jackson the guy who can get them those 10 yards?
"I am excited to be here," Jackson said. "It's like I am starting fresh."
Only his birth certificate says he isn't. In fact, he's closer to the end.
"I like proving statistics wrong," he said.
Thirty be damned.
Here's an up-to-date look at the 2018 Pro Bowl roster

Bettors are favoring the Eagles to keep Super Bowl LII close, but the Patriots remain clear...

Here's everything you need to know about Super Bowl LII
Here's a look at the NFL's entire postseason schedule for 2018

Here's all the details you need to know on watching Super Bowl LII between the Patriots and...

All of the information you need to know about the 2018 Super Bowl