Falcons LB: Panthers are sore losers, couldn't 'handle' losing to Atlanta
Falcons linebacker O'Brien Schofield had some harsh words for the Panthers.
Before playing Atlanta on Sunday, the Panthers hadn't lost a regular season game in over a year. It's probably a good thing the Panthers don't lose often, because apparently, they don't handle it well, at least according to Falcons linebacker O'Brien Schofield. 
After the Falcons' 20-13 win, Schofield said the Panthers showed no class.
The Falcons linebacker said that Cam Newton walked off the field without shaking hands with anyone except for Matt Ryan. Schofield also added that the Panthers couldn't "handle" losing.
"I'm not even a trash talker, but when someone disrespects you and you get payback and then they can't handle it, that's glorious. If they could handle it, it would be cool," Schofield said, via ESPN.com. "I probably wouldn't have even 'dabbed.' But I was 'dabbing' in front of everybody."
Schofield was among several people in the Falcons organization who used Newton's dab to celebrate the win, a list that includes Falcons owner Arthur Blank. 
Schofield was dabbing as he walked off the field on Sunday and he said he only did that because the Panthers rubbed it when they beat the Falcons 38-0 in Week 14. 
"If you handle yourself with class, you don't have to worry about that, but you see, they didn't handle themselves with class the first time we played. So I didn't care about how they were feeling after this game," Schofield said. "I was 'dabbing' all in their faces."
Schofield's problem with Newton in particular is that he was more than willing to rub it in when the Panthers won, but he was  nowhere to be found for a handshake after the Panthers lost. 
"They took a picture during the [first] game and posted it on social media the first time we played. It was a whole team picture. And Cam was running up and down the sidelines," Schofield said. "There wasn't none of that today. We played a football game today."
Schofield also said the Panthers defensive end Charles Johnson was talking trash after the loss. 
"Charles Johnson came up to me and said, 'Who are you?' and I said to him: 'I'm a Super Bowl champ and a two-time NFC Champ. Who are you?'" Schofield said.
The Falcons linebacker spent two seasons (2013-14) in Seattle.
"They're trying to tell me, 'You're going to be at home while we're in the playoffs.' I don't care," Schofield said.
Schofield will be at home during the playoffs and the guess here is that he'll probably be rooting against the Panthers.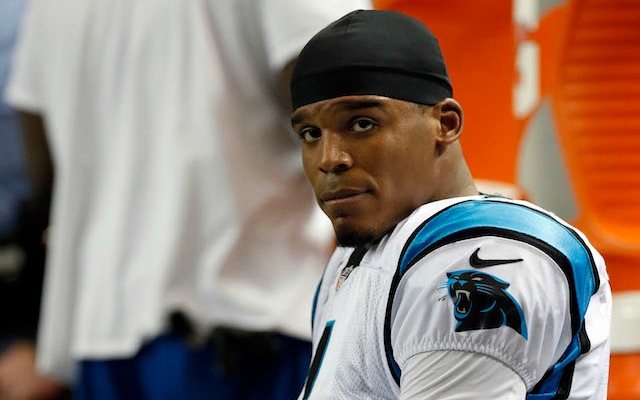 Pick Six Newsletter
Get the day's big stories + fun stuff you love like mock drafts, picks and power rankings.
Please check the opt-in box to acknowledge that you would like to subscribe.
Thanks for signing up!
Keep an eye on your inbox for the latest sports news.
Sorry!
There was an error processing your subscription.
The Eagles quarterback left Thursday night's game with a shoulder injury, but he's apparently...

The multi-dimensional running back is dealing with a strained calf

Josh Nagel also hit on 70 percent of his NFL spread picks last season
A certain former Eagles tight end wants nothing to do with Dallas despite a desire to keep...

We have an official ruling from the Browns on how to pronounce Tyrod's name!

The backup quarterback carries a lot of weight in Philadelphia apparently