Falcons mascot tweets joke about suicide walk, later apologizes
Freddie the Falcon isn't happy with Atlanta's season so far and he conveyed that message on Twitter by making a joke about a suicide walk he participated in.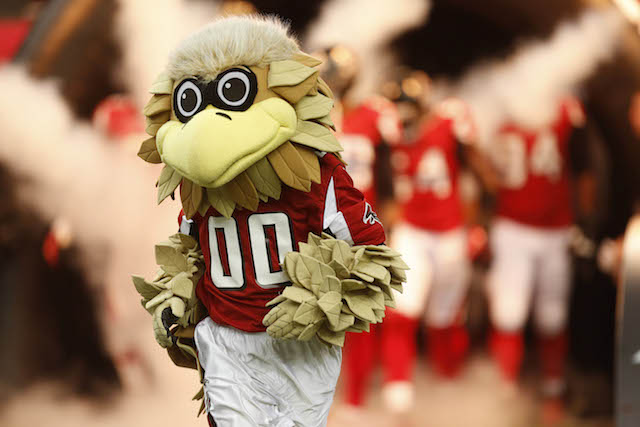 It's not often that an NFL mascot has to go into damage control mode, but Freddie the Falcon had to do exactly that this week after tweeting a joke about a suicide walk he participated in. After Atlanta lost 34-10 to Carolina on Sunday, the Falcons mascot sent out the following tweet.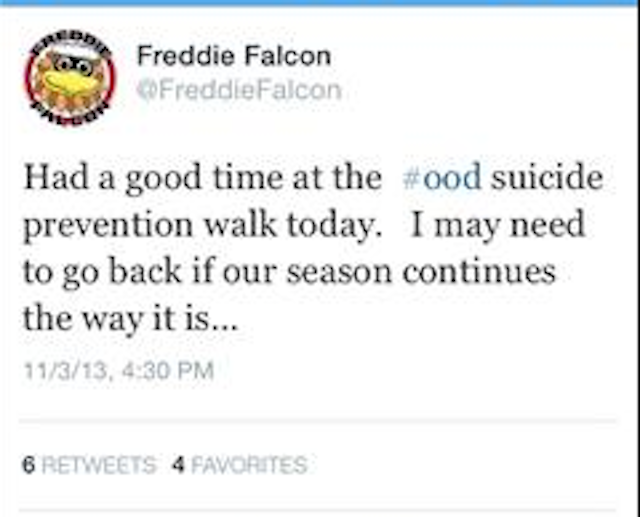 The tweet stayed on Freddie's Twitter account for almost three hours before Freddie finally deleted it and replaced it with this apology. 
I am truly sorry for my inappropriate and insensitive tweet. It was in poor taste.

— Freddie Falcon (@FreddieFalcon) November 4, 2013
The OOD hashtag stands for "Out of the Darkness." Before the game on Sunday, Freddie took place in an OOD walk put on by the American Foundation for Suicide Prevention. The AFSP released a statement on Freddie's tweet (via 11alive.com). 
"For the more than 1,000 survivors of suicide loss who participated in today's walk, suicide prevention is no laughing matter. We hope everyone who joined us today, including Freddie, support our vision for a world without suicide.

Recently, there have been a string of NFL suicides, including former Atlanta Falcons safety Ray Easterling. We'd love to provide a suicide prevention training for our hometown NFL team and see them more involved in this topic, which claims more than 1,000 Georgian lives each year."
(Wink of the CBS Eye to 11alive.com)
Wentz is carving up the Redskins on Monday night

Peters was quickly ruled out by the Eagles with a knee injury

Wentz rebounded from an awful interception with a 64-yard touchdown pass against the Redsk...
Cousins did not want to miss a meeting or his wife delivering their child, so he found a way...

Brock Osweiler is the Broncos' backup quarterback

A decision is expected to come down on Tuesday