Falcons offensive line can't stop Jadeveon Clowney
The Falcons offensive line is having problems blocking Jadeveon Clowney.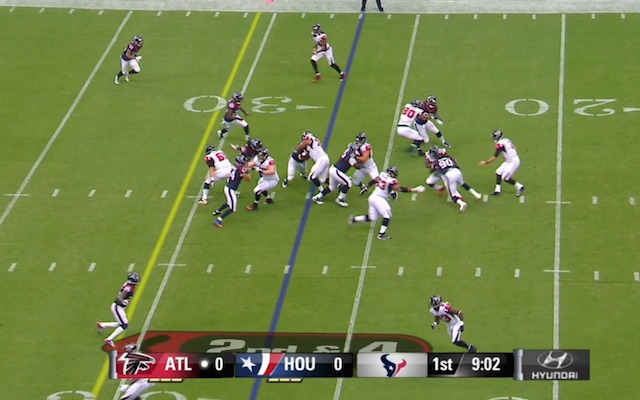 More NFL: Photos |  Videos & GIFs |  Training Camp updates | Manziel watch
Apparently Jadeveon Clowney is unstoppable. In the Texans preseason opener last week, Clowney tackled an Arizona Cardinals running back Stepfan Taylor six yards behind the line of scrimmage. 
Johnson now has two more friends in the 'I got nailed by Clowney club': Falcons quarterback Matt Ryan and Falcons running back Antone Smith. 
The hits on Ryan and Smith happened on consecutive plays in the first quarter. First, there was the hit on Smith. 
Then there was the sack on Ryan. 
Clowney single-handedly forced the Falcons to punt on this drive. The Smith hit happened on second-and-4 and Smith lost two yards, forcing Atlanta into a third-and-6. The sack on Ryan cost the Falcons seven yards, forcing a fourth-and-13. Amazingly, Clowney didn't block the Falcons punt, but nobody would have been shocked if he had. 
After a report emerged quoting Irving saying, 'I have made a call,' the Cowboy took to Twi...

Washington is banged-up heading into a divisional showdown with Philadelphia

Kenny Britt might be on the chopping block after his latest blunder
Sending money to help with hometown education isn't anything new for the NFL veteran

Here's every official injury designation for each NFL team for Week 7

Last year's Jets were a disaster, but this year's version has been extremely competitive