Falcons QB T.J. Yates found out he got traded at Chipotle
T.J. Yates was holding a burrito in his hand when he got traded from the Texans to the Falcons.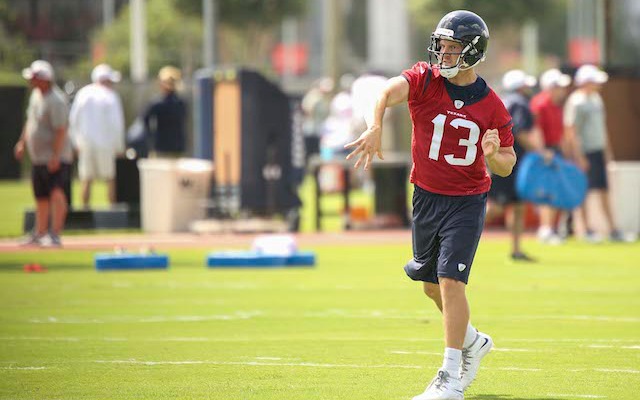 Millions of people eat at Chipotle every day, which makes sense because Chipotle is delicious, but it's probably safe to say that T.J. Yates is the only person who's been involved in an NFL trade while inside of a Chipotle. 
The former Texans quarterback was about to enjoy a tasty burrito on June 18 when he found out about a late evening trade sending him from Houston to Atlanta. 
"I was leaving Chipotle with my wife. I'd just got a burrito," Yates explained to AJC.com. "I got the news about 8:30 central time. It was awesome news."
Yates didn't mention if he got to finish his burrito, but you have to think he did because wasting a perfectly scrumptious Chipotle burrito wouldn't make any sense. Not to mention, Yates knows just how good Chipotle burritos are because he's pretty much a regular there.
Ten days before he was traded, Yates tweeted about a Houston-area Chipotle location that ran out of tortillas. He probably requested a trade after that. 
Chipotle ran out of tortillas for their burritos..@KButter5 would be pissed

— T.J. Yates (@TJ_Yates) June 9, 2014
The Falcons new backup quarterback should be in good tortilla shape in Atlanta though because there's 25 area Chipotles. Something Yates probably already knows. The 27-year-old is a Georgia native who grew up in the Atlanta suburb of Marietta. 
Both Malik Hooker and Andrew Luck are on the PUP list, so maybe it's time to start worryin...

Tom Brady will have one less weapon after Andrew Hawkins' retirement

Surprise! The coach who won Super Bowl 50 just got another job with the Broncos
Derek Carr is the NFL's new salary king, but Aaron Rodgers' deal was more valuable in 2013

A kicker and a punter are among the former NFL players diagnosed with CTE in the study

Lucky Whitehead was cleared of all charges and now has to see if the Cowboys are still cutting...