Falcons QB T.J. Yates found out he got traded at Chipotle
T.J. Yates was holding a burrito in his hand when he got traded from the Texans to the Falcons.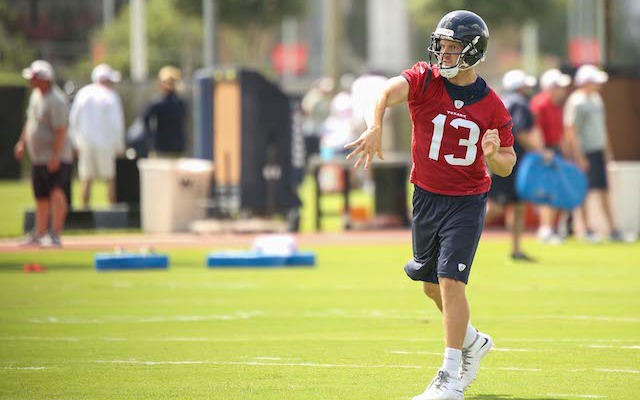 Millions of people eat at Chipotle every day, which makes sense because Chipotle is delicious, but it's probably safe to say that T.J. Yates is the only person who's been involved in an NFL trade while inside of a Chipotle. 
The former Texans quarterback was about to enjoy a tasty burrito on June 18 when he found out about a late evening trade sending him from Houston to Atlanta. 
"I was leaving Chipotle with my wife. I'd just got a burrito," Yates explained to AJC.com. "I got the news about 8:30 central time. It was awesome news."
Yates didn't mention if he got to finish his burrito, but you have to think he did because wasting a perfectly scrumptious Chipotle burrito wouldn't make any sense. Not to mention, Yates knows just how good Chipotle burritos are because he's pretty much a regular there.
Ten days before he was traded, Yates tweeted about a Houston-area Chipotle location that ran out of tortillas. He probably requested a trade after that. 
Chipotle ran out of tortillas for their burritos..@KButter5 would be pissed

— T.J. Yates (@TJ_Yates) June 9, 2014
The Falcons new backup quarterback should be in good tortilla shape in Atlanta though because there's 25 area Chipotles. Something Yates probably already knows. The 27-year-old is a Georgia native who grew up in the Atlanta suburb of Marietta. 
This player probably won't be too popular in New England if the Patriots lose on Sunday

The connections between the Eagles and Vikings quarterbacks are endless

Josh Nagel went 4-1 on Super Bowl prop bets and shares his favorite props for Patriots-Jag...
The winner of Sunday's game will he headed for Super Bowl LII

It wasn't the matchup that we expected, but the Jaguars would argue that's everyone else's...

Here's a look at the NFL's entire postseason schedule for 2018