Falcons RB Steven Jackson ruled out for Week 3 against Dolphins
Atlanta Falcons coach Mike Smith announced on Tuesday that running back Steven Jackson would not be playing in the Falcons Week 3 game against the Dolphins.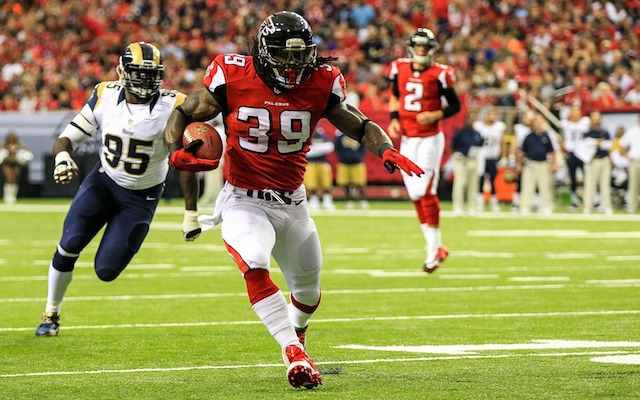 If the Atlanta Falcons are going to beat the Miami Dolphins on Sunday, they're going to have to do it without starting running back Steven Jackson. Falcons coach Mike Smith said on Tuesday that Jackson has been ruled out for Week 3 and could possibly be out longer.
Jackson suffered a thigh injury in the first quarter of the Falcons 31-24 win over St. Louis and left the game. That thigh injury could keep Jackson out for the rest of September and possibly into October. 
"It's short-term," Smith said of the injury, via the Atlanta Journal-Constitution. "Don't know if that's two or three weeks."
If Jackson were to miss Atlanta's next three games, that would take him to Atlanta's bye week, giving him another week of additional rest. The Falcons play at Miami on Sunday, before hosting New England and the New York Jets, followed by a Week 6 bye. 
The Falcons first game after the bye is an Oct. 20 home game against Tampa Bay. 
With Jackson out, that should mean more carries for running backs Jacquizz Rodgers and Jason Snelling. Snelling ran for 19 yards and a touchdown on only two carries against St. Louis. Rodgers found no success against the Rams, carrying the ball 11 times for 17 yards. 
Atlanta's win over St. Louis definitely came at a price for the Falcons. Besides Jackson, Atlanta also lost defensive end Kroy Biermann (Achilles) and fullback Bradie Ewing (shoulder) to season-ending injuries. Linebacker Sean Weatherspoon was also placed on short-term injured reserve, meaning he'll miss at least eight weeks. 
The former Buccaneers kicker did not have things start well for him in Chicago

Bears special teams showed up in a big way against Arizona

Beast Mode got loose with Oakland and looked pretty impressive in the early going
Beast Mode was one of several players to sit during the Raiders-Rams game

The cleaning staff in Houston missed a couple of things while cleaning up after Super Bowl...

Marvin Jones had some serious fun in the end zone after scoring against the Jets