Falcons-Seahawks winners, losers: Rumblin' Russell Wilson
Let's take a look at some of the winners and losers from the Falcons-Seahawks game, including Russell Wilson, who won big with a monster performance in the second half.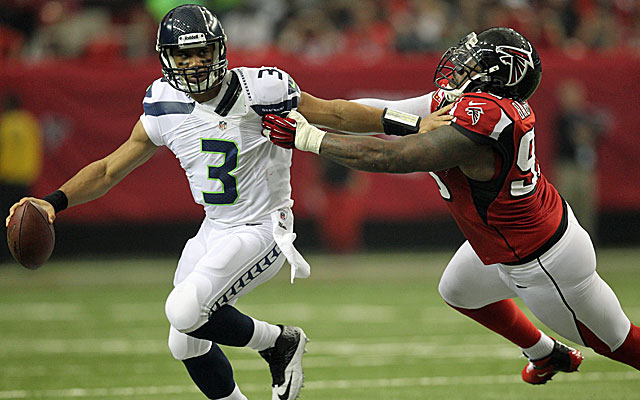 Russell Wilson becomes the first rookie QB to throw for 300 yards in a playoff game since Sammy Baugh. (Presswire)
Please do not get me wrong: Matt Ryan and the Falcons finally won a playoff game (30-28 over the Seahawks in an absolute thriller Sunday), and that's the big story out of Atlanta. But, mercy, did Russell Wilson put together an amazing game on Sunday.
Wilson, who is clearly too short to succeed in the NFL, became the first rookie quarterback to throw for 300 yards in a playoff game since Slingin' Sammy Baugh (Mr. Baugh probably won't be tagged in our content system, because he was a rookie in 1937).
The Seahawks were down and out, and Wilson rallied them in the second half, nearly breaking Twitter about 50 times, before eventually giving Seattle the lead at 28-27 with 31 seconds left in the game.
Wilson was everywhere in the second half.  For the game, he completed 24 of 36 passes for 385 yards and two touchdowns, while also rushing for 60 yards and a score on seven attempts (he was actually Seattle's leading rusher).
Ryan eventually dispelled any notion that he couldn't win in the playoffs (a silly notion, by the way) and became the hero with a miraculous comeback. But Wilson's day can't -- and won't -- be overlooked. He was real, and he was spectacular.
Winners
Russell Wilson: All of the above. Interesting that, like Drew Brees and Peyton Manning before him, Wilson struggled early against Mike Nolan's defense, giving the Falcons an opportunity to jump out to a lead. He figured things out just fine and, like Stephen Jackson, apparently makes love to pressure.
Matt Ryan/Mike Smith: The notion that these two guys can't win a playoff game got thrown out on Sunday, and thank goodness. They'd lose (albeit badly) to two Super Bowl champions and an NFC champ in their three attempts, so it's not like Smith and Ryan possess some gene that makes them un-clutch. The Falcons actually coughed up this game in horribly spectacular fashion, but Ryan's ability to regroup and make a pair of huge passes led to a Matt Bryant field goal and the destruction of a played-out narrative.
Tony Gonzalez: Gonzo is one of the all-time great NFL tight ends and a sure-fire, first-ballot Hall of Famer ... and he just won his first playoff game. That's crazy and not at all fair. (But I can't wait until we hear about the tight-end-wins statistic!) He's the prototype for the modern-era, uber-athletic tight end and the outbreak monkey for the revolution. The most amazing thing about Gonzo, though? He's 95 percent sure he'll retire after this season, and he's still making toe-tapping touchdown grabs in big moments. An all-timer who deserved this win.
Dirk Koetter: Koetter is in line for possibly landing a head-coaching gig this offseason, and Sunday's game didn't hurt his case. The Falcons offensive coordinator called a brilliant game, only making a couple of mistakes (hello, screen game) the entire afternoon. He left Jacksonville with folks thinking he was the problem; that notion is absolutely laughable right now. Koetter went right at a dangerous Seahawks defense and won.
Matt Bryant: Bryant wisely took a practice swing after Pete Carroll called timeout to ice him (we think, anyway) and missed just wide right of the uprights. But he clearly had the distance, and it clearly calmed him down on his game-winning kick -- Bryant flushed the real thing through the middle of the posts to give the Falcons the win.
Michael Turner/Jacquizz Rodgers: The Falcons running game was rejuvenated against Seattle on Sunday, and it's looking like a smart move to limit Turner's carries this year (just 222, his lowest 16-game total ever with Atlanta), because he was clearly the most fresh he's ever been this late in the season. Quizz also deserves props just for destroying Earl Thomas.
Losers
Richard Sherman: Sherman was the best cornerback in football during the 2012 season, but he wasn't at his best on Sunday. The mouthy defensive back made some very nice plays in coverage on Roddy White and Julio Jones, but he got burnt by White (insert your fave Sherman/Atlanta/Fire joke here) on a long touchdown pass and if Ryan made better passes on the previous two plays in the end zone, Atlanta would've scored on those as well. It didn't help matters that Sherman, by and large, looked like an insane person out on the field.
Pete Carroll: Please, everyone, stop icing the kicker.
John Fox: Remember when Fox decided on Saturday night that he shouldn't give Peyton Manning a chance to win the game with two timeouts left, the Broncos on their own 20-yard line and 31 seconds left in the game? Yeah, he probably didn't enjoy watching the Falcons take the ball at their own 31-yard line with 25 seconds and two timeouts and roll down for a score in about 15 seconds. It only emphasizes how bizarre his conservative coaching was against the Ravens.
Bruce Irvin: I didn't think the Fox announcers did nearly enough justice when it came to Seattle missing Chris Clemons from their offensive line. Irvin, the talented and explosive rookie out of West Virginia, can destroy teams on passing downs, but he was completely ineffective against the running game and finished with just one tackle. The inability of the Seahawks to get pressure on Ryan while rushing four drastically changed the way this game played out.
And this is why Tyrod Taylor is now the Bills' starting quarterback again

Here are the picks and props you need to be a winner while watching all the football you can...

Freeney, 37, was impressive in Seattle before getting surprisingly released
The 49ers have a realistic shot at home against a Seahawks club dealing with a myriad of i...

R.J. White has his finger on the pulse of the Packers and made a strong play for 'Sunday Night...